BIRDS AS ART NOTES NOVEMBER 5, 2008
IT'S A MIRACLE
REACTION TO MY WPOTY COMMENTS
Contact us by phone at 863-692-0906 (Eastern Time Zone) or by e-mail at birdsasart@att.net or birdsasart@verizon.net. The att e-mail address is best from overseas.
We gladly accept credit card orders by phone from till Eastern Time ( till Fridays and some weekends). You can use the PayPal links on the web site to order anything. Just type in the item(s) and the amount. If using your own PayPal account, please send to either of the e-mail addresses above.
Note: maximize this e-mail for best formatting.
Important Request: if responding to this e-mail, please take the time to delete all images and all irrelevant text.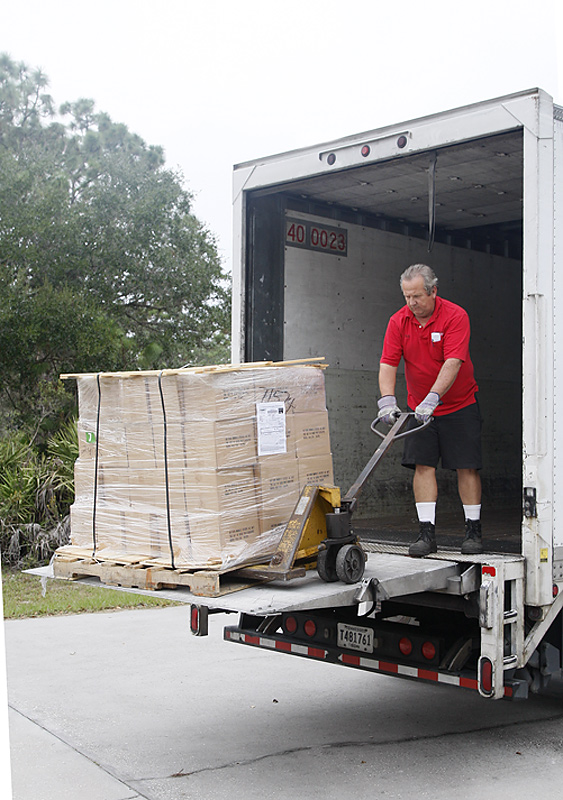 ABP delivery, Indian Lake Estates, FL
Image copyright 2008: Arthur Morris/BIRDS AS ART
The driver unloading one of five palettes of books, almost 6,000 pounds in all.
IT'S A MIRACLE
Our shipment of the original "The Art of Bird Photography" (finally) arrived at our home office in Indian Lake Estates, FL. The book, published by BAA Books, was printed in Singapore, shipped to NY by boat, made it way somehow to Miami, and then by truck to Tampa before arriving in ILE. Whew! Thanks to James Shadle who was here to help with the unloading. I signed and personalized a zillion copies last night so that Jim can get the huge number of pre-
ordered books in the mail over the course of the next few days. Thanks to all who pre-ordered for both their purchase and their patience.
If your local nature center would like to carry the book, please suggest that they get in touch with us. Thanks!
You can order your copy signed personalized copy of "The Art of Bird Photography" today for $40 plus $5 shipping to US addresses via US Post Office Book Rate. Shipping to Canada is $10. Overseas shipping will cost you $18. Do note that for the past year used copies of ABP has been going for as much as several hundred dollars on Amazon and other sites. Payment as follows is fine: call us at 863-692-0906 with a credit card in hand, send us a Paypal, or send a check made out to "Arthur Morris" to us at PO Box 7245, Indian Lake Estates, FL 33855. Order ABP along with ABP II (http://www.birdsasart.com/ABPII.htm) and we will be glad to apply a $10 discount.
For those who do not know much about the original "The Art of Bird Photography," it was first published in hard cover in 1998 and quickly became the classic how-to book on the subject. That printing was followed by two soft cover printings. With 30,000 copies sold in less than a decade it was a big surprise when Amphoto dropped the title. The very great strength of the book is the chapter on Exposure which offers complete coverage of exposure theory and its practical application. In addition, all of the basics are covered in detail in ABP: composition and image design, how to choose lenses, camera bodies, & film, how to see and utilize natural light, how to make sharp images, how to get close to free and wild birds, how to use flash as both main light and as fill, and how to edit and market your work. There is no digital content in the original "The Art of Bird Photography." Important note: with the exception of two sections: "Exposure Simplified" and "Flash Simplified," the content of "The Art of Bird Photography II (916 pages on CD only: http://www.birdsasart.com/ABPII.htm) is all-new.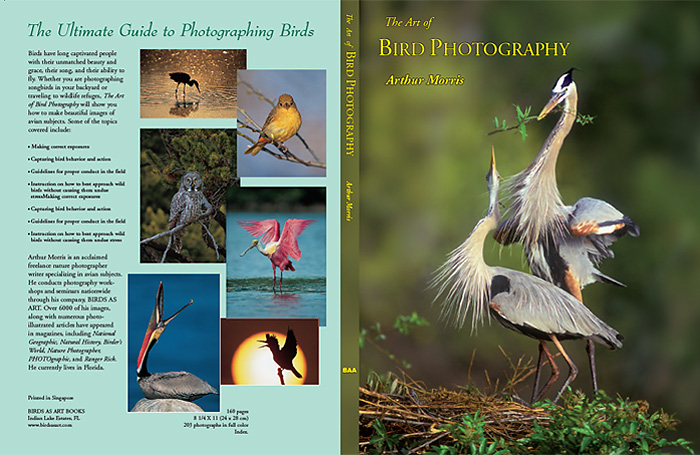 REACTION TO MY WPOTY COMMENTS
I received several e-mails about my comments on the winning image in the BBC Wildlife Photographer of the Year Competition. Surprisingly, agreement with my position was unanimous. Ken Watkins wrote pointing out the fact that the winning image might not have complied with the contest rules that state in part: "Digital adjustments are only acceptable if limited to minor cleaning work, levels, curves, colour, saturation and contrast work. The faithful representation of what you saw at the time of the shot being taken must be maintained."
You can read the entire BPN thread here: http://birdphotographers.net/forums/showthread.php?p=164005#post164005
ABP vs ABP vs DB
We receive e-mails almost daily asking about the merits and the specifics of the original "The Art of Bird Photography" (in soft cover), "The Art of Bird Photography II" (ABP II, 916 pages on CD only), and our Digital Basics File (DB), a PDF sent via e-mail.
To clear up any confusion I offer the following:
ABP "The Art of Bird Photography, "first published as a hardcover book in 1998 by Amphoto. It quickly became the classic how-to book on the subject. About 15,000 copies of this edition were sold. It was re-released in soft-cover in 2003; more than 15,000 additional copies have sold in soft cover. The very great strength of the book is chapter on Exposure which offers complete coverage of exposure theory and its practical application. (See above for more details).
ABP II: January 2003, I began work on "The Art of Bird Photography II" (ABP II). "The Art of Bird Photography II is an all-new continuation of the original "The Art of Bird Photography; The Complete Guide to Professional Field Techniques." At 916 pages with more than 900 images, ABP II is available only on CD. One chapter covers all aspects of Digital Photography and includes a section on understanding histograms. It also includes our complete digital workflow along with tons of great Photoshop tips. Other chapters include "Equipment; What's New?," "Advanced Composition and Image Design," "It Ain't Just Birds," and "Advanced Sharpness Techniques & Creating Pleasing Blurs." The "Practicalities" chapter will include a detailed section on setting up your backyard for bird photography as well as sections on photographing on safari and on the tundra. In addition it covers the every day aspects of handling and transporting your equipment from setting up your tripod to packing and traveling by air with your gear. Nearly all of the images in the book include all the technical data as well as our legendary educational captions. Most chapters include one or more galleries designed to illustrate and reinforce the principles covered in the text. There are two copies of the book on the CD. The "Spreads" version is best if you would like to enjoy the beauty of the images and the layout and design. The "Single Pages" version was designed for easy reading. The "Exposure and Flash Simplified" chapter re-visits two subjects that give folks the most trouble. Since the publication of ABP in 1998 we have refined and simplified our teaching in these two areas and these new approaches are covered in this all-new material. "Is the sun in or out? What is the overall tonality of the scene? When the sun is out at full strength your evaluative or matrix meter is smart. When it is cloudy, the same meter is dumb and needs your help. In addition to teaching this new approach to exposure the section on flash covers the use of fill flash, the use of flash as main light, and—for advanced students—the use of Manual Flash as main light. Other than the information in this chapter, virtually all of the material in ABP II is new.
ABP II, a professionally burned and manufactured CD version replete with a cardboard CD case and CD face art, was released in November, 2006. You can purchase a copy now for $40 plus $3 shipping and handling: http://www.birdsasart.com/ABPII.htm. Shipping to Canada is and overseas shipping is
DB: After beginning work on ABP II, I realized that the CD book would not be ready for quite some time but that the information on digital photography, Breezebrowser and Downloader Pro, and Photoshop was of great value to the legion of folks just getting started in digital photography, thus we began offering our Digital Basics file (DB) that includes free updates for as long as I am around pushing the shutter button. You can learn more about DB ($20 for the PDF that is delivered by e-mail here: http://www.birdsasart.com/digitalbasics.htm.
With more than 4,500 copies sold and with rave reviews, Digital Basics has succeeded beyond our wildest dreams. On the other hand, it is surprising that we have not sold ten times as many. Why? First off, we have received nothing but positive feedback. DB was created so that folks with no digital experience can be optimizing their images exactly as I do within minutes; just print the section on digital workflow, open an image in Photoshop, and follow the script. It's that simple. My approach to Photoshop is a direct one: because I have so many images to process, my choice is to make the images look as good as possible in the shortest amount of time and DB teaches you to do just that. While teaching my Instructional Photo-Tours it amazes me that during both our imaging critique sessions and our Photoshop sessions I find that most photographers, including many experienced ones, have no clue as to how to make their images look great in Photoshop. In addition, they do not understand how to use Photoshop to automate a variety of tasks. When I ask, "Do you have our Digital Basics File?" the answer is always, "No." It makes you think: these folks have spent huge sums of money on equipment and joined an IPT, yet they have not spent the additional $20 that would greatly improve the quality of their processed images and reduce the time that it takes for them to optimize an image. (Most of my family jewels are optimized in three to five minutes...)
The Digital Chapter in ABP II contains virtually the same information as in the April 2005 version of Digital Basics. The additional information (including the complete workflow for making conversions in CS2/Adobe Camera RAW) in the May 2006 update does not appear in ABP II. The December 2006 update included all of the wonderful Photoshop tips that I learned from Alejandro Furman on the last Katmai bear boat trip including making and using color selections, darkening selected portions of an image, and removing color casts. And since then there have been at least three more updates, each covering new material in detail. The latest update includes the basics of Quick Masking, a technique that will change your Photoshop life. For this reason, we advise that serious digital photographers purchase both ABP II for the amazing wealth of information that it contains and DB so that they can receive the free DB updates that contain the latest and greatest Photoshop techniques that I have learned.
Best and love and great picture-making to all,
artie
Note: Arthur Morris has been a Canon contract photographer since 1994 and continues in that role today. Hunt's Photo of Boston, MA is a BAA sponsor as it Delkin Devices. Back issues of all BAA Bulletins can be found in the Bulletin Archives which may be accessed from the home page at www.birdsasart.com