BIRDS AS ART NOTES
OCTOBER 22, 2009
Arthur Morris/BIRDS AS ART, PO Box 7245 4041Granada Drive, Indian Lake Estates, FL 33855. Telephone: 863-692-0906. Computer fax: 877- 265-6955
Visit www.BIRDSASART.com
Please give the images a minute or two to load and do make sure that your security settings are not preventing you from seeing them. Some folks simply need to click on "Show (or Allow) Images" on the frame of the e-mail. If you have any trouble at all viewing this Bulletin, you can access it in the Bulletin Archives here:
BirdPhotographers.Net: Inspirational, Educational, & Fun. Honest critiques done gently: www.BirdPhotographers.Net (It Ain't Just Birds!)
THE BIRDS AS ART BLOG: GREAT INFO, GREAT IMAGES, AND OUR LEGENDARY BAA EDUCATIONAL CAPTIONS & COMMENTS: www.birdsasart-blog.com
FEATURES:
PRE-ORDER YOUR CANON EOS-1D MARK IV FROM HUNT'S NOW
THE NEW CANON EOS-1D MARK IV PROFESSIONAL DIGITAL CAMERA BODY/MY INITIAL IMPRESSIONS
DAYTON, OH PROGRAM/SEMINAR: NOV 6/7, 2009
ALAN MURPHY'S "Guide to Songbird Set-up Photography"
THE SAN DIEGO IPT
THE 2010 SEPTEMBER BEAR BOAT IPT
BIRDS AS ART FINE ART CANVAS PRINT EDITION/GANNETS IN LOVE
IPT UPDATES
PRE-ORDER YOUR CANON EOS-1D MARK IV FROM HUNT'S NOW
Gary Farber at Hunt's is now officially taking pre-orders for the just announced Canon EOS-1D Mark IV professional digital camera body. It is scheduled to ship any time from late December to early January. The estimated price will be $4999.99. BIRDS AS ART subscribers can contact me directly at 1-781-462-2332 or at 1-800-924-8682 ext 2332. Or by e-mail me at digitalguygary@wbhunt.com. It looks as if there will be huge demand for this camera. Gary will do his very best to fulfill each of your orders as quickly as possible. BIRDS AS ART Bulletin subscribers who pre-order now will receive free shipping.
(Note: please see item next for details on the Mark IV. The short story is that I ordered two immediately after seeing my first Mark IV images on my laptop.)
THE NEW CANON EOS-1D MARK IV PROFESSIONAL DIGITAL CAMERA BODY/MY INITIAL IMPRESSIONS
When I was in New York two weeks ago I was privileged to receive two of the new cameras for testing. Bound by an NDA (non-disclosure agreement), I could not say boo. The camera was announced on 20 October. My initial impression is that Canon is back with a vengeance. The all-new AF system is fast and accurate without any of the inconsistency or jumpiness of the early MIII AF. Most of the sensors are cross-types. I am not big on the technical stuff but I do know that the camera focuses really well. It holds focus most of the time with backgrounds other than sky and holds focus nearly all of the time even when the sensor slips off the subject; I had many sharp images even when the central sensor was nowhere near the subject. I did set the custom function for AI Servo Tracking Sensitivity to Slow. Otherwise the CFs were set up the same as my MIII bodies.

The camera is very similar to the MIII so folks who have owned that body will not have much of a learning curve. Folks who never used a MIII will surely benefit from getting a copy of our MIII User's Guide. I will update and rename it soon after I get my hands on the camera. Canon users will once again have the option to be able to manually select any one of the 45 points. That is a Godsend for me when working with static subjects. I created RAW + Large JPEGs as I knew that I would not be able convert the RAW images; all of the images that I optimized were from the extracted JPEGs (I was not positive until just now but as it turns out the extracted JPEGs were indeed the Large sized ones; after optimizing them I saved them as TIFFs.)

With permission of my contact at Canon, I posted several MIV images on BPN and was in the process of posting several more when my contact called and asked me to take them all down. Canon was not keen on my posting images that were made with a pre-production body (even though I noted that in my posts). I have written him and hope to have the images back up in a day or two if at all possible. Please do not ask me why because I do not know <![if !vml]>

<![endif]>. I will publish some Mark IV images in a Bulletin as soon as I am permitted.

Noise. Everyone wants to know about the noise. It looked great at ISO 1600 and I even had one that I liked at ISO 12,800. It did show some noise as expected at 12,800 but it looked more than useable to me. I did not have a chance to use much besides ISO 400, 800, 1600, and 12,800 as mentioned above. When I used the latter ISO in really dark pre-dawn conditions more noise was evident than when I used it on a cloudy afternoon.

As I said, I have two on order; I have heard something about December deliveries. Bummer; I was hoping to have one for Bosque.... The camera does video and I hope to at least learn the basics of video capture when I get mine....

The 16.1 megapixel files looked pretty darned good for JPEGs; the color is great and the image files superb.
You can find the manufacturer's info on the Mark IV here: http://www.usa.canon.com/consumer/co...&modelid=19584.
You can read the entire BPN threads here http://birdphotographers.net/forums/showthread.php?t=48008 and here http://birdphotographers.net/forums/showthread.php?t=47947. If you read carefully and follow the links you can find lots more great info.
Canon has posted some images and a short movie here: http://web.canon.jp/imaging/eosd/samples/eos1dm4/
Fellow Canon Explorer of Light Vincent LaForet posted a killer movie (it is stunningly amazing) that he created on very short notice with the Mark IV to his blog but Canon requested that he remove it. At present, there is a pirated copy on line here: http://www.canonrumors.com/. You can read more about the camera's amazing low-light video capabilities on Vincent's blog here: http://blog.vincentlaforet.com/.
…..
In addition I received the e-mail below from CPS (Canon Professional Services) on 21 October. I found lots of new and exciting info in the e-mail.



Dear Arthur Morris,

INTRODUCING THE ULTIMATE MULTIMEDIA IMAGING SOLUTION:
THE NEW CANON EOS-1D MARK IV DIGITAL SLR CAMERA
The EOS-1D Mark IV Features a Completely Redesigned 45-Point Autofocus System, Fast 10 fps Continuous Shooting, 16-Megapixel Resolution, Outstanding ISO Sensitivity, and Full HD Video Recording at Selectable Frame Rates

LAKE SUCCESS, N.Y., October 20, 2009 – Canon U.S.A., Inc., a leader in digital imaging, is proud to introduce the next evolution in the EOS 1D series of cameras: the Canon EOS-1D Mark IV Digital SLR camera. The EOS-1D Mark IV is a high-speed multimedia performance monster with a 16-megapixel Canon CMOS sensor, Dual DIGIC 4 Imaging Processors, and 14-bit A/D data conversion, all at 10 frames-per-second (fps), with the widest ISO range Canon has produced to date. This new camera also features 1080p Full High-Definition video capture at selectable frame rates packaged in Canon's most rugged and durable professional camera body.

The crowning achievement of Canon's 1D Mark IV Digital SLR is its new autofocus system that starts with 45 AF points including 39 high-precision cross-type focusing points capable of tracking fast moving athletes or wildlife accurately at speeds up to 10 frames per second. With greater subject detection capability than ever before plus a newly redesigned AI Servo II AF predictive focusing algorithm, the Canon EOS-1D Mark IV camera sets new standards for autofocus performance among professional digital SLRs. Whether shooting for the six o'clock news or the front page, the EOS-1D Mark IV Digital SLR is the quintessential camera to freeze fast-moving action with high-speed stills or capture stunning HD video with dynamic color and image quality. To accompany the new EOS-1D Mark IV Digital SLR camera, Canon is also announcing a new accessory, the WFT-E2 II A wireless file transmitter providing photographers with a wide range of professional digital connectivity options.

"Canon works hard to be the imaging leader in all our business endeavors. This goal has fueled our innovation and R&D efforts to engineer the most advanced autofocus system Canon has ever produced. We are proud to announce the camera that will deliver the ultimate in imaging quality to professionals working in all areas of multimedia imaging, whether it's action photography, photojournalism or HD video and cinematography," stated Yuichi Ishizuka, senior vice president and general manager, Consumer Imaging Group, Canon U.S.A.

The Canon EOS-1D Mark IV camera will intrigue professional photographers in virtually every category from photojournalism and sports through nature, wedding, portrait and fashion to commercial, industrial and law enforcement. What makes the EOS-1D Mark IV camera different from its predecessors, in addition to numerous focusing system and image quality improvements, is its exceptional Full HD video capture capability. With this new level of functionality, the 1D Mark IV Digital SLR is destined to appeal not only to professional still photographers but also to a diverse market of professional videographers and filmmakers who are looking for exceptional Full HD video quality, amazing low-light performance, outstanding portability and a level of durability unheard of in most HD video cameras in this price range.

New 45-Point Autofocus System
The new EOS-1D Mark IV Digital SLR camera features Canon's most advanced Autofocus system to date. It is equipped with a newly developed 45-point AF sensor featuring 39 high-precision cross-type AF points, and an all new AI Servo II AF mode that gives still photographers the power and performance to track and focus a fast-moving subject at speeds up to 10 frames per second. With more than twice as many cross-type focusing points as the EOS-1D Mark III and a new AF sensor construction that improves performance in low light and with low contrast subjects, the EOS-1D Mark IV has greater subject detection capabilities than any previous EOS model. To complete the range of AF improvements, Canon has developed a new AI Servo II AF predictive focusing algorithm that significantly improves responsiveness and stability by making better decisions on focus tracking in a variety of shooting conditions.

Amazing High ISO Performance
Wedding and event photographers shooting in low light without the benefit of a flash can take advantage of Canon's widest ISO range and highest performance ever. The EOS-1D Mark IV camera's ISO speed settings range from 100 up to 12,800 in 1/3 or 1/2 stop increments with ISO Expansion settings of L: 50 for bright light or H1: 25,600, H2: 51,200, and H3: 102,400 for even the most dimly lit situations. Photographers and documentary filmmakers working in available light will be impressed by the low-noise image quality of the 1D Mark IV, capturing amazing still images and video footage even at speed settings as high as ISO 12,800. High ISO, low light still images are further enhanced by Canon's adjustable High ISO Noise Reduction feature, now a default setting in the camera.

The EOS-1D Mark IV, EOS HD Video Powerhouse
Over the past year, Canon's EOS HD Video technology has changed the way users capture 1080p HD video and opened new doors for multimedia journalists and Hollywood cinematographers alike with full manual exposure control, selectable frame rates, and interchangeable lenses on some of the largest and most sensitive image sensors on the market. Canon continues this innovation trend with the new EOS-1D Mark IV Digital SLR with Full HD capture and full manual exposure control, plus selectable frame rates on an all-new
APS-H-sized image sensor that's similar in size to a Super 35mm motion picture film frame. The large sensor allows filmmakers to achieve shallow depth-of-field just as cinematographers have traditionally done using much higher-cost motion picture equipment.

The more than 50 Canon EF lenses compatible with the EOS-1D Mark IV give videographers incredible creative options, including an impressive selection of large-aperture professional L-series primes as well as zoom lenses, macro, Tilt-Shift and Fisheye optics. The Canon EOS-1D Mark IV allows for three video recording resolutions – 1080p Full HD and 720p HD in a 16:9 aspect ratio and Standard Definition (SD) in a 4:3 aspect ratio. The camera will record Full HD at 1920 x 1080 in selectable frame rates of 24p (23.976), 25p, or 30p (29.97); and 720p HD or SD video recording at either 50p or 60p (59.94). SD video can be recorded in either NTSC or PAL standards. Sound is recorded either through the internal monaural microphone or via optional external microphones connected to the stereo microphone input. The camera also provides an in-camera video editing function allowing users to remove the start or ending of a video clip directly in the camera to eliminate unwanted footage and speed up post-production.

Image Quality and Performance
The heart of the EOS-1D Mark IV camera's outstanding image quality is a newly developed 16.1-Megapixel CMOS sensor featuring Canon's latest and most advanced proprietary technologies. These technologies include improved photodiode construction to enhance dynamic range and gapless microlenses that are positioned closer to the photodiodes for improved light gathering efficiency. The transmissive quality of the color filter array has been enhanced to improve sensitivity. Canon has also upgraded the sensor circuitry to improve noise reduction before the image data is exported from the CMOS sensor to the rest of the image processing chain.

With 60 percent more pixels than the EOS-1D Mark III, the EOS-1D Mark IV Digital SLR employs Dual DIGIC 4 Image Processors with approximately six times the processing power of DIGIC III for full 14-bit A/D conversion at 10 fps. High-speed continuous shooting up to 121 Large JPEGs is possible using a UDMA CF card. This camera also features three RAW shooting modes for versatility with Full RAW (approx. 16 million pixels), M-RAW (approx. nine million pixels), and S-RAW (approx. four million pixels). Three additional JPEG recording formats (M1, M2 and Small) are also available.

The 14-bit per channel conversion facilitated by the dual DIGIC 4 Processors provides smoother tonalities in final images capturing all 16,384 distinct tones in each channel (red, green and blue) at the full 10 fps frame rate. RAW images shot on the new Canon EOS-1D Mark IV use the entire 14-bit space when converted to 16-bit TIFF files in Canon Digital Photo Professional (DPP) software, which is supplied with the camera at no extra charge. The 14-bit A/D conversion is also the foundation for Canon's Highlight Tone Priority feature that takes maximum advantage of the camera's extensive dynamic range to preserve detail in highlight areas of the image. Canon's new EOS-1D Mark IV Digital SLR also features an improved white balance algorithm making colors more accurate when shooting under low color temperature light sources such as household tungsten lamps.

The EOS-1D Mark IV Digital SLR features Canon's Peripheral Illumination Correction function which corrects darkening that can occur in the corners of images with most lenses when used at their largest apertures. When activated, it is automatically applied to JPEG images and video clips as they are shot. For RAW images, it can be applied in DPP software.

Other new features include a large three-inch solid structure Clear View II LCD screen with 920,000 dot/VGA resolution and a wide 160-degree viewing angle for enhanced clarity and more precise color when reviewing images and shooting video. The new in-camera copyright information feature helps professionals secure control over images by setting copyright data directly into the camera and appending that information to each image file in the Exif metadata. Additional features include a fluorine coating on the Low Pass Filter to further repel dust and enhance the EOS Integrated Cleaning System.

Minimize Post-Production with Enhanced Canon Auto Lighting Optimizer
Action photography truly is all about speed, capturing a fast subject with fast focusing and fast frame rates. However, all this speed might be wasted if it is slowed down by lengthy post-production procedures to adjust image quality. The EOS-1D Mark IV Digital SLR helps reduce post-production work with a powerful new Auto Lighting Optimizer (ALO) system. When enabled, Canon's ALO automatically adjusts the image for optimal brightness and contrast on the fly during in-camera image processing, reducing clipped highlights while keeping shadowed areas as clear and detailed as they actually appear. By optimizing brightness and contrast in-camera, Canon's ALO system significantly reduces the need for post-production image optimization, and gives photographers image quality they can take directly to press. Demanding professional photographers who tested ALO clearly stated that this one feature will reduce their post-production image optimization process by more than 75 percent. Canon's ALO works with both RAW[i] and JPEG images as well as video recording.

Rugged Reliability
Canon has taken every measure to ensure that the EOS-1D Mark IV Digital SLR camera has the highest degree of weather resistance in the EOS line. The 1D Mark IV camera incorporates a wide range of design features that enhance its durability and reliability for professional assignments. For example, the 1D Mark IV's body, chassis and lens mount are completely weather-resistant and 76 gaskets and seals surround all buttons and seams. The body covers and internal chassis, including the mirror box, are constructed with magnesium-alloy, one of the strongest and rigid metals available for its weight. For added strength, the lens mount is constructed with stainless steel. In fact, when used with Canon's Speedlite 580EX II and/or most current L-series lenses, the entire camera system remains fully weather resistant, so professionals can concentrate on getting the shot instead of worrying about protecting their gear.

New Wireless Connectivity
Canon is announcing the availability of the new WFT-E2 II A* wireless file transmitter exclusively for the EOS-1D Mark IV Digital SLR camera. The WFT-E2 II A wireless transmitter is an extremely small and versatile device that offers professional photographers a wide range of digital connectivity options including IEEE802.11a/b/g and Ethernet, ideal for commercial and studio work. In addition to adding the ability to connect to wireless networks over 802.11a, the new WFT-E2 II A adds a wealth of new professional features to the photographer's tool kit. The new Camera Linking feature allows a single photographer to simultaneously fire up to 10 cameras remotely; and the updated WFT Server mode lets you remotely use Live View, control settings, and fire the EOS-1D Mark IV over the internet from anywhere in the world using a standard Web browser or many Web-enabled smart phones. Additionally, geotagging is now possible via Bluetooth, using compatible GPS devices to append coordinate data to the images.

Pricing and Availability
The Canon EOS-1D Mark IV Digital SLR camera is scheduled to be delivered to U.S. dealers in late December, and will be sold in a body-only configuration at an estimated retail price of $4,999.00[ii]. Final pricing and availability for the Canon WFT-E2 II A wireless file transmitter will be available later this year.

Canon Digital Learning Center
Online visitors and Web surfers are encouraged to browse the Canon Digital Learning Center and take advantage of the various educational resources that Canon has to offer for novices and advanced photographers alike. The Canon Digital Learning Center provides a schedule for a wide variety of Live Learning classes across the country with renowned photographers as well as online resources and tips. The site also features online tutorials for beginners and professionals to learn their way around a digital SLR camera and inkjet printer and unlock the full creative control of digital photography. To learn more about each program and register, please visit: www.usa.canon.com/canonlivelearning

About Canon U.S.A., Inc.
Canon U.S.A., Inc., is a leading provider of consumer, business-to-business, and industrial digital imaging solutions. Its parent company, Canon Inc. (NYSE:CAJ), a top patent holder of technology, ranked third overall in the U.S. in 2008†, with global revenues of US $45 billion, is listed as number four in the computer industry on Fortune Magazine's World's Most Admired Companies 2009 list, and is on the 2009 BusinessWeek list of "100 Best Global Brands." Canon U.S.A. is committed to the highest levels of customer satisfaction and loyalty, providing 100 percent U.S.-based consumer service and support for all of the products it distributes. At Canon, we care because caring is essential to living together in harmony. Founded upon a corporate philosophy of Kyosei – "all people, regardless of race, religion or culture, harmoniously living and working together into the future" – Canon U.S.A. supports a number of social, youth, educational and other programs, including environmental and recycling initiatives. Additional information about these programs can be found at www.usa.canon.com/kyosei. To keep apprised of the latest news from Canon U.S.A., sign up for the Company's RSS news feed by visiting www.usa.canon.com/rss.

†Based on weekly patent counts issued by United States Patent and Trademark Office.

* This device has not been authorized as required by the rules of the Federal Communications Commission. This device is not, and may not be offered for sale or lease, or sold or leased, until authorization is obtained.

Specifications and availability are subject to change without notice.
All referenced product names, and other marks, are trademarks of their respective owners.

[i] When processed in Canon Digital Photo Professional software.
[ii] Pricing subject to change at any time. Actual prices are determined by individual dealers and may vary.
DAYTON, OH PROGRAM/SEMINAR: NOV 6/7, 2009
FREE FRIDAY NIGHT PROGRAM: "LENSES FOR BIRD & NATURE PHOTOGRAPHY/BIRDS AS ART STYLE"
SPONSORED by CANON USA/EXPLORERS OF LIGHT & the FOCUS PHOTO CLUB of DAYTON, OH
See here for details, location, directions, and to register: http://www.focusphotoclub.com/arthurmorris.html
In this practical and educational slide program you we will learn which Canon lenses I use to create a variety of my amazing images, how, why, and when I use each of them, and what I am thinking as I depress the shutter button. Many folks will be surprised to learn that a long lens with a teleconverter is often not the best tool for the job. A selection of books, educational materials, and prints will be available for purchase.
Please note these important basics for the Friday evening program: Date & time: Friday Nov 6th, 2009, 6:30pm. Free with a non-perishable food item for the Dayton Foodbank. Location: Wegerzyn Gardens. Please register here: http://www.focusphotoclub.com/arthurmorris.html
BIRDS AS ART FULL DAY "THE ART OF NATURE PHOTOGRAPHY" SEMINAR.
DAYTON, OH. SATURDAY, NOVEMBER 7, 2009: 9am-5:30pm. (Lunch break noon til 1:30pm)
LOCATION: Cox Arboretum, 6733 Springboro Pike, Dayton, OH 45449 (937-434-9006) Limit: 48/Openings: 24.
There will be two programs on Saturday morning. The first will be "Composition and Image Design." The second will be "Tips on Getting Close." Each segment will feature well more than a hundred spectacular images and will include the tips, techniques, and ideas that I have learned, developed, and refined over the past 26 plus years. The afternoon session will cover understanding and adjusting histograms in the field, the complete BAA digital workflow (including ACR conversions), and a slew of simple, easy to learn Photoshop tips including the use of the Clone Stamp, the amazing Patch Tool, creating and using Quick Masks for dozens of applications, and the Average Blur Color Balance trick among others. I like to work quickly yet have my images look great. There will be a 30-minute break morning and afternoon. Whether you photograph general nature or just birds, all who attend will leave as better photographers.
(Do note that the Saturday seminar will be a continuation of the free Friday evening program; Saturday registrants are urged to attend Friday night if at all possible.)
The cost of the Saturday Seminar is $159. Members of participating camera clubs may apply a $15 discount. In addition, $15 from each registration fee will be split and donated to the Dayton Foodbank and to Five Rivers Metro Parks. Students under 22 years of age with a valid driver's license and a student ID may register for $99. With a strict limit of 48 attendees, registration is by phone only: please call 863-692-0906 with a credit card in hand. Due to the short notice the registration fee is non-refundable. We will be here pretty much all day every day to process your registration; feel free to call between 7am and 9pm seven days a week.
Register with a friend or a spouse and apply a $15 discount to each reservation. To encourage out of town folks to register, those traveling more than 150 miles or flying to the event, may apply a $50 discount to registration fee.
See you there! A selection of books, CDs, and prints will be available for purchase on Saturday.
ALAN MURPHY'S "Guide to Songbird Set-up Photography"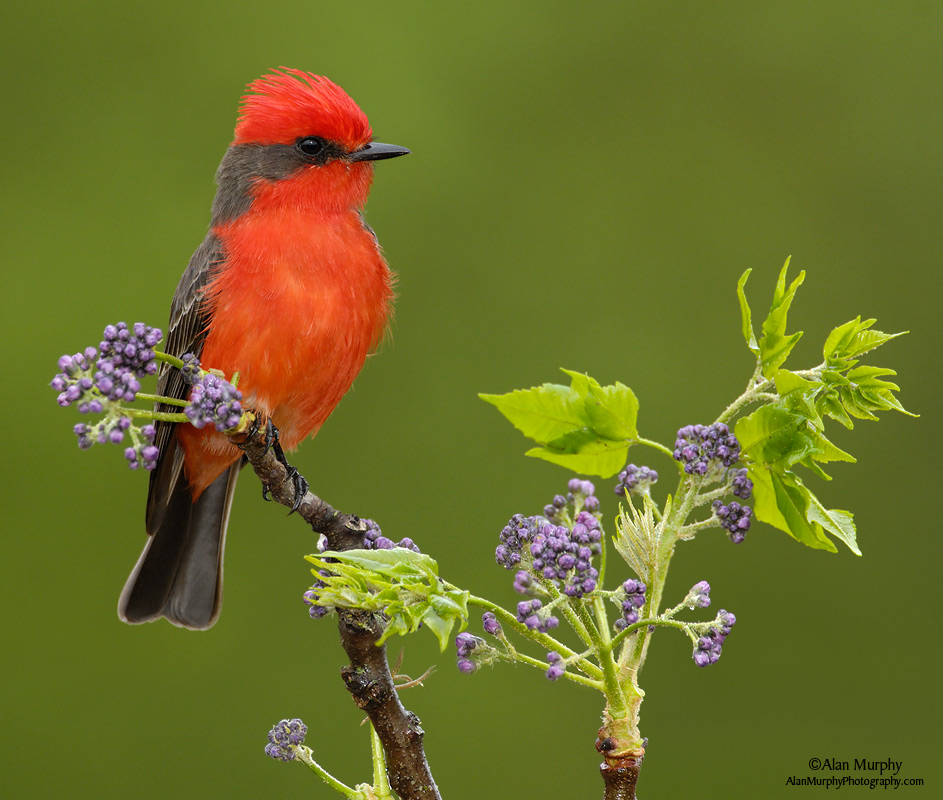 Vermillion Flycatcher, male
Image Copyright 2009: Alan Murphy Photography
For technical details, please see Alan's BPN post here: http://birdphotographers.net/forums/showthread.php?p=366024&posted=1#post366024.
How would you critique this image? You can see my comments by following the link above. Be sure to scroll all the way down.
Alan Murphy's "Guide to Songbird Set-up Photography"
Available December, 2009. Order now; save $10.00. See below for details. The pre-publication discount will be available only to the first 500 folks who order. We are currently at about 300.
The book is lavishly illustrated not only with Alan's killer images but with dozens and dozens of step-by-step photos that will show you exactly how to create your own successful set-ups. The writing is clear and concise and the directions are easy-to-follow and inclusive. As Alan shows in the book, if you have only a small backyard, heck, even just a patio or a balcony, he can help you to create some stunning avian images on a consistent basis.
BIRDS AS ART is proud to announce that we are currently accepting pre-publication orders for Alan Murphy's Guide to Songbird Set-Up Photography (SSUP). The professionally designed, packaged, and burned CD will be available some time in December, 2009. It will sell for $50 plus $3.00 shipping and handling to US addresses. Shipping to Canada is $6.00. It is $8.00 for all foreign orders. Florida residents will need to add 7% sales tax ($3.50) on the cost of the CD only.
Now here's the best news: you can save $10 by pre-ordering your copy of Alan Murphy's Guide to Songbird Set-up Photography now (only through BAA). You can send us a Paypal, call us at 863-692-0906 with a credit card in hand, or order SSUP from the BAA On-line Store (with secure credit card data transmission) by clicking here: Alan Murphy's "Guide to Songbird Set-up Photography" The pre-publication discount will be available only to the first 500 folks who order. We are currently at about 300. (Note: Shipping charges with BAA On-line Store orders will likely vary by small amounts from those noted above.)
THE SAN DIEGO IPT
Great news: Todd Gustafson will be joining me as co-leader on the San Diego IPT. Check out Todd's spectacular images from Brazil (including some killer jaguars) here: http://gustafsonphotosafari.net/galleries/brazil2009/index.html
San Diego IPT JAN 13-17, 2010 5 Full Days: $2395 (Limit 8/Openings: 4). Slide program on the evening of TUE JAN 12. Payment in full is due now. We can accept your $500 deposit via credit card and will await the check for your balance. You may pay your deposit with either a personal check or with a credit card and a phone call (863-692-09060. To complete a valid registration, please fill out and complete the Registration and the Release & Assumption of Risk forms that can be found here: http://www.birdsasart.com/Registration and Release Forms.pdf If you call with a credit card to register, please be sure to print, sign, and return the Registration and the Release & Assumption of Risk forms within ten days.
The gate at the Cave Store Cliffs has been unlocked for many, many months and my understanding is that the fence has now been removed as well. (Though I am not quite positive on the cause and effect here I do know that Scott Bourne had a show-cause order filed with regards to public access at this location.)
We will get to photograph killer breeding plumage Brown Pelicans with the red bill pouches at close range and in flight. Santee Lakes will yield close-up Wood Ducks and lots more; White Pelicans are likely there. LaJolla Shores Beach will yield Marbled Godwits in beautiful buff reflections and this spot and Coronado will give us chances on a variety of gorgeous gulls and several shorebird species as well. I selected dates that feature perfect tides for both our morning and afternoon coastal locations. And we will have extensive time for image review and Photoshop techniques.
100 Reasons to Register for the San Diego IPT You can view a gallery with my 100 favorite San Diego images here: www.birdsasart.com/sandiego800. Click on the first image to see and then click on next to view the images as a slide show. Scroll down to see the EXIF data for each image (including those above and below). Then send your deposit check <smile> I do hope that you can join us.
THE 2010 SEPTEMBER BEAR BOAT IPT
Final dates, details, and prices:
Bear Boat IPT: Sept 4-10. 2010: $7,299. Limit 6/Openings: 1). It is advised that you be in Anchorage on the afternoon of the September 2nd to be assured of not missing the boat!). This is the bears-catching-salmon trip. In addition, Glaucous-winged and Mew Gulls eating roe are a certainty. Stellar's Sea Lions are very likely. Dark phase Northern Fulmars, Black-legged Kittiwakes (including the gorgeous immatures), and Harbor Seals are possible. Did I mention bears catching salmon? And more bears catching salmon? We will spend some time fishing for halibut on the higher tides. (The bears are busy catching salmon on the lower tidal stages.)
Included: Round-trip airfare from Anchorage to Kodiak. Round-trip float plane airfare from Kodiak to Katmai. All meals on the boat. Two night's lodging in Anchorage. Guide services. In-the-field instruction. Image reviews and Photoshop tutoring.
Not included: guide and crew tip ($200 recommended). Airfare from your home-city to and from Anchorage.
Non-refundable deposit: $2000 due immediately to reserve your spot. First payment: $3,000 due February 1, 2010. Final payment: $2,299 due May 1, 2010. To complete a valid registration, please fill out and complete the Registration and the Release & Assumption of Risk forms that can be found here: http://www.birdsasart.com/Registration and Release Forms.pdf
Deposits may be paid by check (preferred) or by credit card. Balances must be paid by personal check. Those using a credit card (phone only: 863-692-0906) to register will be advised to print, sign, and return the Registration and the Release & Assumption of Risk forms within ten days. I do hope that you can join us for the trip of a lifetime.
BIRDS AS ART FINE ART CANVAS PRINT EDITION/GANNETS IN LOVE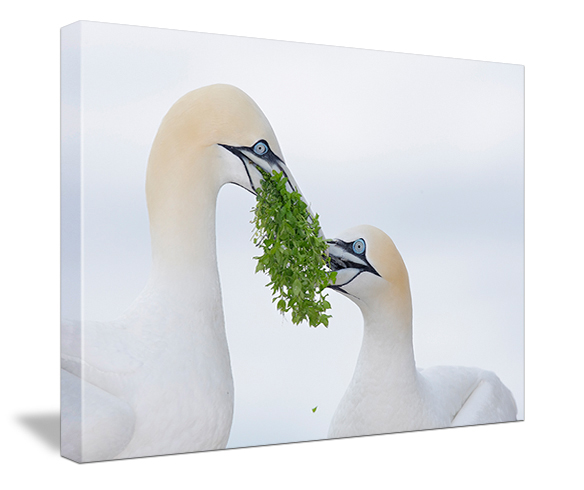 BIRDS AS ART is proud to continue to offer the limited sale of the award winning classic, "Gannets in Love." (We have just learned some great, great news about this image that we are not at liberty to share at the moment. See a future Bulletin for details.)
This endearing image was created at Bonaventure Island, Perce, Quebec, Canada. The thick gallery wrap (1 ˝ inches) canvas is hand-made in the US under the supervision of the artist and is available only through BIRDS AS ART.
This is the second in a series of Arthur Morris' digitally signed, numbered, limited edition gallery-wrapped canvas prints. The canvas is stretched over custom-made wood supports. The canvas has no frame and appears to float on the wall. There's no need for a frame for stability since the structure is inside the art. These fine canvas limited edition prints are covered with a rear black dust cover. The hanging wire is neatly attached and a courtesy package with two clear bump-ons, a nickel plated hanger and nail are included.
This edition will be limited to 100 pieces of any size. Once the final print is sold the edition will be permanently closed making each Arthur Morris/BIRDS AS ART print a valuable collectible. Each 16 x 24 inch print is accompanied by a certificate of authenticity.
The first fifty prints will sell for only $349 plus $19.95 shipping and handling to all US addresses. Once 50 prints are sold, the price will rise to $424. These prints are in stock and ready to ship now.
Shipping and handling to Canada will require an additional $35 handling fee. (Canadian orders may be subject to Customs delays and duties and require payment via personal check or money order in US funds.)
Each image will be professionally packed to avoid damage during transit. All fees are due and payable in advance in US funds. (We cannot be responsible for delays at customs.)
Payment may be by check or money order mailed to Arthur Morris/BIRDS AS ART PO Box 7245, Indian Lake Estates, FL 33855, by Paypal to birdsasart@att.net, or by credit card. Please call 863-692-0906 for credit card orders.
We offer a 100% money back guarantee. If for any reason you are not completely satisfied we will gladly accept a return for exchange or refund provided that the item is returned within seven days of receipt and is in saleable condition. We refund only the purchase price plus the shipping and handling. Return shipping is the responsibility of the customer. This guarantee does not include prints that you damage or that are damaged in shipping. If your print is damaged in shipping, please let us know and we will arrange to have a replacement sent. Please allow 14 days for your check to clear.
We are 100% positive that "Gannets in Love" will join "Fire in the Mist" and become a treasured collector's item; thank you for your support of my work.
Many folks have written asking for prices for traditional photographic prints and for alternate sizes and prices for canvas prints. Here goes:
Traditional Photographic Prints (signed upon request)
Almost all BIRDS AS ART digital images and many classic film images are available as traditional photographic prints on either matter or satin (glossy) paper.
Print Paper Size Print Shipping
5 X 7.5" $29.95 $4.95
6 X 9" $49.95 $4.95
8.5 X 11" $99.95 $9.95
11.7 X 16.5" $159.95 $9.95
13 X 19" $199.95 $14.95
16 X 24" $249.95 $14.95
24 X 36" $349.95 $19.95
Size shown is the size of the paper. The image, with borders on all four sides, will be aesthetically fit to the canvas size. The borders allow for easy matting.
Please indicate your choice of matte or satin (glossy) paper. If you wish to have your print signed, your order may be delayed depending on my travel schedule.
Fine Art Canvas Prints/digitally signed
Almost all BIRDS AS ART digital images and many classic film images are available as digitally signed Fine Art Canvas Prints.
Canvas Size 1.5" Gallery Wrapped Canvas Shipping
8 X 12" $199.00 $14.95
12 X 18" $249.00 $14.95
16 X 24" $299.00 $19.95
24 X 36" $399.00 $19.95
30 X 45" $499.00 $19.95
36 X 54" $599.00 $24.95
40 X 60" $699.00 $24.95
Limited Edition (100 canvases) Fine Art Canvas Prints/digitally signed and numbered
Canvas Size 1.5" Gallery Wrapped Canvas Shipping
8 X 12" $249.00 $14.95
12 X 18" $299.00 $14.95
16 X 24" $349.00* $19.95
24 X 36" $449.00 $19.95
30 X 45" $549.00 $19.95
36 X 54" $649.00 $24.95
40 X 60" $749.00 $24.95
* The price of the standard 16 X 24" Limited Edition Fine Art Canvas Prints will increase on a sliding scale as an edition sells. Please see the individual images for the current price. The prices of alternate sizes will increase proportionately as well.
Buy any five 16 X 24 inch or larger Limited Edition Fine Art Canvas Prints and receive a free 16 X 24" Fine Art or Limited Edition Canvas Print of your choice. (This offer Includes free shipping.)
IPT UPDATES
BOSQUE del APACHE 2009 IPT: "The Complete Bosque Experience." NOV 21-27, 2009. Slide program on the evening of Friday, NOV 20. 7-FULL DAYS: $3199. (Non-refundable deposit: $500; see details below.) Limit: 10/Openings: 1. Co-leaders: Scott Bourne and Robert O'Toole. Live, eat, and breathe photography with one of (if not the) world's premier photographic educators at one of his very favorite locations on the planet. Plus two great co-leaders and lots of Photoshop instruction.
SW FLA PRESIDENT'S WEEK IPT: FEB 10-15, 2010. Slide program on the evening of FEB 9. Slide program on the evening of FEB 11. 6-FULL DAYS: $2799. (Non-refundable deposit: $500.) Limit: 10/Openings: 1. Co-leaders: Tim Grey and Alfred and Fabiola Forns.
Imagine having Photoshop guru Tim Grey at your side to answer your Photoshop questions for 6 full days! Escape winter's icy grip and join me in Florida in the land of ridiculously tame birds. This IPT will visit Little Estero Lagoon which has been fantastic for the past three years (and been getting better each year), the Venice Rookery, several killer Burrowing Owl nests on Cape Coral, and several spots on Sanibel including Blind Pass, the Sanibel Fishing Pier, and the East Gulf beaches (for Snowy Plover). If we have a foggy drizzly morning we may visit Corkscrew Swamp and Sanctuary. We have arranged for morning low tides at Little Estero and a setting full moon for our Saturday visit to the Venice Rookery <smile> For the first time ever, we will not be visiting Ding Darling NWR as photographic opportunities there have been diminishing steadily for the past decade. As you can see, I am teaching less and less, taking fewer folks, and lengthening the IPTs to allow for a slightly more relaxed pace with repeat visits to the best locations.
A non-refundable deposit of $500 is required to hold a spot for each of the above IPTs. Deposits may be paid by check, Paypal, or credit card. Payment in full (by check or money order) is due four months before the start of each trip and is non-refundable unless the IPT sells out. You will be required to sign a statement of understanding to this effect. Travel insurance is of course highly recommended. Travel Insurance Services offers a variety of plans and options. Included with the Elite Option or available as an upgrade to the Basic & Plus Options, you can also purchase Cancel for Any Reason Coverage, which expands the list of reasons for your canceling to an infinite list, from a sudden work or family obligation to a simple change of mind. My family and I use and depend on the great policies offered by TIS whenever we travel. You can learn more here: Travel Insurance Services. We regret that we must implement this new policy but we have recently been plagued by last minute cancellations that make it impossible for others to participate and deprive us of essential income.
Best and great picture-making,
artie
Note: Arthur Morris has been a Canon contract photographer, part of the Explorers of Light program, since 1996 and continues in that role today. Hunt's Photo of Boston, MA is a BAA sponsor as is Delkin Devices. Back issues of all BAA Bulletins can be found in the Bulletin Archives which may be accessed from the home page at www.birdsasart.com. To unsubscribe please click here: unsubscribe