BIRDS AS ART NOTES
March 29, 2008
Visit www.birdsasart.com
PFLI APPEARANCE
SENSOR SCOPES STILL ON SALE: REDUCED $20
MORE ON SUET
Contact us by phone at 863-692-0906 (Eastern Time Zone) or by e-mail at birdsasart@att.net . The att e-mail address is best from overseas.
We gladly accept credit card orders by phone 8am till Eastern Time ( till Fridays). You can use the PayPal links on the web site to order anything. Just type in the item(s) and the amount. If using your own PayPal account, please send to either of the e-mail addresses above.
Note: maximize this e-mail for best formatting.
Important Request: if responding to this e-mail, please take the time to delete all images and all irrelevant text.
PFLI APPEARANCE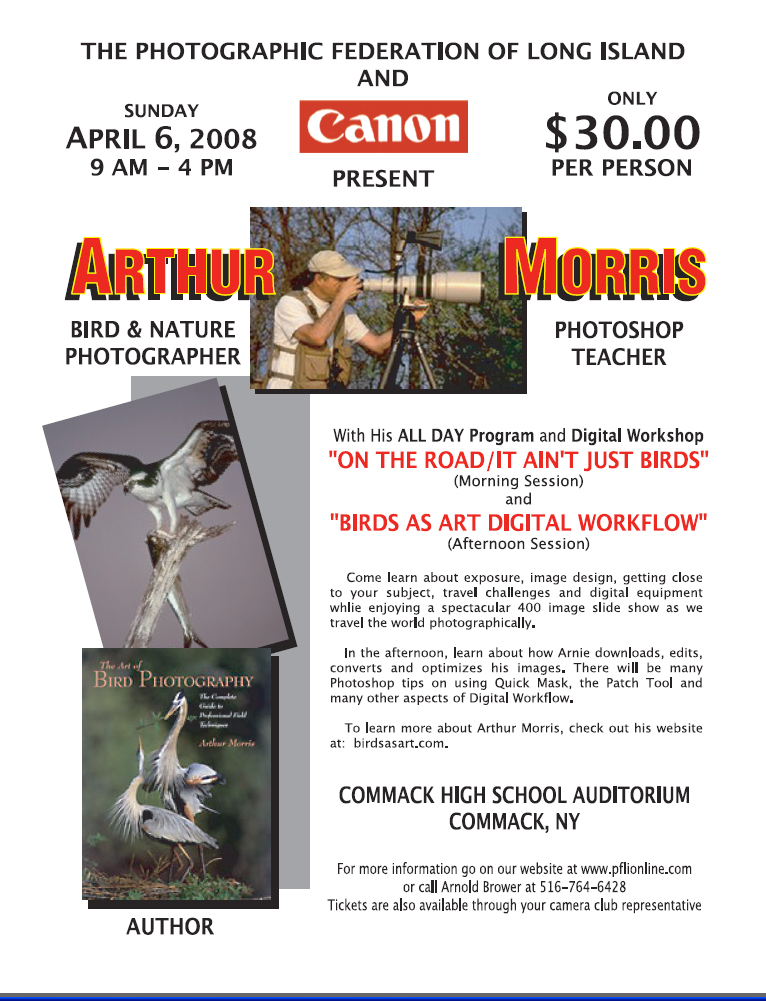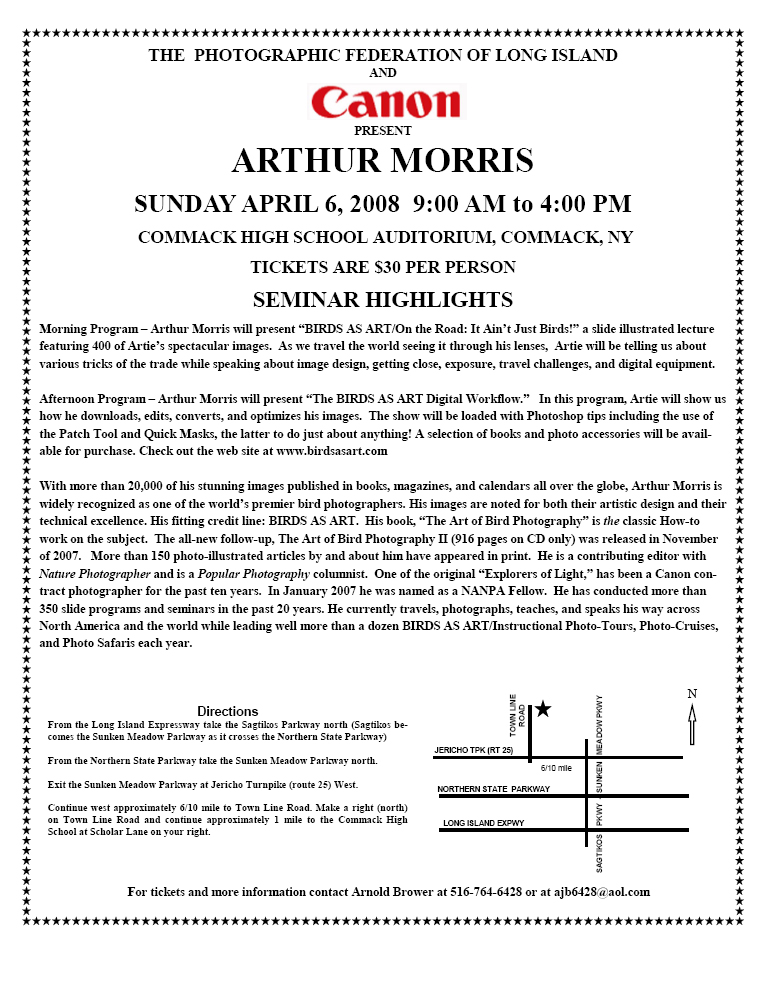 SENSOR SCOPES STILL ON SALE: REDUCED $20!
Thanks to the generosity of Allan Parry and Martin Woods of Delkin Devices, we are able to continue the sale on Sensorscpes after selling out our complete stock within hours of the posting of BAA Bulletin #257. When we do a Sensor Scope demo on IPTs or at shows, folks are amazed that they can actually see the dust and gobble them up like potato chips.
Before Lens Pens changed the world of sensor cleaning (http://www.birdsasart.com/lenspens.htm), I can remember using the wet method and creating test slide after test slide in an effort to determine whether or not the sensor was actually clean. Clean the sensor, walk to the front door, photograph the sky at f/22, remove the card, download the image, and then do it again and again and again. I can actually remember being so frustrated as to be near tears. While the Lens Pens have made actually cleaning the sensor tons easier, the Sensor Scope has been even more beneficial when it comes to getting a clean sensor quickly, efficiently, and easily. Instead of having to create test image after test image you simply get a close-up look at your sensor and clean away only the specks that you see. And best of all, they will be exactly where you see them through the scope; a single flick of the Lens Pen and you are good to go. You only need to clean what needs to be cleaned… Due to a volume purchase from Delkin we are proud to be able to cut the price of the Sensor Scope alone by $20.
You can order a SensorScope today for only $59.98 plus $7.00 shipping and handling in the US. The total is $66.98. Florida residents please add 7% sales tax to the cost of the item only: ($71.18. total). Overseas customers please e-mail your complete ship-to address to receive a shipping quote. Paypal is quite convenient. You can call us at 863-692-0906 with credit card in hand, or send a check for the correct amount made out to "Arthur Morris" to us as follows: Arthur Morris/BIRDS AS ART, PO Box 7245, 4041 Granada Drive, Indian Lake Estates, FL 33855.
MORE ON SUET
From Brian Strong by e-mail:
Hi Artie, Saw your note in BAA March 27th about suet. Just a suggested refinement as I don't know the tastes of birds in your neck of the woods. For winter feeding here in the South Island of New Zealand -- do the suet thing but add a good spoonful of peanut butter. Other additives -- for the nectar eaters add a spoonful of honey and for everyone add a handful of mixed bird seed from a pet dealer. These are the mixes I use over the lean months of winter and they are pretty popular. Brian Strong, Christchurch, NZ
Editors note: I have heard about mixing in seed and using peanut butter either in the suet of by itself (especially in Texas), but I have never heard or thought of adding honey to the suet mix as it cools. If anyone tries it, please let us know how you do. am
Via e-mail from G. Michael Anthon:
Arthur, I read with interest your take for feeding suet. I like it. Your comments will help provide a more natural setting for my images as compared to what I am doing currently. We get Downe's, Hairies, Red Bellieds, White Breasted Nuthatches, Blackbirds, and even Pileated Woodpeckers. I use a home-made suet feeder with the cover tied on by nylon rope to keep out the raccoons. We use between 2 and 8 lbs of suet a month in 2 feeders depending on the time of the year. We use even more when the pileateds are around and when the weather is snowy and cold here in Ohio. If the fat get rancid, it does not seem to make any difference. Great newsletters; thanks! I haven't needed much of what you have been selling, but I will order the tiny Giotto's head from you. Regards, michael
.....
Best and love and great picture-making to all, artie
Note: Arthur Morris has been a Canon contract photographer since 1996 and continues in that role today. Hunt's Photo of Boston, MA is a BAA sponsor as is Delkin Devices. Back issues of all BAA Bulletins can be found in the Bulletin Archives which may be accessed from the home page at www.birdsasart.com