While the spoonbills are on the nests, James (aka Froggie and Darth Daddy) wants everyone to know that over the next three months there will still be some great opportunities available aboard his new pontoon boat, the Hooptie Deux. There will be adult and (soon) young spoonbills with their beautiful blue lores, Glossy Ibises in breeding plumage, Reddish Egrets, Brown Pelicans, and lots more at Alafia. There will be Wood Storks, White Ibises, and most of the regularly breeding herons and egrets at the Lakeland rookery (all with chicks), nesting Royal and Caspian (yes, Caspian!) Terns on various spoils islands in Tampa Bay, and frigatebirds and most likely baby Brown Pelicans at Tierra Verde. And James is absolutely superb at putting you in the perfect position to create great images at all of these locations. If you would like to check dates, prices, and availability you can contact James by cell phone at 813-363-2854 or via e-mail at james@birdphotographers.net or james@wildflorida.net.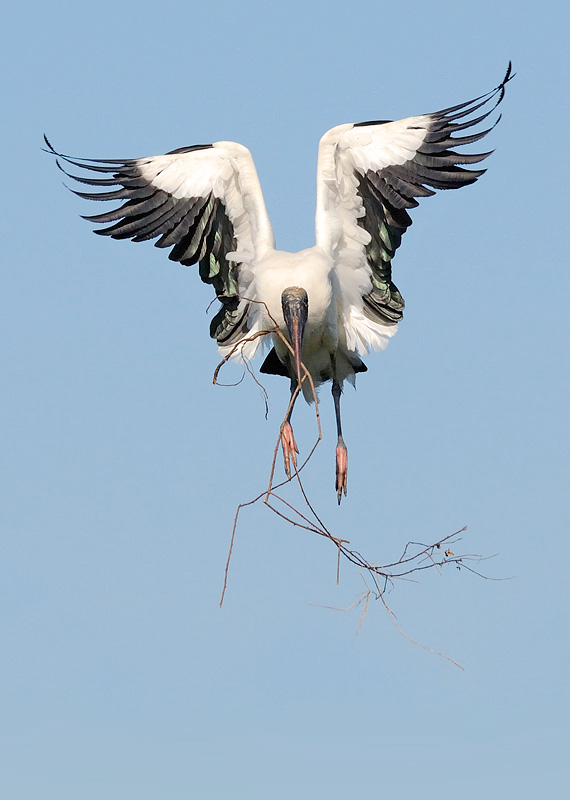 Wood Stork, adult landing with nesting material, Lakeland, Florida
Image Copyright 2008: James Shadle/Wild Florida Photography
Nikon 70-300 VR ED AF-S @ 200mm and the Nikon D2X. ISO 400. Manually Exposed 1/2000 s @ F8
I made several trips to the Lakeland rookery with James last season and got great stuff on both adult and Wood Stork chicks, baby White Ibis, and lots more.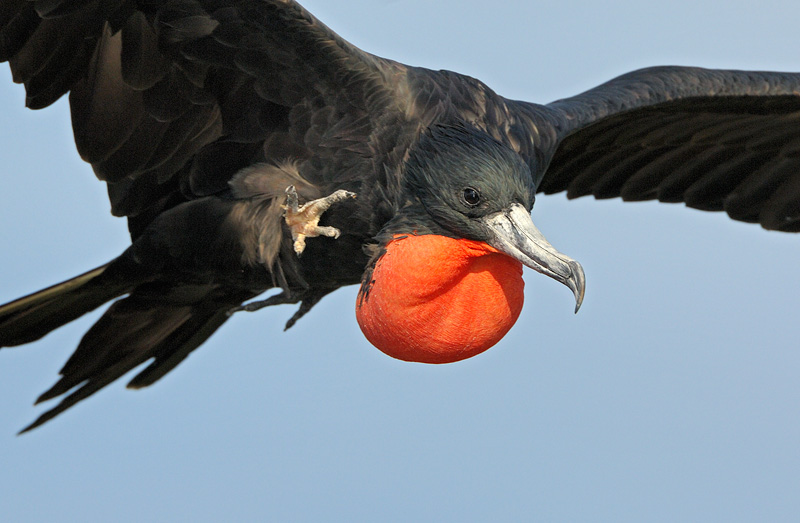 Magnificent Frigatebird, adult male in flight with red throat pouch inflated. Tierra Verde, Florida
Image Copyright 2008: James Shadle/Wild Florida Photography
Nikon 600mm f/4 ED AF-S lens and the Nikon D2X. ISO 200. Manually Exposed 1/1250 s @ F6.3
Contrast set to low. Group Dynamic AF on continuous (AF-C)
I love the partially inflated pouch and the right toes in this tight flight image.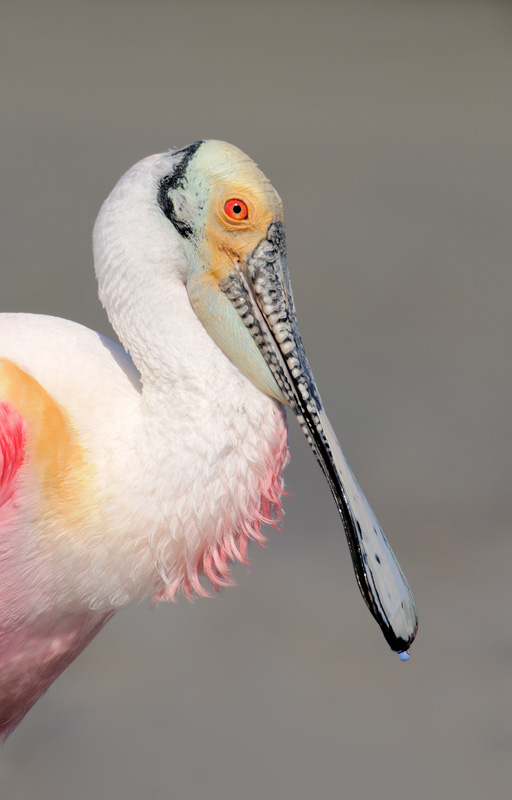 Roseate Spoonbill , adult head portrait , Tampa Bay, Florida
Image Copyright 2008: James Shadle/Wild Florida Photography
Nikon 600mm F4 ED AF-S I with TC20E 2X (1200mm) on the Nikon D300. ISO 400. Manually Exposed 1/500 s @ F14
Gitzo GT5540LS / Wimberley II Head
On many trips to Alafia Banks it is easy to get quite close to the spoonies.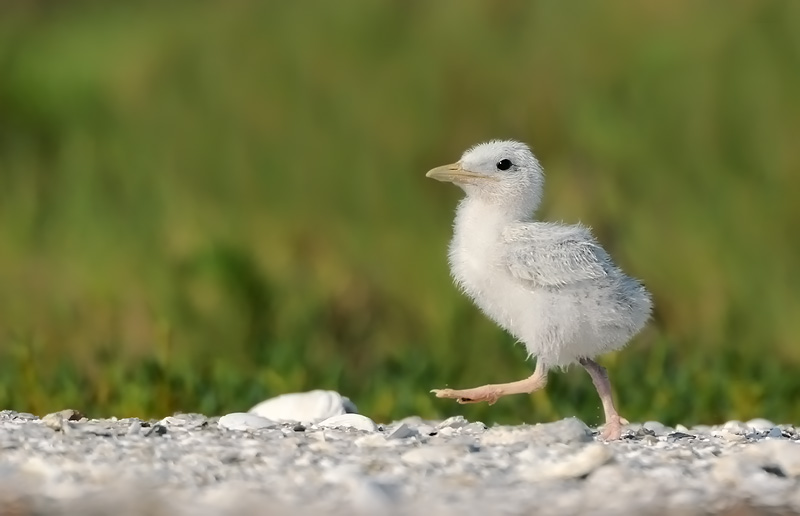 Caspian Tern chick, Tampa Bay, Florida
Image Copyright 2008: James Shadle/Wild Florida Photography
Nikon 600mm F4 ED AF-S I with TC14E 1.4X (850mm) on the Nikon D2X. ISO 400. Manually Exposed 1/2000 s @ F8
Notice the perfect head angle, that the chick is well back in the frame, and that James has perfectly paralleled the subject.
KUDOS, KUDOS, KUDOS
Sensor Scope Kudos from Eric Wikander:
Well sirs... I received my Delkin Sensor Scope today and I was totally impressed. I really value what Artie has to say about gear so I take it to heart. My first impression was for that for the money this is a very well built product. I looked at the instructions long enough to get the basics and grabbed my 1Ds. Man it was wonderful to be able to see and isolate the various dust particles. I can see it, remove it, and not even have to move from my current location while doing so. It took all of 4 minutes and it was clean. I grabbed the 1D next and it had lots of unwanted critters in there, but not any more. Thanks Artie for recommending this product for me!
A. Morris Kudos via e-mail from Lynn Thompson:
I wanted to thank you for all of us in Arizona. The program you put on was excellent and enjoyed by everyone. Your personal approach to teaching is very effective. Many people would have canceled if they were as sick as you were the day of the presentation. We all appreciate the effort you made just to be here. Your program was great. I, along with some of the other Phoenix folks hope to join you on another great IPT, if not in Florida, then maybe in Alaska. Again, thank you for everything you did for us. Lynn Thompson (or Larry if you wish)
ABP II Kudos via e-mail from Bob Reed
Hi Artie,
I wanted to write and thanks you for the incredible work that you did with the Art of Bird Photography II CD. Wow! I do not know how you find the time to do all that you do. I am working through your excellent advice one concept at a time. Thanks again for all that you do for photography. I will be making a big investment in new equipment soon and will of course be ordering all of my accessories from BAA. Take care, Bob, a huge fan from Springfield, OR
BPN Kudos from a post by Jack Howdeshell:
Gentlemen, thank you for your time and constructive criticisms. After being on this forum for a few weeks, I am amazed at what gift those like myself have been given by the talent assembled here.
NEOS Kudos/an e-mail exchange with Bob Walker
AM: Hi Bob,
Re:
BW: I just wanted you know how happy I am with my NEOS Adventurer Overshoes.
AM: <smile>
BW: Living as I do in the northeast in one of the snowiest cities around the overshoes have come in very handy on my photographic outings and/or pursuits. I have a size 14 shoe so it isn't always the easiest to find overshoes and other footwear at times. The NEOS Adventurer Overshoes fit like a dream and are easy to get on and off. I have recommended them to many of my friends already and as always tell them they were field tested by one of the best in our ranks <smile>
AM: Did you get the XXLs?
BW: Yes. Take care Artie. It's great shopping with you and knowing you sell only top quality items for us photographers out here.
AM: Thanks for your kind words; that philosophy has been the keystone of our success, that and honestly appraising the gear and the equipment. You would not believe some of the junk that a few folks encourage us to market… Later and love, artie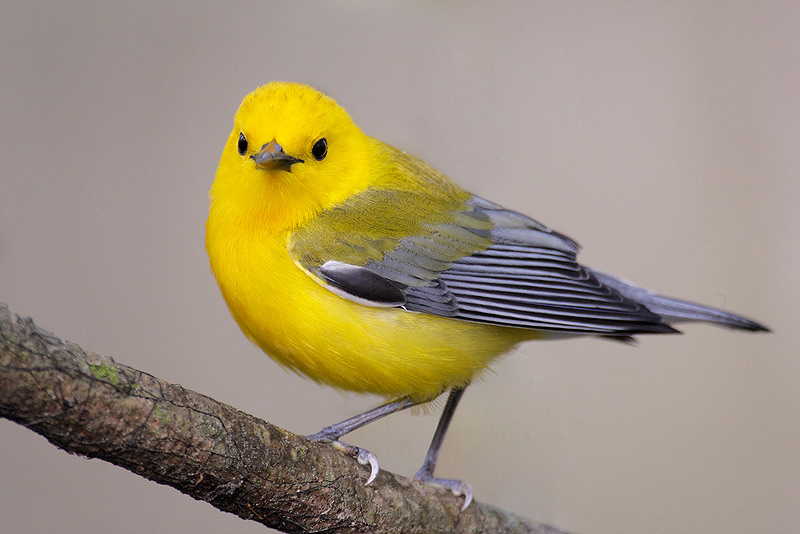 Prothonotary Warbler, male, Francis Beidler Forest, Harleyville, SC
Image Copyright 2008: Arthur Morris/BIRDS AS ART
Canon 500mm f/4L IS lens with the 2X II TC and the EOS 1D Mark III. ISO 1600. Evaluative Metering +2/3 stop: 1/60 sec. at f/9 set manually. Fill flash at -3 stops. .
For front-lit songbirds at close range I want just a hint of flash, thus the -3 stops of fill here. Using more flash in low light will usually result in some funky eye damage that will need to be repaired in Photoshop.
Lastly, if you own a 500 or a 600mm lens and are not confident of making sharp images down to 1/60 second you need to improve your Advanced Sharpness Techniques as described in ABP II: http://www.birdsasart.com/ABPII.htm
ST. AUGUSTINE ALLIGATOR FARM WITH RAM AND ROT
St. Augustine Alligator Farm Photography Workshop/ 3 ½ days
: May 1, thru 4, 2008/$999. Join Robert Amoruso (RAM) and Robert O'Toole (ROT) for a 3½ Day Workshop at one of the St. Augustine Alligator Farm Zoological Park. The farm's main wetlands area covers approximately two acres and has an extensive boardwalk that provides excellent access to the bird rookery. During nesting season you'll see and photograph nesting Wood Stork, Great Egret, Snowy Egret, Tri-colored Heron, Little Blue Heron and Cattle Egrets. In addition, White Ibises and Roseate Spoonbills almost always fly in to roost each evening. This workshop will include 7 sessions of in-the-field photographic instruction as four sessions of classroom instruction.
What makes this workshop different from others?
· Both instructors own and use Canon and Nikon DSLR's and Lenses.
· Both instructors are residents of Florida and have been photographing at the Alligator Farm for years.
· Both instructors have studied with and are now co-leaders on Arthur Morris' IPTs.
· Both Instructors are Approved BIRDS AS ART small-group workshop leaders.
· Two workshop leaders mean more personal time with the leaders.
Classroom instruction will take place on-premises at the Alligator Farm between lunch and the afternoon photography session. For full details, download the workshop brochure at www.wildscapeimages.biz/2008_SAAF_Workshop.pdf and the workshop FAQs at www.wildscapeimages.biz/2008-SAAF-PIW-FAQ-1.pdf. You can contact Robert Amoruso at 407-808-7417 or email him at wildscapeimages@comcast.net or Robert O'Toole at 310-619-8017 or email him at robert@robertotoolephotography.com.
On the day after the SAAF workshop, Robert O'Toole will be offering his highly successful "Advanced Photoshop Techniques and Tips Simplified" or APTATS workshop )at additional cost). APTATS offers unrivaled editing power by eliminating the need and use of traditional repair tools such as Clone Stamp, the Healing brush, and the Patch tool. You can find out more about this workshop at http://www.aptats.com.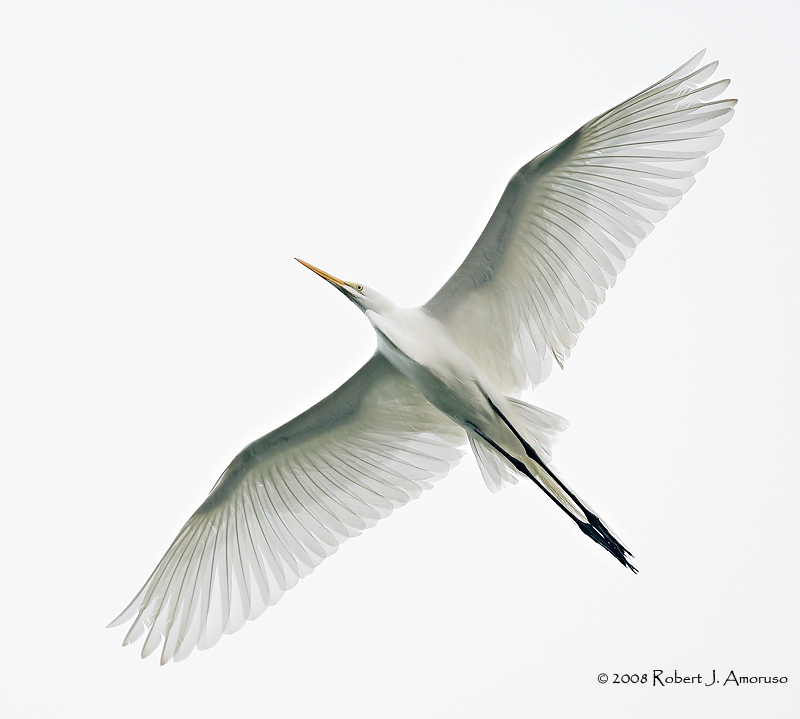 Great Egret in flight, St. Augustine Alligator Farm, FL
Image Copyright 2008: Robert Amoruso
Canon 1Ds Mark II, 600mm
1/640 sec, f/5.6, Manual, Evaluative Metering of white sky adding two stops of light, ISO: 800
Do you know how to expose for white-on-white conditions? We will help you to understand how create white-on-white images like the one below by shooting manually and determining exposure from metering off the sky.
Cattle Egret preening, St. Augustine Alligator Farm, FL
Image Copyright 2008: Robert Amoruso
Canon 1D Mark IIn, 100-400mm @ 400mm
1/400 sec, f/5.6, Manual, Evaluative Metering, ISO: 400, Flash: On
Do you know why the preening image above is more dynamic than most others? I waited for the Cattle Egret to orient his head and eye towards me and in plane with the camera. We will help you understand how head-angle as well as light-angle affects your images.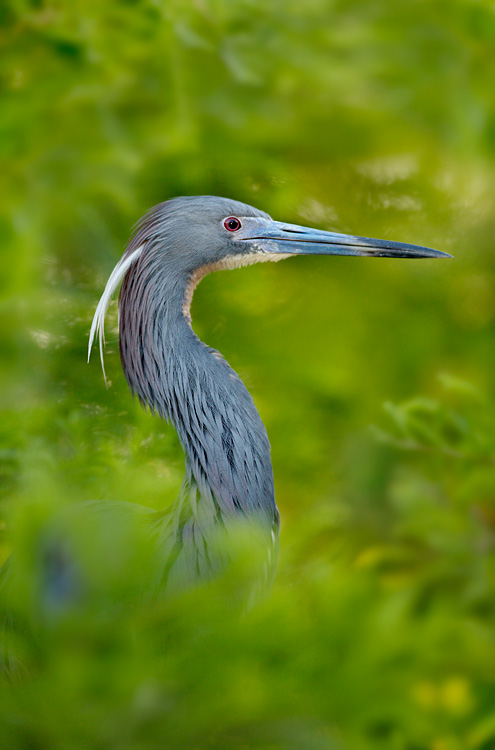 Tricolored Heron,St. Augustine Alligator Farm, FL
Image Copyright 2008: Robert O'Toole
Canon EOS-1Ds Mark II with EF600mm f/4L IS USM, 1/320 sec F4
Manual Exposure mode, 580EX Flash, ISO: 400
Rookeries filled with birds offer plenty of subjects, but making an interesting uncluttered image isn't always as easy as it seems. Here I isolated the subject with the use of a narrow angle of view and shallow depth of field.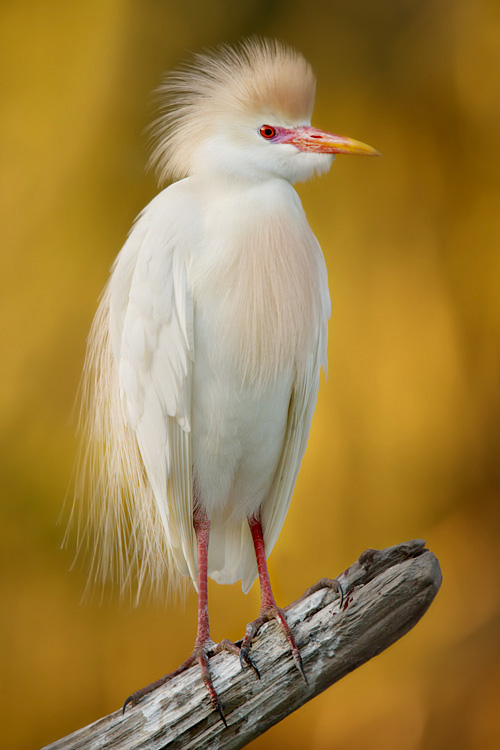 Cattle Egret, St. Augustine Alligator Farm, FL
Image Copyright 2008: Robert O'Toole
Canon EOS-1Ds Mark II with EF500mm f/4L IS USM, 1/250 sec F4
Manual Exposure mode, ISO: 200
Finding a good perch can be easy but the key is waiting for the late afternoon sun to bathe the rookery in golden light. The warm light and a distant background would look totally different if captured during the harsh light during the midday hours.
Best and love and great picture-making to all,
artie
Note: Arthur Morris has been a Canon contract photographer since 1994 and continues in that role today. Hunt's Photo of Boston, MA is a BAA sponsor as is Delkin Devices. Back issues of all BAA Bulletins can be found in the Bulletin Archives which may be accessed from the home page at www.birdsasart.com