WORLD TRAVELER
On Sunday May 4 I fly to Frankfurt, Germany and then on to Tashkent, Uzbekistan, arriving on Monday evening May 5. On the 7th I continue on to the tiny desert town of Nukus where I will attend the wedding of my younger daughter, Alissa, to a young man--Azik--whom she meet while serving in the Peace Corps several years ago. I will be back in the office on May 13. I am bringing the 500 IS and two digital bodies as well as a few other lenses. I am the official wedding photographer <smile>
I will be unable to answer any e-mails until my return so please be gentle. Lois will be here to handle your mail orders. (Thanks to all who have been ordering stuff lately; BAA mail order has been booming lately.)
WONDERFUL LETTER FROM CARL KLING
HIS COMMENTS ON THE CANON EOS 10D
Hi Artie,
First, I want to thank you and Ellen for a great time and a most enjoyable experience that I had at the recent Southwest Florida IPT. Everything went well with the weather and the birds cooperative at all sites we visited. The one thing that set this IPT apart from the one I attended in Bosque in November 2001 was that then, only one participant besides Ellen used a digital camera. On this trip, more than half of the participants and both instructors were shooting digital. All this greatly added to my learning experience as I had made my entry into digital with the purchase of the D-60 just this past December. It really was fun and instructive having the instant feedback that digital affords, not to mention greatly shortening the learning curve.
The day after the end of the tour Diane, Dennis, and I (The D-60 Club) went to Corkscrew for a couple of hours to check it out. You were right about not opting to take the group there during the tour as it was quiet with little wildlife activity compared to what we experienced at the second trip to Ding Darling. Diane and Dennis worked mostly with macro subjects and got some nice images. All three of us did capture a black crowned night heron with a bream in its mouth. It all happened in an instant and we reacted so quickly, so, alas, all three of us had less than perfect sharpness. It was in deep shadow and we all had to use flash. Perhaps the 10D would have made the difference had I had it then.
I'm glad you mentioned the new Canon EOS 10D during the tour, as I was not aware of it. I was already familiar with the slow autofocus acquisition capabilities of the D-60 for flight shooting, so knew I that sooner or later I needed a faster autofocus body like the 1D or the Ds. I had not been home a week from the Florida trip when I happened to walk into a local photo store to find out a 10D had been delivered and placed on display just a few hours earlier at the 1500 dollar price. Needless to say, I snapped it up right away, in spite of my not anticipating any photo purchases so soon after busting my budget with the purchase of the D-60, Canon 500 IS lens, 2x extender, and 16-35 zoom, all in a three month period... When I went back to the store the next morning they told me that there were 10 very unhappy customers...
Anyway, to say I was pleased with the purchase of 10D would be an understatement. Your eagerly anticipated Bulletin report on the 10D was on the money except for the orange cast which I haven't noticed. Taking the Dauphin Island to Ft. Morgan ferry recently, I shot flying gulls following the ferry with a 70-200 zoom and nearly all my flight shots were sharply focused, compared to less than 50 percent usually obtained under similar conditions with the D-60. Furthermore, the focus tends to stay locked on the bird in spite of changing backgrounds, as you state in the report. The improved LCD screen and playback with the zooming and scrolling features alone are delightful and make this camera worth having besides the improved autofocus. Oddly, I find that loading for playback of images is somewhat slower than for the D-60, even with the same Delkin 640 Pro card. This was the only negative issue I found so far.
(Note from Artie: I agree with everything that Carl has said above; at times you must wait a bit for the camera to write to the buffer with the 10D, especially if you make 7 or 8 images in quick succession. Similarly, at times, you need to wait for the buffer to clear while trying to view a histogram. Don't fret, in both cases the same is true, though to a lesser degree, with the Canon EOS 1Ds, even with the extremely fast Delkin e-film Pro Cards that I use. That is the price of large files...)
I had been considering the purchase of the Canon 100-400 IS zoom for flight shooting with the 10D but am concerned with your 10D report stating some soft focus on the eyes on some of your images with this lens. I may just stick with the 70-200/f2.8 (non IS) with 1.4x or 2x extenders for now as it seems to do well with the converters. I also have the 400/5.6 lens but it is best left with the film bodies for handheld flight shooting. Were you using the center AF point alone on the birds head? Was your IS on or off? If on, what mode?
(Notes from Artie: The 70-200 with a TC and the 1.6X multiplier is a great idea for flight photography. You should also try my old "toy lens," the 400 f/5.6 for flight--I think that you will be amazed at how well it performs with the 10D!)
With Warm Regards,
Carl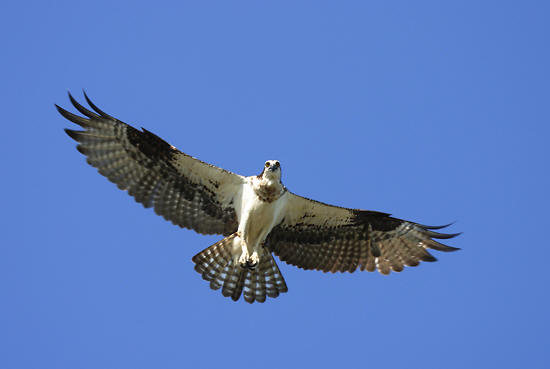 Osprey, Indian Lake Estates, FL
Digital capture with Canon EOS 10D, 100-400mm IS zoom lens at 180mm handheld
ISO 200. Evaluative Metering +1/2 stop: 1/350 sec. at f/5.6
Image copyright 2003 Arthur Morris/BIRDS AS ART
Compare the sharpness of this image made with the 10 D and the 1-4 IS zoom lens with that of the image below. I always add light when photographing the shaded underside of a soaring raptor. How much depends on many factors including sun in or out and the tonality of the bird's underparts.
A note from Ellen Anon: I know that you routinely add light when photographing the underside of birds in flight. Another approach would be to expose for the highlights (or add a little less light than usual) and then open up the shadows and/or midtones in curves or levels. This is just another example of digital giving you options that may be even more effective than some of your tried and true approaches.

A BASIC AF/TC QUESTION
Dan Ruscitto wrote and I replied:
Hi Artie,
DR: In the 4/23 bulletin you wrote the Canon 10D only auto focuses only to f5.6. Does that mean it will not auto focus @2.8 or 4,
AM: No. The opposite. It will AF with an effective aperture of f/5.6 or wider, so it will AF at f/4 or f/2.8. Do note that I am talking about the effective maximum aperture of the lens, which is determined by noting the maximum aperture of the lens itself and then going to a smaller aperture for each stop of light that is lost due to the use of teleconverters. The aperture that you choose when working in AV has no affect on whether or not you get autofocus. For example, if you are using an f/5.6 lens (without a teleconverter) and set the aperture to f/11 you will have AF as the effective aperture is still f/5.6 or less. Note also that the Canon pro bodies, the EOS 3, 1v, 1D, and 1Ds all focus to an effective aperture of f/8.)
DR: But will it auto-focus @ 5.6, 8, 11 etc?
AM. It will at f/5.6 but not at the smaller apertures that you mention. Remember, AF needs light and contrast to function. When you steal enough light, it will stop working. And remember: the higher the f/number the smaller the opening...
DR: What effect does a multiplier have, or is it strictly a function of actual aperture?
AM: To figure the effective aperture you need to take into account the light lost to the TCs. So a 1.4X TC (one stop lost) on an f/5.6 lens is an effective f/8 (no AF), but on an f/4 lens, the effective aperture will be f/5.6 lens (yes AF). A 2X TC (two stops lost) on an f/2.8 lens is effective f/5.6 (yes AF), but on any slower lens, no AF. Hope that that helps.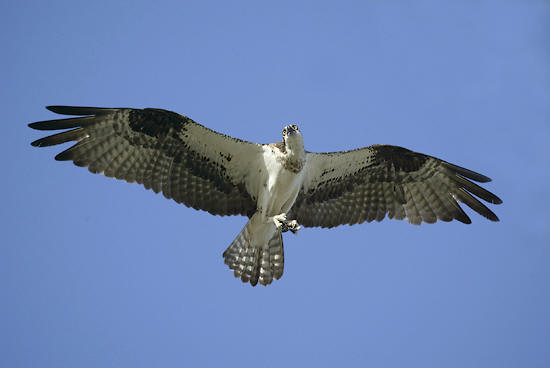 Osprey, Indian Lake Estates, FL
Digital capture with Canon EOS 1D and Canon 100-400mm IS zoom lens
ISO 250. Evaluative Metering = 1/1000 sec. at f/5.6
Image copyright 2003 Arthur Morris/BIRDS AS ART
It seems that images of birds in flight made with the 1D or the 1Ds and the 1-4 IS zoom are sharper than those made by the 10D with the same lens. Note however that images of flying birds made with the 10D and the 500mm IS are--for the most part--tack sharp. Explanation? None from here...
.....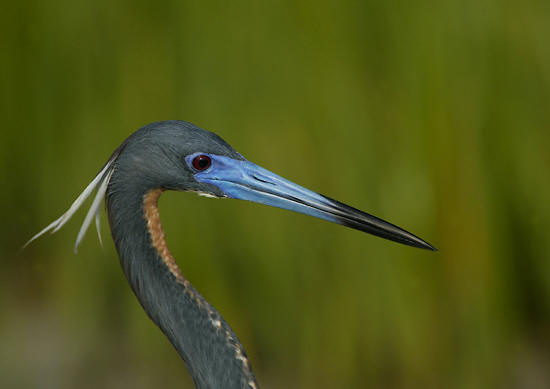 Tricolored Heron, Fort DeSoto Park, St. Petersburg, FL
Digital capture with Canon EOS 1Ds, 500mm f/4 L IS lens, and 1.4X II TC.
ISO 200. Evaluative Metering -1/3 stop: 1/2500 sec. at f/15.6
Image copyright 2003 Arthur Morris/BIRDS AS ART
Fort DeSoto is a wonderful spot. This image was made yesterday, on April 29, 2003. I may schedule an IPT there next March...