DALLAS SEMINAR REPORT
FUTURE SEMINAR CITIES
ON THE ROAD AGAIN
WIMBERLEY V-2 HEAD SHIP-DATE DELAYED
USED SEACAM DIGITAL UNDERWATER HOUSING FOR SALE
REVIEW OF "THE ART OF BIRD PHOTOGRAPHY"
GALAPAGOS PHOTO TOUR

UPDATE
2006 VALLEY LAND FUND CONTEST
NEW NIKON CAMERA ANNOUNCED
THE ART OF BIRD PHOTOGRAPHY II
HUNT'S INFO/FREE SHIPPING OFFER
Photographic Theme: A potpourri of images old and new...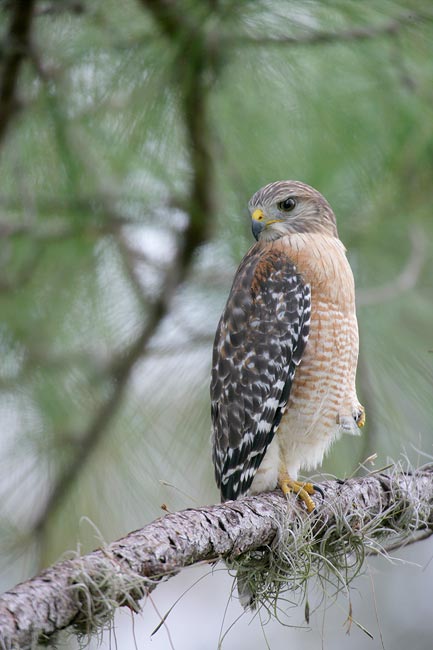 Red-shouldered Hawk, Indian Lake Estates, FL
Im

age copyright 2005: Arthur Morris/BIRDS AS ART
Canon EF 600mm f/4 L IS lens with 2X II TC and EOS 1Ds Mark II. ISO 400.
Evaluative metering at zero: 1/160 sec. at f/8.
No Virginia, your eyes do not deceive you. I finally broke down and purchased an EOS 1Ds Mark II with its 16,700,000 pixels. I will put the camera through its paces in New Mexico and let you know my thoughts.
DALLAS SEMINAR REPORT
By any account, the Dallas seminar was a huge success; in fact, it turned into pretty much of a love-fest. With relatively small groups of about 70 folks each day, there were lots of great questions and lots of interesting exchanges. Canon Pro Markets rep Bob Malish was with us both days with a table-ful of the latest, greatest Canon gear and--as always--he was a wealth of information. As usual, I came away learning a ton myself. Bob showed me how to hook up a Mark II 1DN to the projector so that we could view live in-camera histograms. And several folks shared a great Curves adjustment tip that will save hours of optimization time. Several members of the audience were extremely knowledgeable and added a great deal to the weekend experience. The Countrywide Theater at the Eisemann Center was a wonderful and comfortable venue but their price-gouging contract would lead me to recommend that other professional photographers looking to do seminars in Dallas look elsewhere. (Price-gouging details available upon request...)
Though I am home well less than 24 hours as I type these words at 4:18 am on Tuesday, November 8, 2005, I have already received many complimentary e-mails. Here is a note from Jeff Huehn, one of those super-knowledgeable folks who contributed tons of great info over the two days:
"Mr. Morris, I would like to thank you for an absolutely wonderful weekend in Dallas. I thoroughly enjoyed meeting you and listening to you speak with such enthusiasm about your craft. I was very impressed with your willingness to share with us what you worked so long and hard to discover. Your teaching skills are superb, and your book doesn't do justice to the breadth and depth of your work compared to 16 solid hours over two days of seeing one jaw-droppingly gorgeous shot after another. I guess I'm a little disappointed to find out the real secret to great bird photography is a lot of hard work but I think I suspected that from the start. Best and thanks again, Jeff."
And from Sir John Sherman came: "Thanks for a really great and informative weekend. I really appreciate your willingness to share your hard learned lessons with those of us less experienced as this really lessens our learning curve. A lesser man might well feel threatened by doing that. Thanks also for the help, good tips, and products. It is certainly better to learn from someone who has already been there!"
In response to the Atlanta seminar evaluation sheets I added a short section on exposure and e-mailed a 17 page printable outline to the registrants. Both of these changes were resoundingly successful (the latter much to my surprise as I am not a note-taker). As an aside, my friend Ned Harris, one of the world's premier hawk photographers, has a note pad and a pen in his hand nearly all of the time, but only when he is awake... Throughout the weekend, I promised to tell fewer stories so that we could cover more material, but much to the delight of the audience, I was in nearly all instances simply unable to restrain myself. And we did manage to cover just about everything that we had planned to.
Of the 58 or so folks who were there at the bitter end, 5:30pm on Sunday, about 40 of them came up to me personally at the end of the program to give me a hug and to express their thanks. In addition, I got to see some IPT veterans whom I had not seen for years as well as some current participants and registrants. Wayne Mitchell, a new friend, and Jack Panzeca, a multiple IPT-veteran were both extremely helpful as they helped my receiving and returning the many large boxes that I had shipped to the seminar. BBC award-winning teen-aged photographer and former NANPA scholarship student Nick Murphy, a fine young man, was an immense help checking in registrants and manning the sales table. To all who attended I extend a huge BIRDS AS ART thanks. And a huge thanks as well goes to all of the sponsors who generously donated tons of great door prizes . Among them were Lowepro, Hunt's Photo and Video, Delkin, Wimberley, Visual Echoes, JRF Manufacturing, Vested Interest, WildBird Magazine, Bird Watcher's Digest, Birder's World, Nature Photographer Magazine, and Canon USA (the latter, as it turned out, the sole supporting sponsor of the Dallas seminar.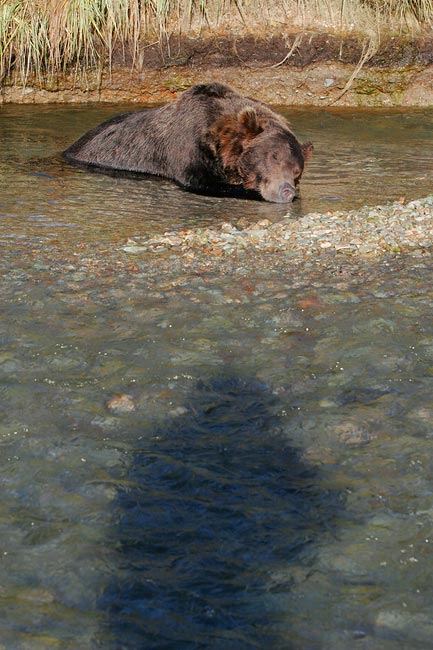 Brown Bear sleeping, Kinak Bay, Katmai National park, AK
Image copyright 2005: Arthur Morris/BIRDS AS ART
Some folks have trouble understanding what it means to "point your shadow at the bird," so I made this point-your-shadow-at-the-bear image to drive that principle home at the seminars and on IPTs.
FUTURE SEMINAR CITIES
I am planning to schedule a BIRDS AS ART "The Art of Nature Photography; It Ain't Just Birds" Weekend Seminar in NYC in mid-August of 2007. If you are a member of a large photo group or have contact with a big-name camera store and would like to explore the possibility of bringing the seminar to your major city, please contact me by e-mail and let me know your thoughts.
ON THE ROAD AGAIN/BOSQUE INFO
I will be on a plane once again this coming Sunday headed to Bosque Del Apache NWR in south-central New Mexico for the eleventh straight year in part to honor Elaine's memory. For the new folks, Elaine was my best friend and second wife whom I lost to breast cancer on November 24, 1994. I am a bit saddened to report that the Val Verde Steak House has closed. As a result, I will not--for the first time in five years--be hosting a Thanksgiving Day buffet lunch in Socorro. In fact, I am not sure that anyone will be able to find food in Socorro on November 24th this year.
There are several openings on the first IPT (BOSQUE IPT 3-DAY: $929 with co-leader Ellen Anon. NOV 15-17, 2005). The second and third IPTs are sold out. We are offering a late registrant discount for those who would like to join us on the first trip. Please call 863-692-0906 for details.
For those who cannot join us, do know that the Bosque Site Guide is available for purchase here:
http://www.birdsasart.com/siteguides.htm
. All of our Site Guides are designed to help you maximize the photographic opportunities when visiting various North American bird photography hotspots. In addition to the Bosque Site Guide, we offer one that covers San Diego and another that outlines the fabulous photo opps at Fort DeSoto Park south of St. Petersburg Florida and Sarasota. The South Florida Site Guide will be available in mid-December at the latest. A BAA Site Guide is the next best thing to attending an IPT.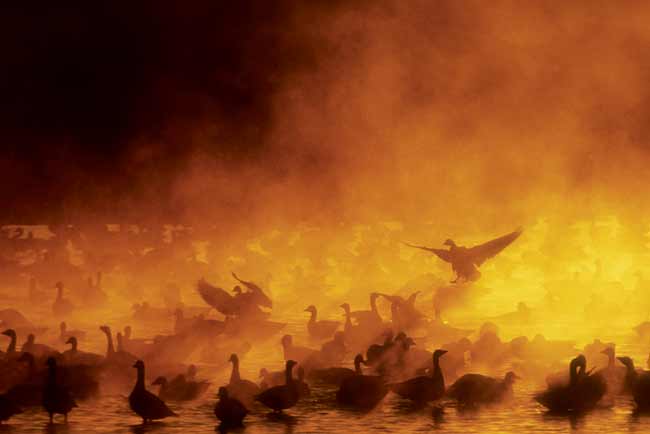 Snow Geese, Fire-in the Mist, Bosque Del Apache NWR, San Antonio, New Mexico
Im

age copyright 1998: Arthur Morris/BIRDS AS ART
This classic image was created in early December, 2004. It is the cover photograph for "Light On the Earth," a new book in publication honoring the best images from the past 20 years of the BBC Wildlife Photographer of the Year Competitions. I was both honored and humbled by the choice...
WIMBERLEY V-2 HEAD SHIP-DATE DELAYED
Wimberley sent us a notice recently stating that due to circumstances beyond their control the ship-date for the new V-2 Wimberley heads will be delayed at least until mid- to late December of 2005. We have already sold more than half of our allotment of the new heads. If anyone who ordered has been unduly inconvenienced, please call or e-mail so that we may assist you. Thanks! For complete details on the new head scroll down after clicking here:
http://www.birdsasart.com/bn185.htm
Sandhill Crane in flight, Bosque Del Apache NWR, San Antonio, New Mexico
Im

age copyright 1998: Arthur Morris/BIRDS AS ART
The Bosque Site Guide lets you know where to be and when, and in addition, it explains the best wind directions at the various sites. This image was created on a morning with southerly winds at the Farm Fields.
USED SEACAM DIGITAL UNDERWATER HOUSING FOR SALE
Professional fashion photographer and sometime BIRDS AS ART assistant IPT instructor Robert O'Toole is offering a used SEACAM Digital Underwater Housing (made is Austria) for the Canon EOS 1D Mark II and the 1Ds Mark II camera bodies. The housing features precise manufacturing and unparalleled ergonomics and is constructed of aluminum with a special silver coating. No ports are included. The unit is less than one year old and has been used on only 35 dives. It works perfectly. An extra set of o-rings, as well as handles, oil, and silicon grease are included. Please see www.seacamusa.com or www.seacam.com for more info. The price new from the distributor is $5,495. Robert, who is located in Los Angeles, is asking $4,500 (shipping included). If you have any questions please contact Robert at pxmlax@yahoo.com.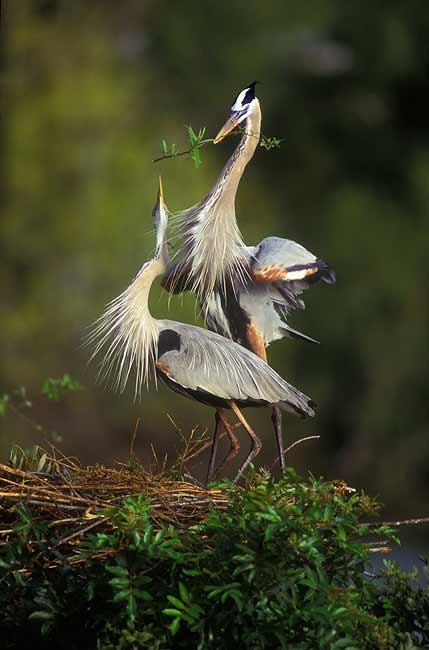 Great Blue Heron, courtship display, South Venice, FL
Image copyright 1998: Arthur Morris/BIRDS AS ART
The image gracing the cover of ABP I has stood the test of time...
REVIEW OF "THE ART OF BIRD PHOTOGRAPHY"
I received a nice e-mail from Danny Yee stating that he had recently reviewed "The Art of Bird Photography: The Complete Guide to Professional Field Techniques" in the Best Books section of his web site, Danny Yee's Book Reviews (http://dannyreviews.com/index.html). I visited Danny's site, surfed a bit, and was most impressed. The site includes more than 800 well written book reviews, with only 62 of those featured in the Best Books section. I am honored that Danny has included ABP I there. You can find Danny's thoughtful review here: http://dannyreviews.com/h/Bird_Photography.html.
Though it is inconceivable to me, I realize that there is a slim possibility that there are actually one or two BAA Bulletin subscribers out there (out of our 5454 recipients) who do not own a signed copy of "The Art of Bird Photography. If you are in that assuredly small group, you can rectify that situation by clicking here: http://www.birdsasart.com/books.html#PHOTO_BOOK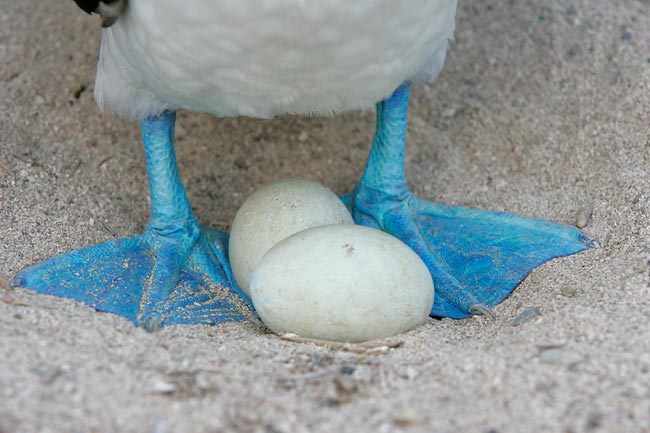 Blue-footed Booby, feet and eggs, Hood Island, Galapagos, Ecuador
Image copyright 2005: Arthur Morris/BIRDS AS ART
The opportunities on Hood Island were so amazing that on our first afternoon there we never got farther than 300 yards from the dock even though Wandering Albatross beckoned just a ten minute walk away... We will be spending two full days on Hood on the trip below.
GALAPAGOS PHOTO TOUR UPDATE
Galapagos Trip #2: June 28-July 8, 2006: $4499 per person double occupancy. Limit: 14. T
his trip is priced at least $1,000 less than similar trips offered by Zegrahm ($5700) and Linblad ($5500) and neither of those trips have me as the leader <smile>. An $800.00 per person deposit is required at the time of booking. The deposit is non-refundable unless we are forced to cancel. We currently have five deposits for this trip. We need to have the trip full by late January or we will be forced to cancel as the cost of the boat has increased so much that we need a full trip to make it a go. We currently have the need for one female roommate. If you are seriously interested in an amazing trip and a great value, call Janie Bullard right now to reserve a spot: 1-888-419-6677 or e-mail her at Janie@Distinctive-Journeys.com. 5 down, 9 to go.
The itinerary is currently being be fine-tuned to maximize the photographic opportunities and eliminate the touristy sightseeing-only islands. The trip includes in-the-field instruction, on-board slide programs, image sharing, and critiquing sessions upon request. For last year's trip report and images, please visit: http://www.birdsasart.com/bn180.htm and http://www.birdsasart.com/bn181.htm.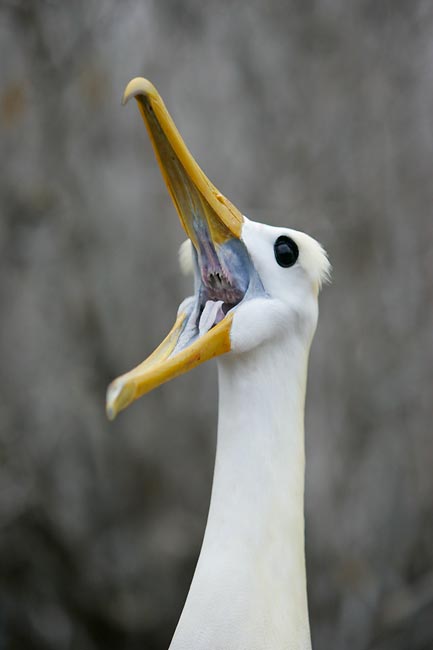 Wandering Albatross displaying, Hood Island, Galapagos, Ecuador
Image copyright 2005: Arthur Morris/BIRDS AS ART
We did make it to the Waved Albatross colony on our lone morning on Hood Island.
2006 VALLEY LAND FUND CONTEST
Preparations are now underway for Texas's Rio Grande Valley to host many of the world's most accomplished wildlife photographers in Spring 2006. In every even-numbered year since 1994 photographers have traveled to the Rio Grande Valley to compete in the ultimate wildlife photographic challenge- The Valley Land Fund's Wildlife Photo Contests. The redesigned 2006 contest will bring a new group of photographers to the Valley. They will compete from April 1 to June 30, 2006 for a prize pool of $130,000. Registration is now open and will continue through February 28, 2006. The Valley Land Fund is a nonprofit land trust founded in 1987 that is dedicated to the conservation of wildlife habitat and native vegetation in South Texas. This diverse group of concerned South Texans has been instrumental in saving several thousand acres of critical habitat throughout the Valley from Salineno near Falcon Dam to The Migratory Bird Sanctuary at South Padre Island. They have also helped to protect over 8,000 additional acres though conservation easements.
The Wildlife Photo Contests are a major source of revenue for The Valley Land Fund, which receives no governmental funding. The mission of the Valley Land Fund is to "preserve, enhance, and expand the native wildlife habitat of the Rio Grande Valley, through education, land ownership, and the creation of economic incentives for preservation." The photo contest creates a partnership between businesses, private landowners and photographers. Landowners and photographers compete as teams and share equally in prize money, while businesses benefit through advertising sponsorships.
The South Texas Shootout and the Small Tract Competition work to pair landowners, who provide wildlife habitat, with skilled photographers. Landowners in the eight South Texas counties (Brooks, Cameron, Hidalgo, Jim Hogg, Kenedy, Starr, Willacy and Zapata) are eligible to compete. The Small Tract Competition is open to properties ranging in size from a traditional city lot up to 100 acres. The "Shootout" encompasses the larger ranch properties. There is also a Youth Photo Contest with two age divisions where youngsters 10 to 19 years old compete. Youth participants are not restricted to one parcel of land and may photograph at ranches where they have been granted access privileges anywhere in the eight counties. For complete details and registration info, click here: http://www.valleylandfund.com/contest.html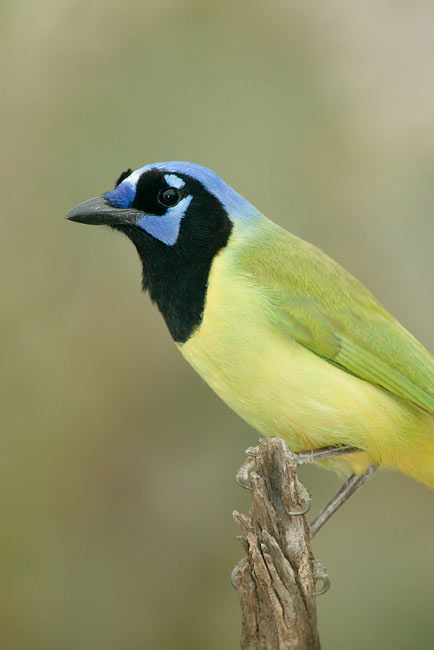 Green Jay, Ramirez Ranch, Roma Texas
Image copyright 2005: Arthur Morris/BIRDS AS ART
The Rio Grande Valley is home to many (primarily Mexican) specialty species that are easily photographed on the private ranches there.
NEW NIKON CAMERA ANNOUNCED
Nikon recently announced the release of the D200 digital camera body. You can find info at http://www.nikonusa.com/template.php?cat=1&grp=2&productNr=25235. You can find additional info on Rob Galbraith's site here: http://www.robgalbraith.com/bins/multi_page.asp?cid=7-7888-8061.
At the risk of inflaming the few remaining (among nature and wildlife photographers) staunch Nikon-supporters out there, I must say that all of the Nikon photographers that I have encountered recently on my IPTs (including Todd Gustafson who had the cover and ten additional images from Africa in the most recent Nikon Product Guide) complain that the only Nikon digital camera that is capable of focusing quickly and accurately on birds in flight or animals in action is the D2X. Do note that all anti-Canon hate mail should be directed to my aunt, Helen Waite, who is now in charge of the BAA Complaint Department. You can e-mail your comments to her at: gotohelenwaite@aol.net. Anti-Canon hate mail sent to BAA will be deleted. And as long as we are on the subject, here are some more facts: Canon offers 13 hand-holdable intermediate telephoto and zoom lenses, each one of them featuring lightning quick initial focusing and, generally, accurate autofocus. To the best of my knowledge, Nikon offers only four: two 70-300mm zooms, the 300 f/4, and the 80-200 VR. Unfortunately, all Nikon users concede that the 80-400 VR lens is--because of pathetically slow initial focusing acquisition--virtually worthless for photographing birds in flight and in action. In case any of the Nikon folks are nearing apoplexy at this time, do know that I consider the Nikkor 200-400 mm f/4 VR Nikkor lens one of the finest lenses ever produced by any manufacturer. This super-sharp lens features vibration reduction technology, offers a great range of wildlife focal lengths, performs well with both the 1.4 and 2X Nikon teleconverters, and offers an incredible 6.2 feet minimum focusing distance at all focal lengths... Todd absolutely kills in Africa with this lens, and will be even more deadly with it in Tanzania as after seemingly endless delays, Nikon has finally gotten a D2X in his hands...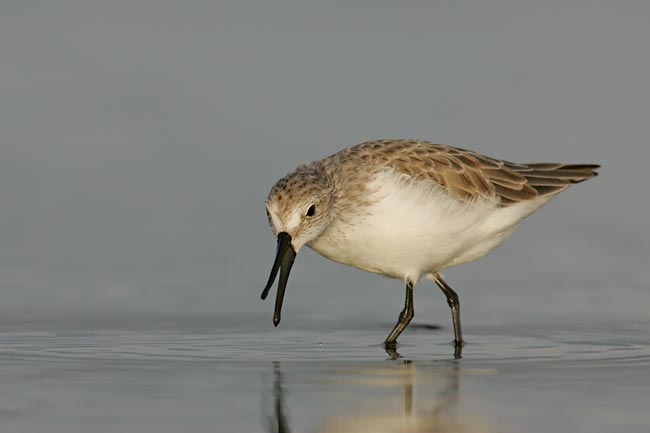 Western Sandpiper, winter plumage adult, flexing bill, Fort DeSoto Park, Tierra Verde Key, FL
Image copyright 2005: Arthur Morris/BIRDS AS ART
Canon EF 600mm f/4 L IS lens with 2X II TC and EOS 1D Mark II. ISO 400.
Evaluative metering at zero: 1/640 sec. at f/11.
Many brand new images like this one will be used in ABP II. We should be receiving our next shipment of Panning Ground-Pods in a day or two. To learn more about shorebirds be sure to order a signed copy of my book, "Shorebirds; Beautiful Beachombers," off of our web site.
THE ART OF BIRD PHOTOGRAPHY II
After we posted the excerpt from the new book, ABP II, several folks wrote complaining that it was difficult to read the text, several wrote complaining about the PDF format and/or about the double page spreads and the horizontal format, and some stated that they would never buy the book if it were not printed as a standard book. I can certainly understand and sympathize with all of those folks. APB II, however, will only be available as a CD. At about 700 pages in length, give or take a hundred or so, having the book printed is simply not an option.
Once I am finished laying out and designing the book, we will give careful consideration to the final presentation in hopes of making the book as easy-to-read and as easy-to-view as possible. The huge success of our Digital Basics File and our Site Guides would seem to ensure the success of ABP II on CD. If you missed the excerpt, you can find it here: http://www.birdsasart.com/Excerpt From Composition Chapter.pdf Note also that this is just an excerpt from the Advanced Composition and Image Design Chapter, not the entire chapter as many assumed...
Here is an e-mail that I received from multiple IPT-veteran and friend Emory C. Moody:
"Hi Artie, I downloaded the chapter on composition from you new book. If the rest of the book is comparable to this chapter then I will definitely be in the market for one. If you are accepting advance orders then please put me down for one! I went back and reread the composition chapter in the first ABP and personally I feel like this second book has done a much better job of explaining the concepts. Not only is the text better, but the images you use to illustrate the points are excellent. And then on top of that you included a gallery at the end of the chapter. OUTSTANDING!!!! Just viewing those images is enough to inspire me to go out and start making better images.

I have only one negative comment about the excerpt: You formatted it like an open book, i.e. you have two pages side-by-side. I found this to be kind of awkward to have to zig-zag to get from one page to another. The Adobe reader will reformat them with the pages stacked, but it does not keep the photo captions with the photo's when it reformats. Not a major problem, just kind of irritating. Teaching and photography - those are two areas where Arthur Morris is definitely world-class. The nice thing about an Arthur Morris book is being able to experience both in the same package! Emory PS: I am looking forward to seeing you on the Lake Martin IPT next spring.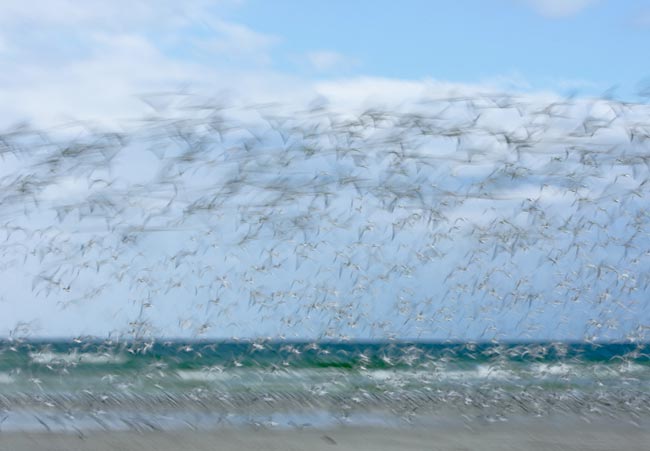 Tern flock in flight, Fort DeSoto Park, Tierra Verde Key, FL
Image copyright 2005: Arthur Morris/BIRDS AS ART
Canon EF 70-200mm f/2.8 L IS lens (handheld at 90mm) with EOS 1D Mark II. ISO 50.
Evaluative metering +2/3 stop set manually: 1/8 sec. at f/32.
In order to attain the really slow shutter speed that I wanted, it was necessary to choose the smallest aperture and reduce the ISO as low as possible... Fort DeSoto Park is one of the new Hotspots that will be covered in ABP II, and there is lots of room on the upcoming Fort DeSoto IPT.
IPT UPDATES
SW FLA, Post X-mas IPT. 3 -DAY: $929. DEC 28-30, 2005. (Limit 12; 4 openings)
SAN DIEGO 4-Day IPT: $1399 w/co-leader Ellen Anon. JAN 5-8, 2006 (Limit 12, 6 Openings.) This IPT is shaping up to be a near-private affair. Do consider joining us to photograph Brown Pelican and Heerman's Gulls in spectacular breeding plumage, loads of tame shorebirds, Lesser Scaup, and Wood and Ring-necked Ducks at close range. In addition there is lots of great behavior and flight photography and lots of really great restaurants.
SW FLA President's Holiday IPT w/co-leader Ellen Anon: $1549. FEB 17-21, 2006. (Limit 14; 4 openings)
FORT DESOTO IPT, MAR 24-26, (slide program on Thursday, MAR 23 at 7pm): 3-DAY: $899 (Limit 12, 10 openings.)
Fort DeSoto has rapidly become one of my very favorite photo locations. Join us during prime time to photograph Royal and Sandwich Terns & Laughing Gulls in spectacular breeding plumage/courtship and copulations; dark and white phase Reddish Egrets in breeding plumage; many other tame heron and egret species; Forster's Terns, Long-billed Curlew and a dozen or more easily approachable shorebird species; great flight photography opportunities will be available at DeSoto. Depending on local conditions we may or may not enjoy the following in Sarasota: great flight photography opportunities; Brown Pelicans with nesting material; Great Egret, Great Blue Heron, & Black-crowned Night-Heron (head and shoulders portraits likely with this species). This IPT will include at least three slide programs.
LAKE MARTIN, LA SPOONBILL IPTs, APR 8-10, 2006 (Limit 12, 9 openings): slide program Friday, APR 7. APR 28-30 (Limit 12, 6 openings): slide program Friday, APR 27. 3 -DAY: $949.
Join us to photograph nesting Roseate Spoonbills, Great & Cattle Egret, and Little Blue Heron in a budding cypress swamp. We will witness and photograph a variety of courtship behaviors as well as lots of nest building

. Barring a natural disaster there will be Great Egret chicks on both IPTs. Tiny spoonbill chicks are possible on the second IPT but will almost surely be difficult to photograph. Both IPTs will feature spoonbills in mind-boggling breeding plumage (unlike anything I've ever seen here in Florida), but there will be more birds in mega-breeding plumage on the first tour. The spoonbills will be courting, building nests, copulating, and fighting. Good flight photography opportunities are expected on both IPTs. 500 and 600mm lenses with 1.4 and 2X TCs are recommended; equipment rentals are available. Barred Owls are guaranteed. There will also be Green Heron, both night-herons, scenic sunrises, nutria, alligators, and lots of flowers. Sunny afternoons will be tough at Lake Martin but mornings will be spectacular. With cloudy weather the days will be long... This IPT includes four slide programs. Registration includes a complimentary homemade crawfish etouffe dinner: hosts: Wes and Patti Ardoin. (Fly to Lafayette, La.)

ST. AUGUSTINE ALLIGATOR FARM IPT MAY 12-14, 2006. 2 1/2 DAY IPT (Limit: 12, 10 openings): $649

Heron and egret rookery. Nesting Great Egrets with chicks, nesting Snowy and Cattle Egrets, and Tricolored Herons. Courtship behaviors, copulations, eggs, nests and possibly tiny chicks. Includes three classroom sessions in air-conditioned comfort during the heat of the day. The introductory slide program will be at 2pm on Friday May 12, 2006.

January 2006 Tanzania Photo-Safari with co-leader Todd Gustafson. January 16-30, 2006 (14 full and one half-day of photography): $7762.50/person. Non-refundable $1000 deposit required. See or request Bulletin 166 in the archives for complete details. (Sold out.)

Summer 2006 Kenya Photo-Safari with co-leader Todd Gustafson. Please e-mail for details. A non-refundable $1000 deposit required.

HOMER AK Bald Eagle IPT MAR 3-7 and MAR 3-8, 2006 5-day: $1699 (limit 10) are now both sold out.

NOME, ALASKA IPT June 10-20, 2006 in conjunction with Greg Downing: (Sold out.)

Antarctica/South Georgia/Falkland Islands Zegrahms Cruise with Arthur Morris and Greg Downing: January 4-24, 2007. Please e-mail birdsasart@verizon.net for details. Note: Only a very few of our slots remain for this trip.

For general IPT info, deposit and registration details, and cancellation policies, please visit: http://www.birdsasart.com/tours.html

If you would like your name placed on the waiting list for one or more trips, please e-mail, indicate the trip or trips that you are interested in, and be sure to include day, evening, and cell phone numbers. We often have late cancellations.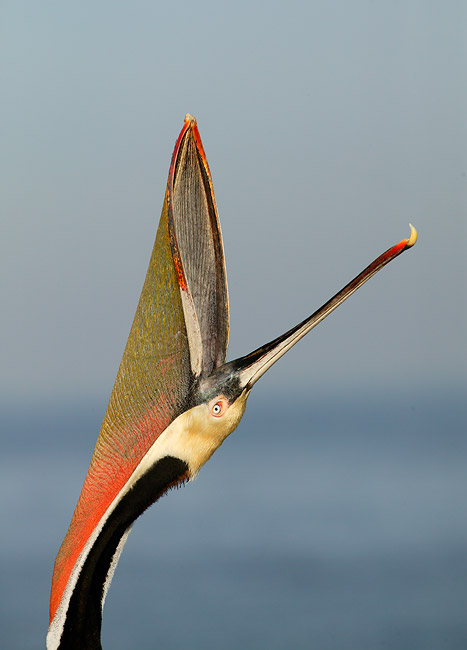 Brown Pelican, head throw, LaJolla Cliffs, San Diego, CA
Image copyright 2005: Arthur Morris/BIRDS AS ART
It is easy to create dramatic images of the spectacular breeding plumage Brown Pelicans with just a short lens in San Diego, provided that you know where to go and how to approach the birds. We still have lots of room on the San Diego IPT and are offering a late-registrant discount.
.....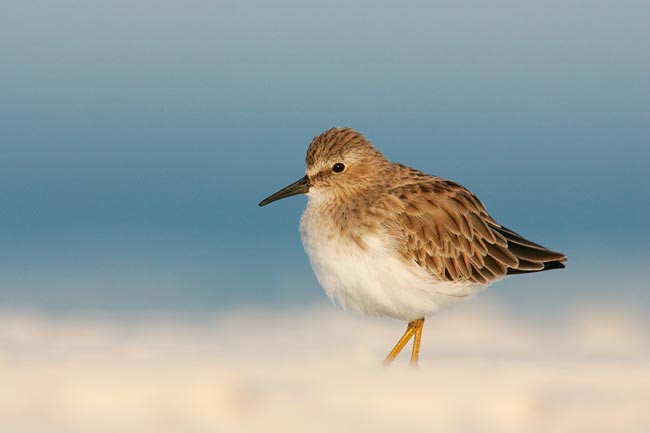 Least Sandpiper, Fort DeSoto Park, Tierra Verde Key, FL
Image copyright 2005: Arthur Morris/BIRDS AS ART
Canon EF 600mm f/4 L IS lens with 2X II TC and EOS 1Ds Mark II. ISO 400.
Evaluative metering at zero: 1/320 sec. at f/16.
When you are right on the beach with your ground pod and the background is distant, it is best to make your images at a smaller-than-normal aperture for additional sharpness. There is no danger of bringing up any background detail in these cases.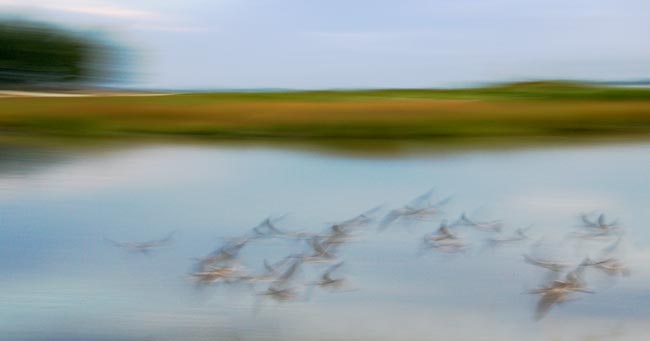 shorebird flock, blurred marsh, Fort DeSoto Park, Tierra Verde Key, FL
Image copyright 2005: Arthur Morris/BIRDS AS ART
Canon EF 28-135mm IS lens (handheld at 65mm) with EOS 1D Mark II. ISO 400.
Evaluative metering +1 stop set manually: 1/13 sec. at f/20.
The birds were swirling all around me and it was impossible to make a single image with my big lens. Then I suddenly remembered that I had the 28-135 in my vest! I increased middle-tone contrast via a Curves adjustment layer to darken the shorebirds.
Best and love and great picture-making to all,
Artie