Canon 500mm f/4 L IS Lens with the EOS-1D Mark IIN. ISO 400.
Evaluative Metering +2/3 stop off the low sky: 1/2500 sec. at f/7.1 set manually.
Many folks do not understand the importance of wind direction on bird photography.
Here are three (brand new) additional possibilities that might work for you when facing extreme wind against sun situations (a strong NW wind on a clear morning or strong easterlies on a sunny afternoon):
1-Create backlit images of birds in flight. This works especially well when the subjects are landing as the light will often stream through the feathers. Be sure to check for flashing highlights to avoid burning any white feathers and to check your histogram to ensure that you are not underexposing darker subjects. This approach works best with white birds like Snowy and Great Egrets and Snow and Ross's Geese.
2- With the sun behind you, strive to create images of birds banking in flight as they turn to land into the wind. Vertical compositions are often possible.
Do note that on overcast days that north or west winds in the mornings or east winds late in the day do not present a problem as overcast light is omni-directional. Understanding the importance and the effect of wind direction on bird photography can help you to create stronger images on a consistent basis.
Canon 100-400mm IS L Zoom Lens handheld at 320 mm with the EOS-1D Mark IIN. ISO 400.
Evaluative Metering + 1 stop off of low blue sky: 1/1000 sec. at f/6.3 set manually.
BAA OHIO SITE GUIDE by MATTHEW STUDEBAKER
We are proud to announce that the latest BAA Site Guide is now available:
A Guide to Ohio's Best Places for Bird Photography
A BIRDS AS ART Site Guide by Matthew Studebaker
I met Matthew Studebaker last October when he graciously agreed to show me around the North Chagrin Reservation on a speaking trip to Cleveland. . I was blown away by the Wood Ducks and the lovely reflections of fall color. You can see my Wood Duck images and learn more about that trip here: http://www.birdsasart.com/bn213.htm. And I was again blown away while viewing Matthew Studebaker's images and seeing the diversity of great subjects and places in his home state of Ohio. Several months ago Matthew approached me about creating an Ohio Site Guide and I thought that it was a great idea so Matthew went to work. His 61 page guide is exceedingly well done. And as you will see below, he is a skilled photographer (in spite of having "only" a Digital Rebel) and an excellent writer.
The guide gives explicit and clear directions (with great maps), best times to visit, and expected subjects for eight major locations: Crane Creek State Park (migrant songbirds, former IPT-site), Castalia, OH (wintering ducks), East 72nd St., Cleveland (gulls—including rare species, Red-Breasted Mergansers, and ducks), the aforementioned North Chagrin Reservation (ducks—especially tame woodies, Canada Geese, American Robin, migrant songbirds), Conneaut, OH (shorebirds, gulls, and terns), the Bath Nature Preserve (migrant and nesting songbirds, Great Blue Heron rookery), Cuyahoga Valley National Park (nesting songbirds especially warblers & vireos, woodpeckers, and Chipping Sparrow), the Tri-valley Wildlife Area (nesting songbirds especially sparrows—Henslow's, Grasshopper, and Field, Eastern Towhees & Meadowlarks, and Sedge Wren) and Shawnee State Forest (migrant & nesting songbirds including Hooded, Cerulean, and Prairie Warblers).
In addition, there are lots of technique tips including an excellent section on judiciously using tapes to attract songbirds. Matthew is a set-up master and the Site Guide includes a how-to section with photographic examples and tips for getting the birds to perch on the set up! Lastly there is a section noting the locations of publicly accessible feeding stations in the state.
Matthew Studebaker's BAA Ohio Site Guide is sent via e-mail as a 5mb PDF file. To order yours, send a check (made out to "Arthur Morris"—be sure to include your e-mail address) or a Paypal (easiest) for $50. Alternatively, you can call us at 863-692-0906 with credit card in hand.
Matthew leads photo tours to various Ohio locations for small groups and individuals. The tours are customized to suit the needs and to realize the goals of the participants Matthew offers in-field advice on how to create the image that you want. Some of his most popular tours focus on songbird photography in some of Ohio's large forests. As I type these words, Matthew is conducting in-the-field research. As a result, he will be able to take participants right to their target species and then demonstrate the appropriate photographic technique.
You can contact Matthew by phone at 1- 440-423-0875 or via e-mail: matthewstudebaker@yahoo.com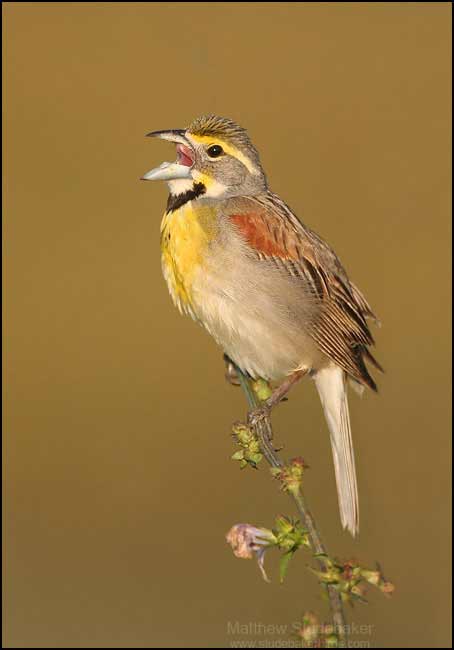 Dicksissel, singing, Valley National Park, Ohio
Image Copyright 2007: Matthew Studebaker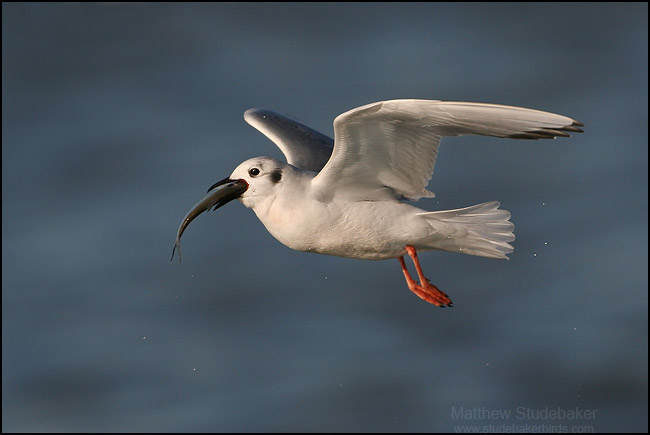 Bonaparte's Gull with fish, E. 72nd Street, Cleveland, Ohio
Image Copyright 2007: Matthew Studebaker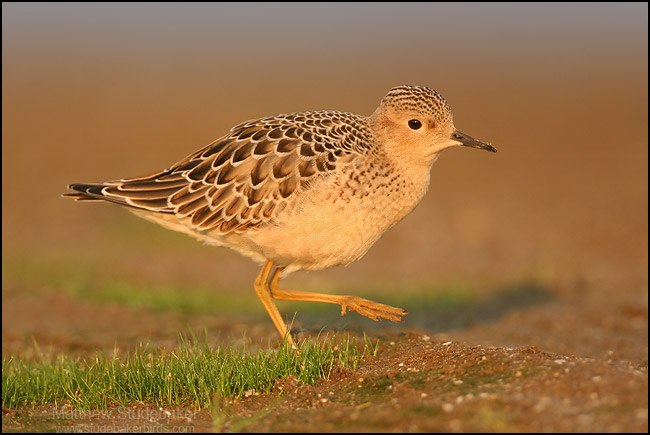 Buff-breasted Sandpiper, juvenile, Conneaut, Ohio
Image Copyright 2007: Matthew Studebaker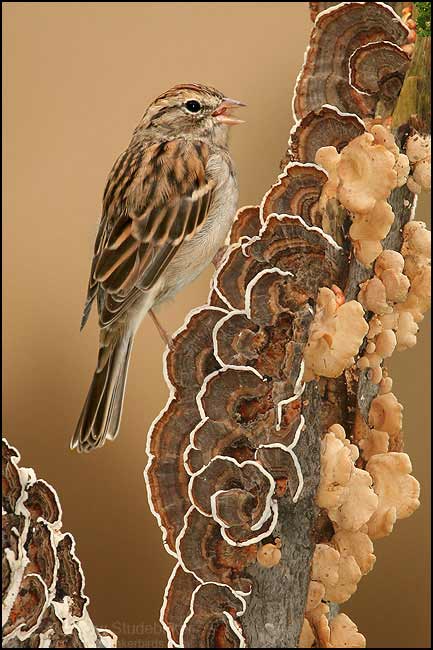 Chipping Sparrow, Chesterland, Ohio
Image Copyright 2007: Matthew Studebaker
VISUAL ECHOES BI-DIRECTIONAL GIMBAL HEAD ADAPTER (B-DGHA)
By mounting this lightweight (5 ounces) bi-directional adapter on your (old or new) Wimberley Head you can mount a short lens on your Wimberley Head. For bird or wildlife photographers who like to create an occasional scenic photograph (while using slow shutter speeds) the use of the B-DGHA provides a workable solution to a difficult problem. You will--of course--need a camera body plate for your camera. For creating horizontal images, we recommend using the generic Wimberley P-5 plate, but if you are interested in a camera-specific plate, go to http://www.reallyrightstuff.com/ and click on the link for plates for camera bodies.
Now, here is the part that you will hear only from BAA: in order to use the bi-directional plate successfully, you will need to level the tripod platform by adjusting the legs so that the floating bubble in the level on the tripod platform is centered in the scribed circle. (This process is described in detail in the Practicalities Chapter of ABP II on page 394.)
If you wish to create vertical scenic images with a short lens, you will need to purchase an "L" bracket. I do not like them. Routinely keeping one on your camera body increases the weight of your rig by almost 1/2 pound and greatly impedes camera body handling (as does keeping a camera body or wrist strap on camera that is attached to a tripod-mounted lens.)
It is my belief that if you are a serious landscape photographer you should be using a small, lightweight ballhead.
To order your B-DGHA, send us a Paypal, or a check (made out to "Arthur Morris") or money order for $124.99 plus $4.00 shipping (Florida residents please add 7% sales tax =$8.75). Alternatively, you can call us at 863-692-0906 with credit card in hand.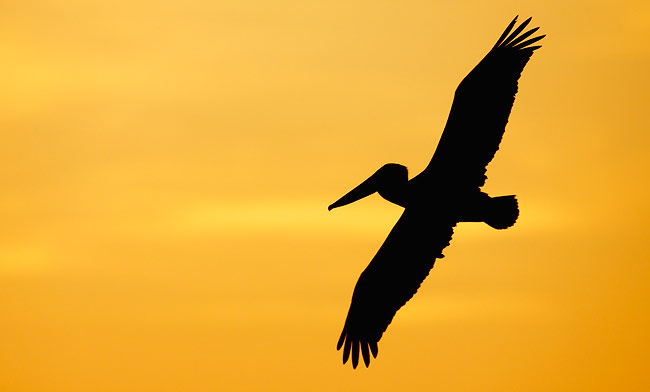 Brown Pelican at dawn, Tampa Bay, FL
Image Copyright 2007: Arthur Morris/BIRDS AS ART
Canon 600mm f/4 L IS lens with the EOS-1D Mark IIN. ISO 640.
Evaluative Metering + 1 2/3 stops off the sky: 1/500 sec. at f5.6. 45 Point AFPS.
"Frog Hair James" leaves the dock early and has you in perfect position to create silhouetted images of the birds in flight. We did not have much sunrise color here so I switched to a white balance of 10,000K. As long as you are using RAW capture it does not matter what your white balance is; you can always tweak or change it later.
JAMES SHADLE/MASTER PHOTOGRAPHER/MASTER NATURALIST
Over the past few weeks I have gotten to know James Shadle better and it has been a pleasure. He is driven, hard-working, talented, and just a helluva nice guy (as is his son Blake). If you visit Jim's web site (http://www.wildflorida.net/index.aspx), you will quickly see that he is a fine photographer; be sure to check out the Wildlife and the Abstract galleries. Most excellent photographers are also—almost by necessity—excellent naturalists as well and James, having taken the Freshwater Module of Florida University's "Florida Master Naturalist" program fits right into that category. His ability to spot small creatures like rattlesnakes (swimming in salt water) and baby Diamondback Terrapins borders on the supernatural (and he is—of course—a fine macro photographer).
"Fine Frog Hair" James is just beginning work on a Greater Tampa Bay/Hillsborough County Site Guide BAA Site Guide. James makes a living selling batteries and I only half-jokingly said to him this morning that he should quit the battery salesman ruse because looking at his web site you get the feeling that he must be out there photographing 24/7/12… He knows a ton of great bird photography sites that I have never even heard of much less visited.
Below are a few examples of James' work. The technical information is unavailable so please go easy on the hate e-mails…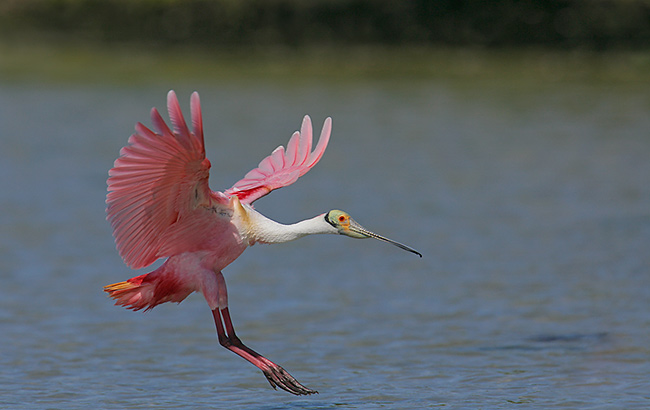 Roseate Spoonbill landing, Tampa Bay, FL
Image Copyright 2007: James Shadle/Wild Florida Photography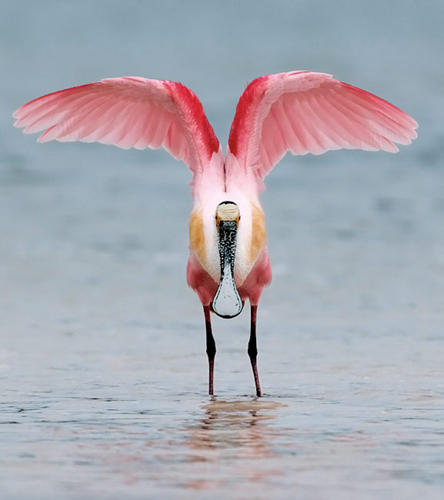 Roseate Spoonbill flapping, Tampa Bay, FL
Image Copyright 2007: James Shadle/Wild Florida Photography
JAMES SHADLE SPOONBILL BOAT TRIP OPENINGS
On the morning of Monday April 16 both James and I will be providing in-the-field instruction on a morning boat trip on Tampa Bay. Guaranteed flight photography subjects include Roseate Spoonbill, White Ibis, and Brown Pelicans (some carrying nesting material). (Similar trips on April 12th and 20ieth are sold out.)
If you would like to consider joining us on the 16th , the fare is $300 (if one person), $250 each for 2-3 folks. There are currently three slots open.
James has two slots ($250) open for tomorrow morning, Wednesday, April 11, 2007. (I will not be on that trip.)
Please contact James as follows: contact by cell phone at 813-363-2854 or via e-mail at James@wildflorida.net. If you are interested in joining Jim for either afternoon, please mention it to him.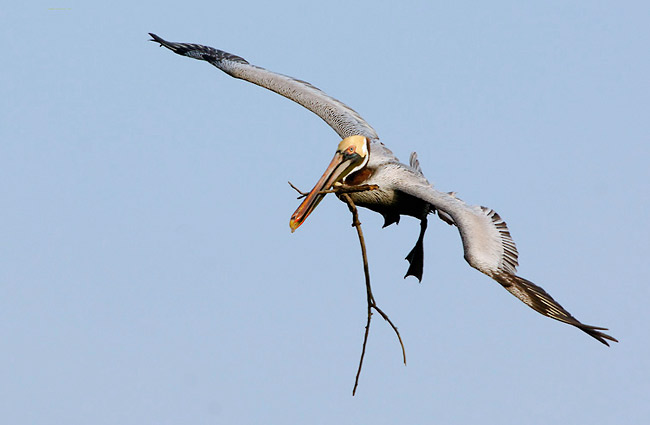 Brown Pelican with really big stick!, Tampa Bay, FL
Image Copyright 2007: James Shadle/Wild Florida Photography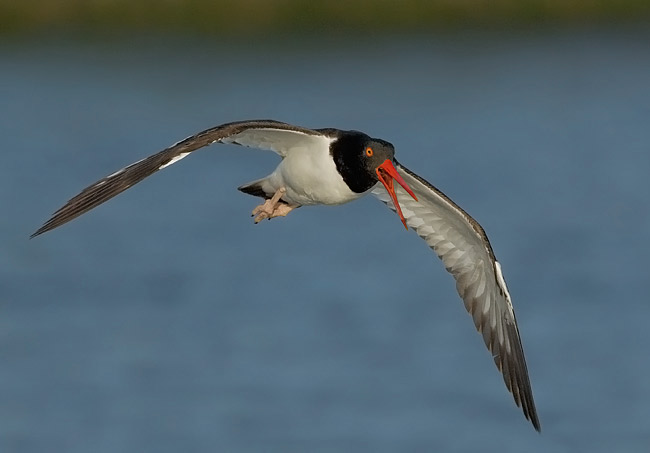 American Oystercatcher calling in flight, Tampa Bay, FL
Image Copyright 2007: James Shadle/Wild Florida Photography
FORT DE SOTO LATE REGISTRATION DISCOUNT OFFERED
Please call us at 863-692-0906 to learn of the substantial late registration discount that we are offering only for the second Fort DeSoto IPT:
Fort DeSoto IPT: APR 17-19, 2007. Slide program on the evening of Monday, APR 16. 3-DAY: $999 (Limit 14; openings: 4.) Co-leaders: Todd Gustafson, Robert O'Toole, and Alfred Forns. Courtship and breeding behaviors of Laughing Gull and Royal and Sandwich Terns. Herons, egrets (including both dark and light phase Reddish Egret), shorebirds (including Long-billed Curlew), gulls, terns, and skimmers among others.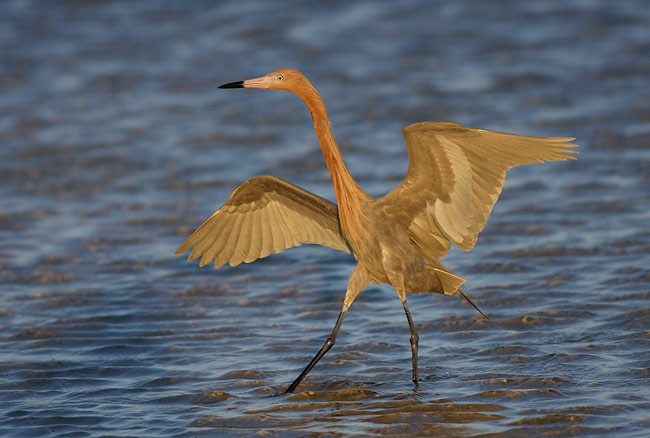 Reddish Egret dancing, Fort De Soto Park, St. Petersburg, FL
Image Copyright 2007: Arthur Morris/BIRDS AS ART
Canon 400m f/5.6 L Lens handheld with the EOS-1D Mark IIN. ISO 400.
Evaluative Metering +2/3 stop: 1/1000 sec. at f/5.6.
With a nice northwest wind on Friday afternoon, I positioned my self just ahead of the light angle so that when the bird lifted off into the wind to dance, he was coming towards me and towards the light. DeSoto is really starting to hop right now. We still have two slots on the 2nd De Soto IPT.
NYC SEMINAR
The Art of Nature Photography; It Ain't Just Birds!
Weekend How-To Seminar
Queens, New York