FEATURES
HUNT'S PHOTO & CANON BIG GLASS PRE-ORDERS
SPOONBILL HEAVEN
USED CANON 100-400mm LENS FOR SALE
IPT UPDATES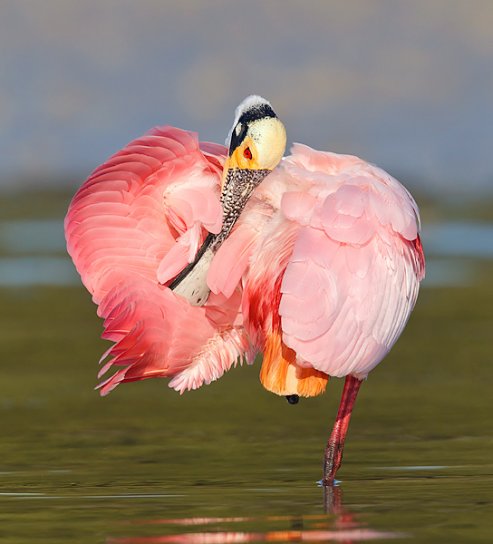 Roseate Spoonbill, breeding plumage adult preening, Alafia Banks, Tampa Bay, FL
Image copyright 2011: Arthur Morris/BIRDS AS ART

Canon EF 800mm f/5.6 L IS lens with the 1.4X II TC and EOS-1D MIV. ISO 400. Evaluative metering at zero: 1/800 sec. at f/10.
When photographing birds from behind, it is pretty much mandatory to go for some extra depth-of-field as I did here by working at f/11. (Note: wide open is f/8.)
HUNT'S PHOTO & CANON BIG GLASS PRE-ORDERS
On February 7, 2011, Canon finally and officially announced the lightweight updated versions of both its 500mm and 600mm f/4L IS USM Series II professional super-telephoto lenses. Both are similar to the EF 300mm and EF 400mm f/2.8L IS II USM lenses that were released last August. The two new big guns feature completely new optical designs and water-repellant Fluorine coatings along with lighter weight construction. A new IS mode has been added that activates stabilization only during exposure. The lenses also offer optional long or short foot tripod mounts suitable for monopods or tripods and a smoother tripod collar rotation mechanism that should make it easier to rotate the lenses to vertical. (In the past, individual 500s and 600s often became quite sticky with age and some folks had problems right out of the box).
Here is some great news:
Hunt's Photo & Video is now accepting pre-orders for the two new Series II lenses. A $1,000 deposit will get you on the list now. Each of these lenses will be in high demand probably for at least a year. The first 500s are expected sometime in May, 2011. The 600s are likely to follow in June. No guarantees of course.
To pre-order yours now call Gary Farber during business hours (east coast time) at 781-462-2332 or John Duggan at 781-462-2314.
Please let them know that we sent you. The sooner that you get your name on the list the sooner you will get your hands on the lens. Read on for my comments on the great new lightweight glass.
I ordered one of each today

Here is the skinny on the weights:
The new 500 f/4L IS II weighs 7 pounds. This represents a weight reduction of 1.5 pounds from the 8.5 pound 500mm f/4 L IS.
The new 600 weighs only 8.8 pounds, down 3 full pounds from the weight of the 11.8 pound 600mm f/4 L IS lens.
The 800mm f/5.6L IS lens weighs 9.9 pounds.
And here are my thoughts:
The relatively new 800mm f/5.6 lens was the first to offer the amazingly revolutionary 4-stop Image Stabilization system. All four of the Series II super-telephoto lenses offer 4-stop IS.
The new 600 IS II offers far greater versatility than the 800mm and offers a longer effective focal length with functioning central sensor-only autofocus (1200mm with the 2X for the 600 IS II as compared to 1120mm with the 1.4X for the 800). In addition, the new 600 weighs 1.1 pounds less than the 800.
It should be mentioned at this time that the Series III teleconverters will offer improved AI Servo tracking accuracy only with the Series II Super-telephoto lenses. The micro-chips in the Series III TCs cannot communicate with the older super-telephoto lenses. Do note however that early reports indicate that the EF 2X Extender III is noticeably sharper than the EF 2X Extender II.
You can find the complete press release here.
Or learn more here.
SPOONBILL HEAVEN
If you like the spoonbill image at the top of this Bulletin, be sure to check out "A Morning in Spoonbill Heaven" for the story of a wondrous outing and several more killer spoonbill images. And learn how you you can get out to Alafia Banks on the Hooptie Deux with Captain James Shadle.
USED CANON 100-400mm LENS FOR SALE
I am offering my used Canon 100-400 IS L zoom lens in very good to excellent condition: hand holders special; includes front and rear covers only. No tripod collar. Thus, I am giving this one away for $700. Buyer pays insured shipping. If I do not know you, I will not be able to ship the lens until your check clears. First e-mail wins.
IPT UPDATES
BOSQUE del APACHE 2011 IPT: "The Complete Bosque Experience." NOV 19-25, 2011.
Slide program on the evening of Friday, NOV 18. 7-FULL DAYS: $3299. (Non-refundable deposit: $500; see details below.) Limit: 10/Openings: 6. Co-leaders: Robert O'Toole & Jim Heupel. Geese, cranes, ducks, sunrises, sunsets, and blast-offs. Live, eat, and breathe photography with one of (if not the) world's premier photographic educators at one of his very favorite locations on the planet. Plus great co-leaders and top-notch Photoshop instruction. Please see terms and deposit info below.
With my ever-shrinking teaching schedule and all the specialty trips sold out, this trip may well represent a rare opportunity to learn from the best, so do not wait too long before sending your deposit. Clemens van der Werf who was on this year's Bosque trip is already registered for next year. If you missed the Photographer Experience Quiz and the Mystery Photographer & Experience Level Revealed! posts on the blog, you will surely want to check them out to see what Clemens has accomplished in less than a single year of bird photography. And how!
GREECE/DALMATIAN PELICAN EXPLORATORY IPT. FEB 27-MAR 5, 2011.
6 1/2+ Full Days of Photography: $2499. (Limit: 6/Sold Out). Co-leaders: Arthur Morris, Robert O'Toole, and Yannis Arvanitis as our bi-lingual guide. Payment in full is due immediately. Please call to hold a spot pending the arrival of your check made out to "Arthur Morris." Europeans please e-mail for wire transfer details. No discounts. For images and complete information click here. If you would like additional info on Lake Kerkini please e-mail me at samandmayasgrandpa@att.net and request same. Please see terms and deposit info below.
HOMER BALD EAGLE IPTs WITH ROBERT O'TOOLE, MARCH 2011
March 12-16, 2011
Limit 7 including the leaders/Sold Out 5-FULL DAYS: $2799
March 18-22, 2011
Limit 12 including the leaders/Sold Out 5-FULL DAYS: $3249
March 24-28, 2011
Limit 12 including the leaders/Sold Out 5-FULL DAYS: $3249
Homer the way it used to be. 100% legal eagle feeding. Both of these trips sold out within hours after being announced to the BAA Friends List. The Friends List consists of IPT veterans who fit in the happy camper category. If you have been on an IPT and would like your name added to the BAA Friends List, please e-mail me at birdsasart@att.net and include a short note. Non-refundable deposit: $1,000. See terms above. Please call to check on availability before sending your deposit check.
The trip above was added by popular demand; only Robert will be leading it.
GALAPAGOS 2011 PHOTO-CRUISE OF A LIFETIME IPT
The Complete Galapagos Photographic Experience: July 3-20, 2011 (July 5-19, 2011 on the boat): 13 1/2 days of photography plus a last morning panga ride: $12,499. (Limit 11/sold out.)
If you would like your name placed on the seriously interested list for the SUMMER 2012 trip, please e-mail me at birdsasart@att.net.
Terms and deposit info
A non-refundable deposit of $500 is required to hold a spot on the above IPTs. Deposits may be paid by check, PayPal, or credit card. Payment in full (by check or money order only) is due four months before the start of each trip and is non-refundable unless the IPT sells out. You will be required to sign a statement of understanding to this effect. Travel insurance is of course highly recommended. Travel Insurance Services offers a variety of plans and options. Included with the Elite Option or available as an upgrade to the Basic & Plus Options is Cancel for Any Reason Coverage that expands the list of reasons for your canceling to an infinite list from a sudden work or family obligation to a simple change of mind. My family and I use and depend on the great policies offered by TIS whenever we travel. You can learn more here. Do note that many plans require that you purchase your travel insurance within 14 days of our cashing your deposit check or running your credit card. Travel insurance protects you against unexpected developments, injuries, or illnesses. We regret that we must implement this new policy but we have been plagued by last minute cancellations that make it impossible for others to participate and deprive us of essential income.
Important note: please print, fill out, and sign the registration and release forms and include them with your deposit check (made out to "Arthur Morris." ) If you use a credit card to register, please fill out, sign, and mail the forms asap. Your registration will not be complete until we receive your paper work. You can find the forms here.