Rookeries by necessity are cluttered places with branches and whitewash everywhere. There is often filtered sunlight. Lastly, there are so many birds that care needs be taken to keep their out-of-focus white blobs out or your backgrounds If you wish to use direct frontal natural (sun) light, the rookery is strictly and afternoon spot, especially this year as very few birds nested on the left (west) side of the boardwalk.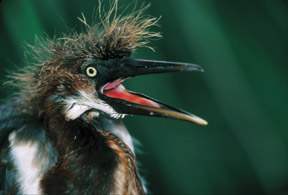 (Tricolored Heron chick. Canon 500mm f/4 IS lens with two 25mm extension tubes and one 12mm extension tube. Canon EOS 1v body. Flash as main light at zero.)Canon EOS 1v body)
Here are my tips for making good images at SAAF:
1-Never photograph a subject in filtered light.
2-Use your longest telephoto (often with tele-extenders) so that your narrow angle of view reduces background clutter.
3-Use extension tubes with your big lenses so that you can work tight, and I mean tight!
4-In the morning, photograph nests that are totally shaded. Use flash as main light to illuminate your subjects (that--on sunny days--are actually somewhat backlit even though they are seemingly in total shade).
5-Bring a short lens or two to photograph groups in the nest. I always bring my 28-135mm and 100-400mm zooms and use them with either an A2 or an Elan 7E so that I may use the pop-up flash on these relatively inexpensive bodies.
6-Bring a flight lens for the late-afternoon fly-in.
Like most rookeries, St. Augustine is a great place to make hundreds of really bad images in a short time! But that also makes it a great place to learn. Do note that there are still four openings on the July 6-8, 2001 BIRDS AS ART/INSTRUCTIONAL PHOTO TOUR
at SAAF. See the web site for details. When I visited recently there were lots of birds still on eggs and building nests, so early July (though hotter than Hades) should provide lots of great opportunities for both learning and chick photography.