Arthur Morris / Birds as Art
Bulletins and Notes Archive

Click any image to enlarge it
Bulletins and Notes Archive
BIRDS AS ART ON-LINE Bulletin 60 October 21, 2001
Flash Information Update
More on Air Travel with One Carry-On
More on Shipping Big Lenses
Hand On Hand-Checking Film
Flash Information Update
For quite some time, I have been canceling automatic flash reduction (by setting Custom Function 14-1 on my EOS 3 and EOS 1v camera bodies). I now believe that it is best to leave the default setting for Automatic Flash Reduction, i.e., Custom Function 14-0. This allows the camera to reduce the flash output by an unknown factor, even when working in M --manual--mode! Both Greg Downing and I have experimented using both approaches (CF 14-0 and CF 14-1) for some time now and agree that results are far more consistent when using CF 14-0. (Note: though I do not know the details, Nikon users and others have similar options when working with their manufacturer's high-end camera bodies.) For reasons unknown, Canon's automatic flash reduction program prevents (occasional) severe over-flashing, i.e.., overexposure caused by the flash.
As for fill levels, I use -1 1/3 for white and extremely light-toned subjects, -2/3 or -1 for middle-tones, and 1/3 or -2/3 for dark-toned subjects. When using flash as main light (where I opt to work in M (manual) mode, I generally set the flash at 0 or -1/3 white or light-toned subjects, 0 for middle toned subjects, and +1/3 for dark or black subjects. If you are not rock-solid in your understanding of the terms "flash as fill" and "flash as main light," you are invited to refer to pages 74-77 in "The Art of Bird Photography." (You can order a signed copy of the book off of the web site.)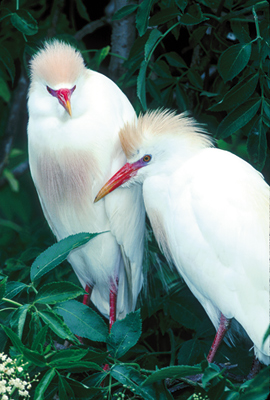 Cattle Egret pair, St. Augustine Alligator Farm. Canon 600mm f/4 L IS lens, EOS 1v camera body, Better Beamer, Fuji Velvia pushed one stop. Ambient: Evaluative Metering +2/3 stop. Fill flash at -1. (CF-14-0)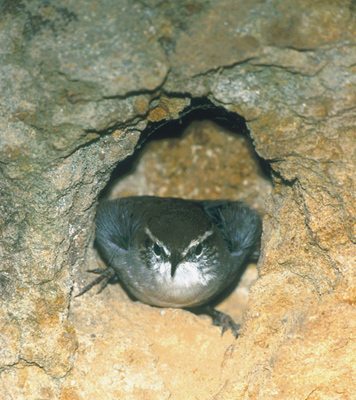 Bewick's Wren, LaJolla, California. Photographed at 9:30 pm in night-time roost hole.
Canon 600mm f/4 L IS lens, EOS 1v body, 1.4 X II teleconverter, and 37 mm of extension, Better Beamer. Flash as main light at +1/3 stop to bring up detail in the bird's dark chocolate cap.
More on Air Travel with One Carry-On
Many folks have written asking which brand of rolling (flight attendant-type) bag I use. Presently, it is an American Tourister. The basic models of the standard name brands are all pretty similar--the zippers usually break after a year or two of hard service... The rolling bag that I use has no padding at all. This is fine with me as the bag is in my control at all times; ample padding just adds weight, and the more padding that there is, the less stuff you can place in the bag. (The maximum size of the rolling bag is--of course--pre-determined.) When I arrive at my location, I simply place the bag in the trunk and unzip it. It serves as my "camera bag" until I am ready to head home.
As described in "The Art of Bird Photography," my smaller lenses (including intermediate telephotos) and camera bodies are always placed in heavy wool watch caps. These protect the equipment from both bump, jarring, and moisture, and makes packing a snap.
I am not at all familiar with any of the large-wheeled, padded models...
More on Shipping Big Lenses
Bulletin subscriber Jeff Page e-mailed the following excellent suggestion:
Depending on how much bumping around your parcel gets, it is possible for your big lens or other fragile equipment to sink amid the little foam balls and be too close to the bottom (where it might be damaged). I have heard direct reports of baggage handlers chucking stuff from the plane from 20 feet up to the ground because they were too impatient to wait for the truck to arrive. Consider putting the balls themselves in a plastic bag as well, so that the lens can't sink through.

Thanks Jeff!
More on Hand-Checking Film
Some solid info from Bulletin subscribers and IPT participants Bill and Carolyn Hilton:

You and your readers may be interested in this web page with the actual FAA rules and regs, which describe your right to request a hand-check of your film. I've printed off a copy and now carry it with me so I can quote scripture and verse in case I encounter an over-zealous security guard. Though I have flown with film a couple of times after Sept 11 I have not had any problems getting my film hand-checked.
These rules are current (last updated Oct 2001, per the web site).

Here is the relevant section is 108.17.e which reads in part ...

<quote>
(e) No certificate holder may use an X-ray system to inspect carry-on or checked articles unless a sign is posted in a conspicuous place at the screening station and on the X-ray system which notifies passengers that such items are being inspected by an X-ray and advises them to remove all X-ray, scientific, and high-speed film from carry-on and checked articles before inspection. This sign shall also advise passengers that they may request that an inspection be made of their photographic equipment and film packages without exposure to an X-ray system. ... If requested by passengers, their photographic equipment and film packages shall be inspected without exposure to an X-ray system.
<end quote>

Section 108.17 "Use of x-ray systems" is on-line at this URL:


http://www.access.gpo.gov/nara/cfr/cfrhtml_00/Title_14/14cfr108_00.html
The main menu for all the rules is at


http://www.access.gpo.gov/nara/cfr/cfrhtml_00/Title_14/14tab_00.html
Thank you Bill and Carolyn!
IMHO, if you are told that you must pass your film through the security X-ray, you might consider requesting to speak to a supervisor, but if push comes to shove, you may be forced (FAA regulations on your side or not...) to have your film X-rayed. In any case, all of the 100 and 200 ISO films that we use regularly can be X-rayed many times by the machines at the security checkpoints without damage.
---



]
[ About Arthur | | ]
[ Photo-Tours | Books | Photo Prints ]
[ Bulletin Archive | FAQ ]
[ Accessories | Links ]