I am often asked, what type of vest do you prefer? Here is my vest-tale: Several years ago at a NANPA Forum, I met John Stanford the founder of Vested Interest. He graciously provided me with a complimentary XtraHand Magnum vest. One of the neatest features of all X-tra Hand vests is that their design is such that it is relatively cool in the heat of summer, but has lots of room for heavy winter clothing. You can even adjust the straps so that there is more room for heavy clothes in winter, and then re-adjust them for a snugger fit in summer. While I loved the vest, and used it till its recent death, there were several things about it that I did not like about it.
Two months ago, new owner John Storrie agreed to customize a Magnum vest to my specifications. John Stanford graciously returned to the shop to make sure that everything was perfect. The new vest would incorporate a number of features that I suggested to eliminate the very few problems that I had had with my original vest. The result is the BIRDS AS ART/Big Lens XtraHand Vest. Here are the changes that were made: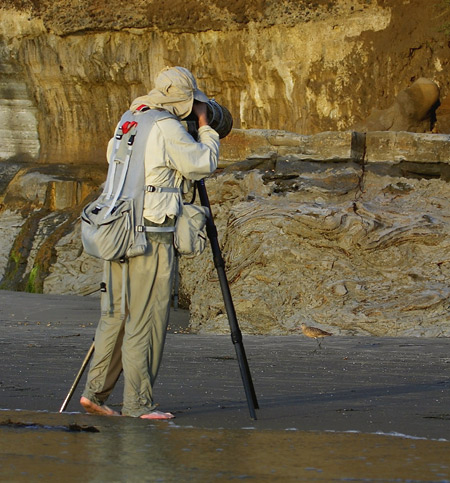 Copyright Benjamin R. Miller
The rear pocket of the "Big Lens" vest is so large that you can put your shoes in it if you need to! Note all the bulging vest pockets!
1-Zippers were added to the upper front pockets so that small items would not fall out inadvertently, and important items like exposed film would stay put.
2-Both lower pockets were super-sized to provide maximum stowage space. (On the standard Magnum only one of these pockets is super-sized; the other is large.)
3-Again, to prevent inadvertent opening, the closures on both of the front pockets were improved dramatically as follows:
a-A second strip of Velcro was added, and both strips were extended around the sides of the pockets.
b-The pocket covers were re-designed so that the covers are squared-off and completely overlapping.
c-A snap-shut strap was added so that the pockets would
never
open during transport (as long as the straps are fastened).
4-The keep-your-behind-dry roll-up seat was re-done so that it is truly waterproof. Now I can keep my butt dry when sitting on wet sand or mud.
5-A red handle was added so that I know exactly where to grab the vest when picking it up.
6-Extra padding was added to the shoulders so that carrying those 12+ pound lenses would become slightly more bearable.
How I use my BIRDS AS ART/Big Lens XtraHand Vest:
Small Upper Left Front Pocket: Blower brush, absorbent cotton and PEC*PADS, Lens Clens or Eclipse Optical Cleaning Solution, extra double bubble, exposed film.
Space Behind Small Upper Left Front Pocket: Sun block
Small Upper Right Front Pocket: Small Parts Tool Kit, Extra nickel metal-hydride rechargeable battery pack for EOS 1v, three AA Lithium batteries for flash head, exposed film.
Space Behind Small Upper Right Front Pocket: Sharpie Marking pen and more sun block.
Large Lower Left Pocket: 10-15 rolls of Provia F 100 and the Canon 1.4X TC II. (The TC is transferred to the space behind the large pocket for easier access when working.)
Small Zippered Pocket below Large Lower Left Pocket: Two 25mm and one 12 mm extension tubes stacked.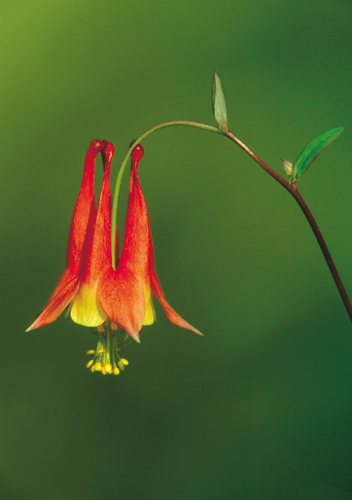 Columbine. Copyright Arthur Morris/BIRDS AS ART. Canon 600mm f/L lens and three extension tubes easily accessible in the "Big Lens" vest.
Large Lower Right Pocket: 10-15 rolls of Velvia and the Canon 2X TC II. (The TC is transferred to the space behind the large pocket for easier access when working.)
Small Zippered Pocket below Large Lower Right Pocket: Two rolls of Provia F 400. (Remember to take all film out of your vest if it will be in your checked luggage for air travel.
Large rear storage pouch: Walt Anderson Panning Ground Pod, whisk broom, duct tape, 6 large heavy duty plastic garbage bags with draw strings (in case of rain), a Totes umbrella, and bottled water. There is still lots of room for an extra sweatshirt or set of rain gear.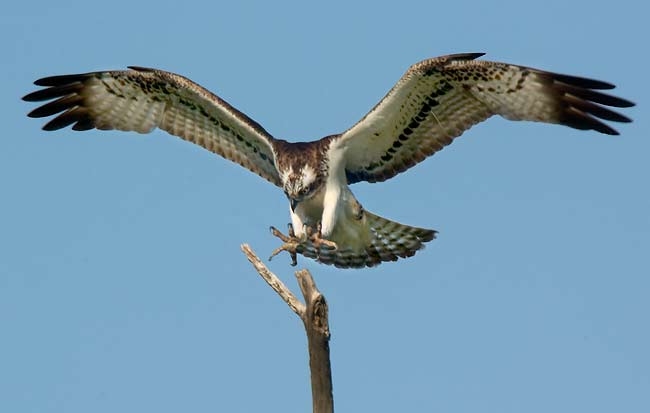 Osprey. Copyright 2000 Arthur Morris/BIRDS AS ART. 600mm f/4L IS lens, 2XII TC, EOS 1v body. With my "Big Lens" vest, accessories are just a reach away.
FIELD TEST. I received my newly re-designed vest in time for my trip to St. Paul Island in Alaska's Pribilofs. The vest passed with flying colors—actually, gray was my choice for this one. The improvements that were suggested to keep the lower front pockets closed without any extra effort worked perfectly. Just push the pocket flap down gently and those suckers will stay shut. Period. And the zippers on the smaller upper pockets worked perfectly even in the wet weather of the Pribs. I should mention that with the mesh construction the XtraHand vests dry very quickly even when they encounter a drenching rain or get set down in grass saturated with early morning's dew.
I absolutely love the re-designed shoulder pads. Now, don't get me wrong, the Canon 600 IS was not rendered weightless, mind you, but the pads eased the strain of carrying the lens considerably. The pads are perfectly placed and angled so that the lens rests squarely on them when you hoist your rig onto your shoulder, and they are thick enough to make a difference, yet not so thick as to be cumbersome. Photographer/friend/health advisor Cliff Oliver states that photographers carrying large tripod-mounted telephoto lenses on their shoulders should alternate shoulders every few hundred yards to avoid a multitude of possible problems… This is easier said then done, especially when you have been carrying your rig on the same shoulder for nearly two decades!
Thank you John, and thank you John!
The BIRDS AS ART/Big Lens XtraHand Vest is priced at $349.95 plus shipping. (BIRDS AS ART is not involved in the production or sale of any X-tra Hand vests.) For additional details, or to order your own XtraHand Vest, visit:
http://www.vestedinterest.com/about.htm
If you prefer, you can call John Storrie at 940-484-2222, or e-mail him at jstorrie@vestedinterest.com. And please tell them that I sent you.
Merritt Island NWR Notice
Until further notice, most areas of Merritt Island National Wildlife Refuge (including Black Point Wildlife Drive) are open only from 10 am until 6 pm daily. The new restrictive hours are in effect because of heightened security at the nearby Kennedy Space Center. While I am perfectly willing to arrive three hours early for a flight, I simply do not understand these restrictions: terrorists shall be allowed on the refuge from 10am till 6pm but not when the light is good? It seems as if this is just another case of locking the barn after all the horses have escaped...