BIRDS AS ART ON-LINE Bulletin #69 January 24, 2002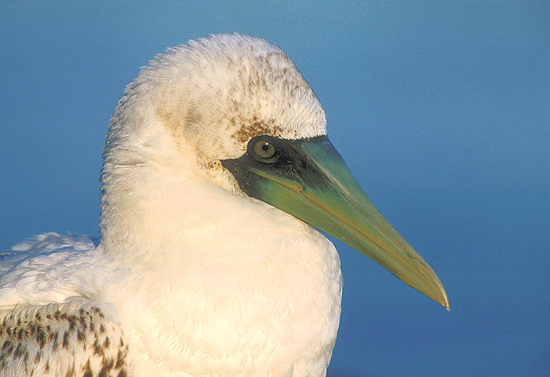 Image Copyright 2002 Arthur Morris/BIRDS AS ART
Masked Booby in early morning light, La Jolla, CA
Canon EF 500mm f/4 L IS lens, 2X II TC, EOS 1v.
Fuji Velvia pushed one stop.
Evaluative metering at zero: 1/125 sec. at f/11.
In full sun, this is a -1/3 compensation.
See details of Masked Booby in SO CAL IPT Report (below)
EXPOSURE CARD NEWS
The laminated Pocket Guide to Evaluative Metering has--at long last-- gone to the printer! The back of this guide features 60 representative natural history photographs accompanied by the suggested exposure compensation(s); the front of the card offers a wealth of informative text. The whole thing folds neatly to fit in your pocket. Since the publication of "The Art of Bird Photography," many have turned to BIRDS AS ART to learn how to use their camera's evaluative metering system and countless folks have begged us to offer a guide featuring numerous examples. (If you are one of those photographers who has been carrying around a Xeroxed copy of our simplified exposure diagram then you will be thrilled by this new offering.
This new guide will make understanding your camera's meter and coming up with good exposures consistently far easier than ever. Users of all modern cameras that feature an evaluative, matrix, or honeycomb-type meter will benefit from studying the Pocket Guide. And that goes for folks using high bodies other than Canon such as Nikon, Minolta, Olympus. Even F-5 (it's good, but it's not perfect) users will learn a lot. (In general they will need less compensation--especially less plus compensation--than the users of other modern camera bodies.)
At present, we have thirteen pre-publication paper copies available for purchase. These copies are NOT LAMINATED and were quite expensive to produce, thus we are forced to offer the limited supply on hand for the same price as the laminated Pocket Guide (that should be available within a month). If you are as impatient as I am, have a big trip coming up, or are an exposure-Dummy, you will want to send a check now for $20.95 ($19.95 plus a buck shipping) made out to "Arthur Morris" to: BIRDS AS ART PO Box 7245 Indian Lake Estates, FL 33855. Florida residents please add 6% sales tax = $22.15. If we are out of stock when we receive your check, you will be sent the laminated version as soon as it is available. Those opting to purchase a paper copy now will need to purchase their laminated copy separately. If you would like to order a laminated guide now, please include a large note stating: "Laminated Guide Only."

SOUTHERN CALIFORNIA IPT REPORT
Image Copyright 2002 Arthur Morris/BIRDS AS ART
Brown Pelican (California race) in breeding plumage, LaJolla, CA
Canon EF 500mm f/4 L IS lens, 2X II TC, EOS 1v.
Fuji Velvia pushed one stop.
Evaluative metering at zero: 1/200 sec. at f/11.
The Southern California IPT was a huge success with 6 lucky photographers being treated not only to the spectacular pelicans and Wood Ducks, but to a tame sub-adult Masked Booby, a rare vagrant from the Galapagos Islands of Ecuador. In addition, the scaups and Heerman's Gulls performed perfectly at Coronado where we were blessed by a spectacular sunset. Western Grebes were cooperative at Bolsa Chica, as were the ducks at Back Bay. We even explored the beach at Crystal Cove State Park and were rewarded with good opportunities to photograph Surfbirds and Whimbrels in a spectacular setting. Next January I will offer the popular 6-day IPT and add a 3-day version as well.
2002 BIRDS AS ART/Instructional Photo-Tours
Churchill, Manitoba
May 31-June 5, 2002 5-Day (4-full & 2 half-days): $1625 (includes ground transportation)
June 5- June 10, 2002 5-Day (4-full & 2 half-days): $1625 (includes ground transportation)
Sign up for both: 10-Day (9 full & 2 half days): $3150
May 29-31 2-Day Pre-IPT Optional add-on (1 full & 2 half days): $500 (includes ground transportation)
These IPTs are scheduled earlier than is typical so as to lessen the disturbance of nesting birds, to see and photograph more continuing migrants—a big storm would be a great asset in that area, and to photograph several hard-to-get species either on ice or in leads (open water) close to shore. Both the northbound migrant species and the arriving arctic nesting birds will be in spectacular breeding plumage. Species should include Semipalmated and American Golden-Plover, Whimbrel, Hudsonian Godwit, Stilt Sandpiper, Northern Phalarope, Short-billed Dowitcher, Arctic Tern, Bonaparte's Gull, Parasitic Jaeger, and Willow Ptarmigan. Other possibilities include Common Eider, Long-tailed Duck (Oldsquaw), Greater Scaup, Horned Grebe, Pacific Loon, Least Sandpiper, Dunlin, Redpoll, Savannah Sparrow, Blackpoll Warbler, Yellow Warbler, Northern Waterthrush, and many, many more. Dreamers can hope for Red Phalarope, Ross' Gull, and Sabine's Gull among others. Registrants need to be aware that with the earlier dates, there is a chance that we will encounter a spell of bad weather, but as noted above, this has the possibility of being a big plus. On this IPT only, ground transportation and airport pick-up/drop-off is included. No meals are included on this IPT. Most folks will need to stay a night in Winnipeg before and after the tour to facilitate flying to and from Churchill.
If you wish to join me for this incredible experience, do realize that in the event that you need to cancel, the required $500 deposit will be refunded only if your spot is filled and the tour sells out. These IPTs will fill quickly, and early registrants will be able to purchase the lowest priced plane tickets. My Winnipeg/Churchill round trip ticket was only $480.25 US. To register, send a check (made out to "Arthur Morris" for $500 to Box 7245, Indian Lake Estates, FL 33855.