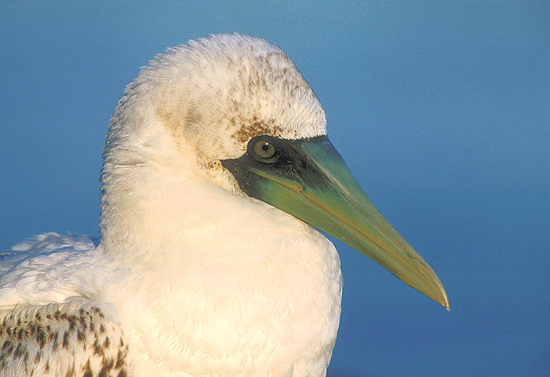 Image Copyright 2002 Arthur Morris/BIRDS AS ART
Masked Booby in early morning light, La Jolla, CA
Canon EF 500mm f/4 L IS lens, 2X II TC, EOS 1v.
Fuji Velvia pushed one stop.
Evaluative metering at zero: 1/125 sec. at f/11.
In full sun, this is a -1/3 compensation.
See details of Masked Booby in SO CAL IPT Report (below)
BOOBY LESSONS
The image above generated some excellent questions and some good opportunities for learning. Here they are: From IPT participant and Bulletin subscriber Ron Tanner:
In bulletin #69 the Masked Booby image, with the 2X, was made at f/11, rather than f/8. This is a departure from shooting wide open? Why so?

First of all, with the bird's bill angled towards me, I knew that the additional depth-of-field would help keep the entire bill sharp. It did. Secondly, whenever I have sufficient shutter speed (1/125th sec or more with a big IS lens), I always try to use f/11 with the 2XII converter because this combination is allegedly sharper at f/11 than it is wide open (at f/8). But do note that I and others have made many sharp images with both the 500 and 600 IS lenses at f/8.

Bulletin subscriber Sandy Selesky was confused by my comments on exposure. I finally realized that I should have written, "in full sun, this would have been a -1/3 compensation." To clarify: in the soft, early morning light, I used the metered (evaluative) exposure. The ocean was a soft blue and I knew that I did not have to worry about burning (overexposing) the whites (because of the soft light). In full sun, however, the ocean would have been a much deeper blue and without subtracting some light from the metered exposure, the whites would surely have been overexposed.
ANOTHER METERING TIP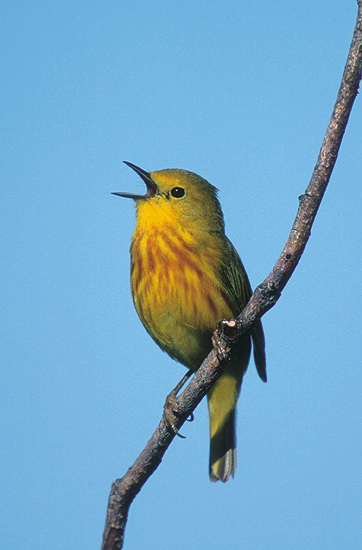 Image Copyright 2002 Arthur Morris/BIRDS AS ART

Yellow Warbler/singing male. Churchill, Manitoba.

Canon EF 600mm f/4 L IS lens, 2X II TC, EOS 1v.

Fuji Provia F 100 pushed one stop (at EI 200)

Evaluative metering +1/3 stop: 1/500 sec. at f/8.

Whenever photographing middle-toned birds against the lower third of a blue sky, I always add 1/3 stop of light (or more for darker subjects that are small in the frame). In early morning light, it is necessary to add 2/3 to a stop or more of light as the sky is white and your evaluative meter does not know a white wall unless the sun is at full strength. (Note: the sun can never be at full strength in the typical "white sky" conditions encountered on overcast days.)

Here, I made the image wide open (at f/8) to ensure maximum shutter speed and thus, a sharp bill on the singing bird.

BOSTON SEMINAR & PHOTO WEEKEND AUGUST 31-SEPT 2, 2002

Arthur Morris/ Birds As Art

Nature Photography Weekend

Sponsored by Boston Camera Club

Boston, Massachusetts, August 31-September 2, 2002

The Art Of Nature Photography: It Ainít Just Birds!

A Full Day How-To Seminar: Saturday, August

At the Volpe Transportation Center in Cambridge In-The-Field Workshop: September 1-2, 2002

On Saturday, August 31, 2002, internationally renowned bird photographer Arthur Morris will present a full day Seminar--The Art of Nature Photography; It Ainít Just Birds!, in Boston, Massachusetts. More than 10,000 of Mr. Morris' technically perfect, artistically designed images have appeared in virtually all natural history, photography, and birding publications, as well as in many general interest publications and advertisements, and on posters, prestigious calendars, and web sites. Arthur has been a Canon contract photographer since 1995, has done a worldwide television commercial for the EOS 1N, and has appeared in eight episodes of the Canon Photo Safari television program. He is a contributing photographer with VIREO (Philadelphia), Visuals Unlimited (NH), Windrush Photos (UK), and The Corbis Stock Market, (New York). He has written or been featured in more than 150 magazine articles, and has written four books; the latest, The Art of Bird Photography is considered the classic how-to work on bird photography. Artie is an Outdoor Photographer columnist.

It Ainít Just Birds!

This seminar is for all nature photographers (not just bird photographers) who want to learn how to make better images. Artie will describe the methods and techniques that he has used and developed used since 1983. His comments on equipment, film, autofocus, light, exposure, composition and picture design, image sharpness, getting close to wild subjects, and his tips on photographing action and behavior will benefit everyone with a telephoto lens who wishes to dramatically improve the quality of their images.

Attendees will learn:

1. All about modern autofocus cameras and lenses as well as the pros and cons of both the Canon and Nikon systems.

2. How to get closer to free, wild and unrestrained creatures than ever before while minimizing disturbance.

3. The secrets of producing razor sharp images and the benefits of image stabilizer lenses.

4. About Artie's two favorite films, and how and when he uses them.

5. How to shoot calendar quality silhouettes at almost any time of the day!

6. How and when to use flash and projected flash as main light and as fill light.

7. How the quality and the direction of natural light affects your images.

8. How to come up with pure, clean, out-of-focus backgrounds that are the hallmark of Artie's style.

9. How to use their cameraís evaluative metering system to come up with perfect exposures quickly and accurately.

The In-The-Field Workshops will be held at the Parker River National Wildlife Refuge and the Great Meadows National Wildlife Refuge on the Sunday and Monday following the Seminar and are open only to Saturday seminar registrants. They are strictly limited to 15 participants. A 400 mm lens and a 1.4X teleconverter is the minimum recommended focal length lens for these Workshops. 500 and 600mm telephoto lenses are ideal. (This two-day I-T-F Workshop will run from pre-dawn until sunset daily with a two-hour break after lunch.)

The cost of the How-To Seminar (9am - 4:30 pm) is $65.00 ($55.00 for Boston Camera Club members).

The cost of the 2-Day In-The-Field Workshop is $300.00 (Important Note: this Workshop is open only to Saturday seminar registrants)

Those wishing to help publicize these events may of course reproduce this information elsewhere in any form. The In-The-Field Workshop will surely sell out almost immediately, so please register early if you wish to attend; a waiting list will be maintained.

Please open the attached PDF file to register.

Bulletin subscribers who register for this Seminar are asked to please let us know by e-mail. Thanks!

THE ART OF NATURE PHOTOGRAPHY WEEKEND

WITH ARTHUR MORRIS/BIRDS AS ART
BOSTON, MASSACHUSETTS
PLEASE REGISTER ME FOR THE:
Saturday, August 31, 2002: The Art of Nature Photography; It Ainít Just Birds
Full-day Seminar: Boston, Massachusetts $65.00 ($55.00 for BCC members) Č
9:00 AM TILL 4:30 PM DOORS OPEN AT 8 a.m.
A selection of books, prints, and photographic accessories will be available on Saturday.
2-Day In-The-Field (I-T-F) Workshop, September 1-2, 2002 ($300.00) Č
Note: the I-T-F Workshop (above) is open only to Saturday Seminar registrants
Name_________________________________________
Phone ________________________________________
Address ___________________________________________________________
____________________________________________________________
E-mail address: ______________________________
Please make checks payable to: Boston Camera Club. Please mail registrations to: Boston Camera Club PO Box 982 Boston, MA 02103
Seminar and In-The-Field Workshop registration confirmations (that will include locations and directions) will be sent to all registrants upon receipt of payment. Cancellation Policies: Seminar-only registrants canceling before August 1, 2002 shall receive a full refund less a $10.00 processing fee. Seminar/I-T-F Workshop registrants canceling before July 1,2002 shall receive a full refund less a $30 processing fee. Those canceling between July 1 and July 31, 2002 shall receive a full refund less a $30 processing fee only if we are able to fill their slot in the I-T-F Workshop.