FAVORITE CHURCHILL IMAGES WITH COMMENTARY
THANKS!
FAVORITE CHURCHILL IMAGES WITH COMMENTARY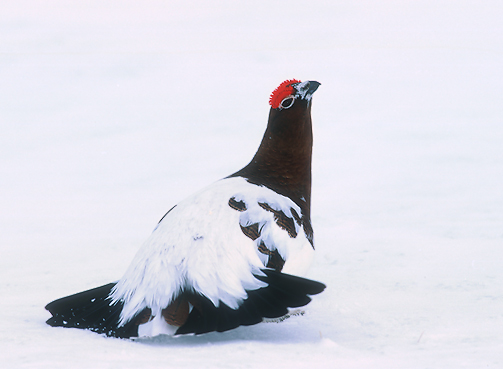 WILLOW PTARMIGAN/displaying male Image Copyright 2002 Arthur Morris/BIRDS AS ART
I photographed this displaying male Willow Ptarmigan in Churchill, Manitoba in late May. Using Velvia pushed one stop, I made the exposure at evaluative metering +1 stop. As I knew that the potential for a spectacular image existed, I end-clipped the roll to make absolutely sure the I had a perfect exposure. (I had finished the roll with a 12-frame sequence of the displaying bird.) When I received the clip, the images were a bit light, so I had the balance processed at (only) +2/3 stop. Canon 600mm f/4 L IS lens, EOS 1v body. Fill flash at -1 stop, 1/250 sec at f/6.7.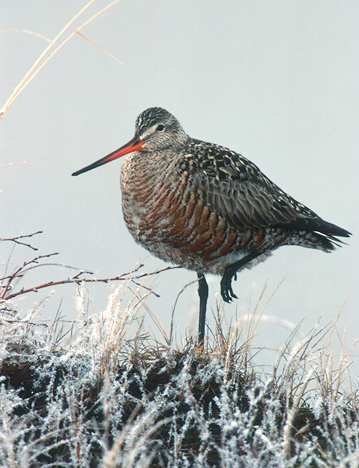 HUDSONIAN GODWIT/female Image Copyright 2002 Arthur Morris/BIRDS AS ART
As many of you know, my "early" trip to Churchill was met with unseasonably cold and icy weather. Seeing breeding plumage shorebirds on the frost encrusted tundra was a real kick. We did out best despite the cold. This female Hudsonian Godwit was photographed with the Canon 600mm IS lens, 2X II TC, EOS 1v, and Provia F-100 pushed one stop. Evaluative metering + 1 stop, fill flash at -1. When I made the snow "white" in PhotoShop, there was a magenta cast so I added some green and it looked better.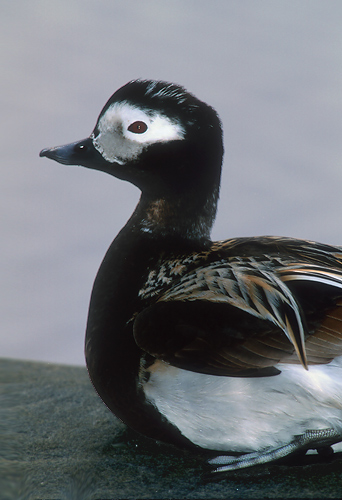 LONG-TAILED DUCK (formerly Oldsquaw) drake Image Copyright 2002 Arthur Morris/BIRDS AS ART
I had been following a godwit pair around the wet, snowy tundra when I saw this male Long-tailed Duck sleeping on a rock near shore. Problem was, it was more than a 1/4 mile walk around a pretty good sized pond for me to get anywhere near him. There was a small stand of low willows right at the edge of the pond near the rock. I thought, "With those bushes there, I can pretty much hide behind them by staying a bit low, and when I finally get really close enough to see over the bushes, I can move really, really slowly as I set up my tripod so as not to spook him when he does see me. I worked my way in slowly and he could see me through the opening in the bushes. When he would wake up and look at me, I would freeze until he once again tucked his head into his scapulars. Once I started photographing him (with the Canon 600IS and the 2XII), he would wake up and then nod off. I started with pretty much full frame horizontals, then graduated to front-end horizontals. Finally, I pushed it a bit and got close enough for a few front-end vertical portraits. Here, he raised his head feathers a bit, and, for this frame only, took his foot out from under his body. Fuji Velvia pushed one stop. Flash as main light (at 0), 1/60 at f/11.

The best thing about this was that I saw the situation and dreamed of what was possible. Then I went for it. Then my dreams were rewarded. It is my favorite image of a long, cold, mostly snowy trip.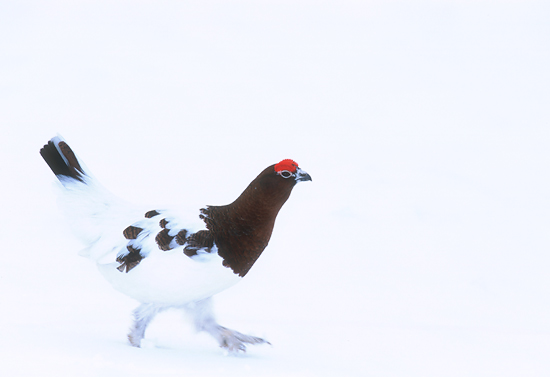 WILLOW PTARMIGAN/male Image Copyright 2002 Arthur Morris/BIRDS AS ART
After trudging through deep snow banks with my 600mm lens and getting stuck repeatedly, I was physically exhausted and upset. The icy world that was Churchill, Manitoba was spinning about and looked a bit dark. I was pissed. Finally, the Willow Ptarmigan that we had been stalking walked right in front of me at point blank range on fresh snow--the image that I wanted so badly was right in front of me. I made sure that I had dialed in +1 stop exposure compensation to the evaluative metering reading, attained focus, and pushed the button, but just once. I had had only one frame left on the roll. I was upset that I had had just one chance, but was very pleased with the resulting image. Fuji Velvia pushed one stop: 1/250 sec at f/4.

Brian K. Wheeler is the world's best raptor (hawks and their allies) photographer. My favorite image of his is of a Rough-legged Hawk on an absolute white sky day with snow reflecting light onto the bird's undersides from below. The image is

exposed properly for the bird's dark feathering

, so these darker parts appear in the image as if they are floating in space; the white parts of the underparts and the sky itself are a totally detail-less white, call it over-exposed if you wish, but the correct exposure is the one that yields the results that the photographer wants. In this Ptarmigan image, I tried to duplicate that and succeeded to some degree: to my mind the whites are a touch too dark! Do realize that to get the correct exposure for the dark-toned feathers of the bird's reddish brown hood, you would need to be making the image at an exposure level approximately 1 1/2 stops lighter than you would if your intent had been to maintain detail in the whites. In other words, you would need to be making the image at an exposure 1 1/2 stops darker (to maintain detail in the whites) than I did here. If that were the case, the bird's hood would be a detail-less black. I simply chose to "give away the whites" and expose properly for the darks.
Thanks!
Thanks to the more than 600 of you who have purchased our "Pocket Guide to Evaluative Metering." We have received many complimentary communications and are still awaiting the first complaint mention. Sales are brisk at present as there is a blurb for the exposure guide in the "In Focus" (new products) section of the current edition of Outdoor Photographer (on page 19). For more information, click here:
Pocket Guide to Evaluative Metering