BIRDS AS ART ON-LINE Bulletin #87 September 8, 2002
BOSTON, MASS: BIRDS AS ART PHOTOGRAPHY WEEKEND
TWO NEW PHOTO WEEKENDS SCHEDULED FOR 2003!
COMING SOON! HELP WITH ATLANTA PHOTOGRAPHY WEEKEND REQUESTED
JUST LUCKY?
BOSTON, MASS: BIRDS AS ART PHOTOGRAPHY WEEKEND
Boston was a huge success. We had more than 75 folks on Saturday and everyone went home thrilled. We had lots of great door prizes thanks to the generosity of Fuji Film USA, Hunt's Photo, Chelsea Professional Color Lab, Wimberley Design, and others. The In-The-Field Workshops were somewhat of a challenge but as one who feels that he could teach a good field workshop in an empty mop closet, I felt that Parker River NWR on Plum Island provided a wealth of natural history subjects and even a few birds <smile>
While scouting I noted a small mud flat, maybe ten yards long, below the diked road at Stage Island Pool. Thanks to the kindness of ranger/biologist Steve Haydock and refuge manager Janet Kennedy, I was able to secure a permit that allowed six of us at a time to descend to the flat for the propose of photographing a variety of shorebirds at point blank range. As a thank you, I shall be sending a set of complimentary slides to the refuge for use in their educational slide programs and brochures. It was wonderful to find that the refuge staff at Parker River was more than willing to work with visiting photographers.
We did lots of patterns in nature and macro work and I shall share a bit of that imagery with you in a future Bulletin when I return from Costa Rica late this month. While photographing barnacle patterns I found one large barnacle that looked like a Bald Eagle staring down the lens barrel! We used a large gold reflector to illuminate the shaded barnacles and they sure looked beautiful in the viewfinder! Special thanks go to Canon Pro Markets Rep Barbara Ellison who showed up with a huge war chest that included the 300, 400, 500, and 600mm IS lenses and a ton of knowledge that she graciously shared with all the participants. Special thanks also to Ben Kaplan of the Boston Camera Club who made this event happen, and to Paul D. Parisi of the Merrimack Valley Camera Club who helped in more ways than I can count. He was so wonderful that I threatened to hire him as my personal valet!
Paul is a beginning bird photographer. Here is an image he made on the I-T-F Workshop with the Canon 400mm DO lens, a 1.4X TC, and the Canon EOS 1D.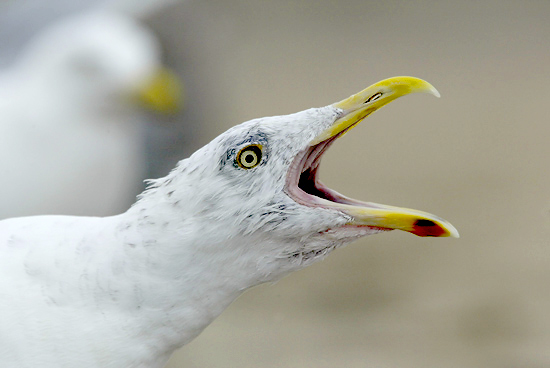 Herring Gull Screaming. Image Copyright 2002 Paul D. Parisi All Rights Reserved
I received many complimentary e-mails on the Boston gig and would like to share a very special one here with you:
Hi Arthur,

I just had to write ... I attended your seminar today in Boston - what an eye opening and inspiring experience! Oh how I wish I could have attended the In-The-Field Workshop. Your seminar is BY FAR the best I have ever attended ... I truly believe it's the teacher in you that made it so great, not to mention the obvious love and devotion to your subject matter. Your enthusiasm shined today (despite your being awake at 2:09am that morning!). I belong to a local photo club, Stony Brook here in Norfolk, MA. We have some very talented photographers and believe me, I will be singing your praises loud and often at the first meeting of this new year-- this coming Thursday. Thank you again for a wonderful day, some outstanding teaching, some wonderful and often breath-taking photos, lots of inspiration, and of course, the great books - I bought both The Art of Bird Photography and the Bird Photography Pure and Simple, as well as the Pocket Guide to Evaluative Metering. I am pumped to get out and photograph some birds!
sincerely,
Gerry Canelli
TWO NEW BAA NATURE PHOTOGRAPHY WEEKENDS SCHEDULED FOR 2003!
Here, for the first time, I am announcing two newly scheduled BIRDS AS ART/Art of Nature Photography Weekends. Each will feature the acclaimed, full day, How-To Seminar, "The Art of Nature Photography; It Ain't Just Birds," and one or more In-The-Field Workshops. The Seminar is continuously updated with new images and new information, so if you've already attended one, you ain't seen nothing yet! Each weekend is generously sponsored by Canon USA and a Canon Pro Markets Rep will be present for all the festivities. Though this is an informal announcement and these events are not yet posted on the web site, you may register now as the few ITF-Workshop slots will fill almost immediately. Please make your check out to "Arthur Morris" not to "BIRDS AS ART." Thanks. Checks should be mailed to PO Box 7245, Indian Lake Estates, FL 33855. Please include your home address, home and work phone numbers, and most importantly, your e-mail address. You are invited to use Paypal.com. Here goes:
San Diego, California. On Saturday, January 4, 2003 "The Art of Nature Photography; It Ain't Just Birds," will be presented at the Otto Center at the San Diego Zoo from 9am till 4:30 pm. This event will be sponsored also by the San Diego Sierra Club Photography Section. The cost of the seminar is $75 ($65 for Sierra Club Photography Section members). There will be two separate In-The Field Workshops: Sunday, January 5, 2003, and Monday, January 6, 2003. The fee for the I-T-F-Workshops is $250 (Limit 8 photographers.) Note: you must be signed up for the Saturday Seminar to attend the I-T-F Workshop, and, at present, you may sign up for only one of the I-T-F Workshops. There is a previously scheduled San Diego IPT January 8-12, 2003. See the web site for details.
Queens, New York. On Sunday, August 24, 2003 "The Art of Nature Photography; It Ain't Just Birds," will be presented at the Ramada Adria Conference Center in Bayside, NY. The cost of the seminar is $75. There will be an In-The Field Workshop on Monday August 25, 2003. The fee for the I-T-F-Workshops is $225 (Limit 10 photographers.) Note: you must be signed up for the Sunday Seminar to attend the I-T-F Workshop. I am also announcing here for the first time a Jamaica Bay Wildlife Refuge Shorebird IPT August 27-29, 2003. (3-day, $829). Though this IPT is not yet posted on the web site, you may register by sending a $200 deposit (as above). As many folks have been clamoring for me to do another IPT at JBWR, my "soul place," this one will likely fill quickly.
COMING SOON
Tentatively scheduled BIRDS AS ART/Art of Nature Photography Weekends include April 5-7, 2003 in Baton Rouge, LA and July 12-14, 2003 in Chicago, Illinois. If you would like to explore the possibility of having a BIRDS AS ART/Art of Nature Photography Weekend in your major city, please get in touch via e-mail. Having access to some good nature photography locations, and having a sponsoring group or club, especially those with access to a suitable auditorium or other venue, are huge pluses.
HELP WITH ATLANTA PHOTOGRAPHY WEEKEND REQUESTED
I would like to schedule a BIRDS AS ART/Art of Nature Photography Weekend in Atlanta, Georgia in the fall of 2003. Anyone involved with local photography or natural history groups or with knowledge of good locations for nature photography in the Atlanta area are urged to contact me via e-mail.
JUST LUCKY
Great Blue Heron Starburst. Image Copyright 2002 Arthur Morris/BIRDS AS ART
This image was made (incidentally, while teaching a BAA SW FLA IPT) with the Canon 100-400mm IS zoom lens (at about 200mm) and a Canon EOS 1v body loaded with Provia F-100 pushed one stop. When I showed a 70mm reproduction quality duplicate of this photograph to another photographer at Magee Marsh in Ohio, he chirped, "You were lucky." I told him that I was indeed lucky to have had the creative vision needed to realize what was possible in a difficult situation. (I had learned what was possible by experimenting previously.) I said that I was lucky to have positioned myself so that the bird was placed in the blinding highlights of the watery swath of a bright 4pm sun on a clear day, lucky to know that evaluative metering -2 stops would give me an exposure that I liked, lucky enough to know that I needed to focus manually as AF cannot see into blinding highlights, lucky enough to know that setting the lens to f/22 might give the starburst effect, and that lastly, that I was lucky enough to know that the only way to see the bird through the viewfinder to focus was to depress the DOF preview button (while at f/22). (Note: if you attempt to view the scene at the wide open aperture, you might damage your eyes and the scene will be so bright that you can't see anything at all; stopped down viewing darkens the whole scene so that correct framing is possible.)
Actually, the only luck involved was getting a starburst atop the bird's head!
Question: How in the world can -2 stops be the correct exposure for this image?
Answer: If we were attempting to make an image like this (by pointing our lens at the glaring highlights) with center-weighted average metering, we would have to open up from 3-8 stops to keep the super-bright highlights from stopping the lens way down (and making the image much too dark). But with evaluative metering, it is a totally different story. When photographing a white wall in full sun, evaluative metering first takes a center-weighted (incoming) meter reading. With 100 EI film this reading will generally be 1/4000 sec at f/5.6 for a white wall in full sun with your shadow pointing at the bird, er, the wall. The person who programmed the evaluative meter read John Shaw's first book and understood both Sunny f/16 (for middle-tones) and Sunny f/22 (for brilliant whites in the same light). This means simply that whatever the correct exposure for a middle toned subject (grey card) in a given light, the correct exposure for a brilliant white subject (in the same light) is one stop less (i.e., darker).
With the Sunny f/16 equivalent being 1/750 at f/5.6, the programmer, following Sunny f/22, knows that the correct exposure for a brilliant white subject in full sun must be 1/1500 at f/5.6. When the evaluative meter gets an incoming reading or 1/4000 at f/5.6, it says, "white wall alert, white wall alert!" It is programmed to open up 1 1/2 stops so that the image is made at 1/1500 at f/5.6. Your white wall be a pleasing bright white (not gray) with good detail. (Most folks simply do not realize that evaluative metering systems will give excellent exposures for scenes that average brighter than a middle tone in FULL SUN (but will give you underexposed dingy whites in cloudy conditions). OK, you are now ready to understand the exposure problem that you encounter when pointing your lens at brilliant reflected highlights (as in the image above). Evaluative metering has been programmed to believe that the brightest thing that exists is a white wall on a sunny day. So when it gets an incredibly bright incoming meter reading, something like 1/6000 at f/22 (I am just making that up as an example), it attempts to open up to something approaching the correct settings for a white wall (1/5000 at f/5.6) Thus, the photographer needs to dial in -2 to -3 three stops of underexposure (depending on the brightness of the glaring highlights)to achieve the desired results (and to keep the meter from overexposing the image).