BIRDS AS ART ON-LINE Bulletin #78 May 1, 2002
BIRDS AS ART 2003 BEAUTIFUL BIRDS CALENDAR
MORE LUCK & LARGE REFLECTORS
COSTA RICA REPORT
BIRDS AS ART 2003 BEAUTIFUL BIRDS CALENDAR
Eight cartons of the 2003 Beautiful Birds Calendar sit in the laundry room awaiting your order. This spectacular vertical calendar retails for $12.95 if you are lucky enough to find it in stores. We offer single copies here for $11.95 each plus $2.00 shipping by 4th class mail = $13.95. As many of you know, the calendars make great gifts. Order 2-6 calendars for $9.95 each plus $2.00 shipping. Order 7 or more calendars for only $8.95 each plus $2.00 shipping. For Florida residents the cost with tax is as follows: 1 @ $12.67 + $2.00 = $14.67. 2-6 are $10.55 each plus $2.00 shipping. 7 or more are $9.49 each plus $2.00 shipping.
LARGE REFLECTORS, AND MORE ON LUCK...
On the last afternoon of the Boston In-The-Field Workshop at Parker River National Wildlife Refuge, I was walking with several participants among the boulders at Emerson Rocks when the sun finally came out... Having promised the group that we would do some barnacle photography, I was toting the tripod-mounted Canon 180mm macro lens. As we wove our way through the boulder-fields, one of the women asked me what I was looking for. I said, "I am looking for a large area of solidly packed barnacles on the shaded side of a rock. (I wanted something in the shade so that excess contrast in the bright sun would not be a problem.) Ideally, the surface will be fairly flat, and will slope gently away from me so that I can work while standing behind a tripod set up about at about 3 1/2 feet; I do not want to have to get down on one knee to make the image." In short order, I found just what I was looking for and, composing through the viewfinder, set up the image that I wanted. I made a few images with and without flash when someone volunteered to light the barnacles with a huge gold reflector more than three feet in diameter. With the reflector positioned optimally, the barnacles lit up like the gold in Fort Knox. Several folks looked through the viewfinder and were most impressed.
When the woman who had asked the original question took her turn, she gasped and said, "I cannot believe that you were so lucky!" I said to her, "What do you mean lucky? I told you what I was looking for, found it, and then made the image that I had envisioned. What's lucky about that?" She was, of course, stuck for an answer. Below, I offer two similar barnacle images, the first made in the shade, the second with the golden light from the reflector. (Do note the compositional placement of the large barnacle in the lower right protion of the frame.)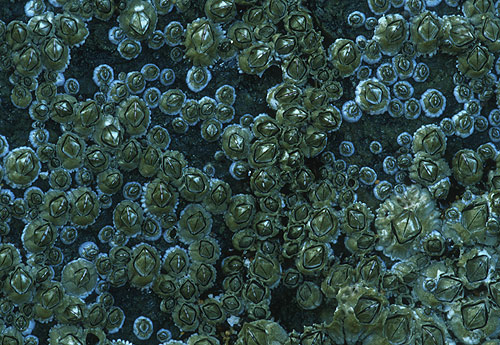 Image copyright 2002 Arthur Morris/BIRDS AS ART Barnacles in shade. Canon 180mm macro lens, EOS 1v body, Provia F-100 pushed one stop.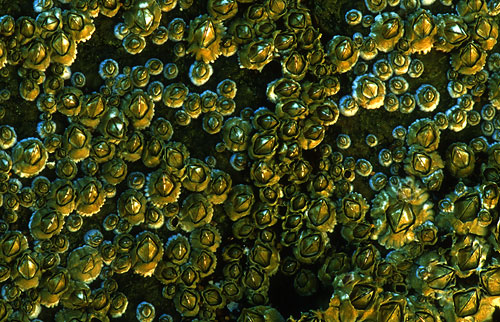 Image copyright 2002 Arthur Morris/BIRDS AS ART Barnacles with gold reflector. Canon 180mm macro lens, EOS 1v body, Provia F-100 pushed one stop.
COSTA RICA REPORT
It saddens me to say that the familiarization tour to Costa Rica that I joined was pretty much a total disaster. Despite promises from Dr. Barry Barker that there would be lots of free and wild birds and other wildlife to photograph, we encountered very few photographic subjects. The weather was poor with lots of rain, much of it heavy. We were told that hiking boots would not be necessary, yet we walked for miles through mud and over rocks in search of birds. At one hotel, an incredibly piercing siren sounded for three full minutes every two hours all night long. At another, the alleged air conditioning simply did not work. Our guide, though personable, had no knowledge of local natural history, and little knowledge of the locations that we visited. On our worst morning, we drove around for four hours trying to find beach access without success. All in all I would recommend that any photographer who is considering joining a familiarization tour offered By Dr. Barry Barker through Wild Spots Foundation think long and hard before signing up.