U.P. TRIP REPORT
I just returned from a wonderful trip to Michigan's Upper Peninsula (U.P.) It was a strictly-for-fun trip
with friends David Vore of Flint, Michigan, and Todd Gustafson of Chicago. We photographed fall color,
mushrooms, turkey-tail fungi, chipmunks, and waterfalls. David, who has photographed in the area for years,
was our guide. In spite of the fact that the color was not yet at peak (2002 was way late compared to most years),
and in spite of the fact that it (uncharacteristically) rained heavily on and off for several days, I had an incredible time
and exposed more than 40 rolls during only six days of photography.
Amazingly, I did not photograph a single bird. We did see a Solitary Sandpiper that was photographable, and on
our most spectacular morning, we had two Tundra Swans fly right at us, lit by early morning sun with a background
of blackish-gray storm clouds. Even though we were all doing abstract reflections with long lenses at the time,
nobody got a frame off as we were all using mirror lock and self-timer! Ouch, that hurt....
In any case, I felt a sort of a rebirth, (as a nature photographer) on this trip, and was so impressed that I have
decided to lead a nature photography Fall Color IPT to the U.P next October (dates to be announced) with David Vore
as our location guide. If you think that you might be interested, shoot me an e-mail. (I will be sharing some of my
favorite images in a future Bulletin when the IPT details will be announced.
As friends, we did lots of viewfinder sharing, and both David and Todd were pleased by the images that this
bird photographer "saw." My creative vision allowed me to come up with compositions and concepts that some
others might not "see." When asked how I do that, I said, "I just make a habit of looking everywhere, moving around
to change my perspective, and noticing the colors and patterns that catch my eye or excite me. Then I decide which
lens to use, exactly where to stand, and exactly where to point the camera. Lastly I take care of the technicals and
push the shutter button. Though I had the 500mm IS lens with me, I did 90% of my work with the Canon 28-135 and
100-400 IS zoom lenses and the Canon 180mm macro lens (with each of those lenses always mounted on a
Gitzo 1325 CF tripod and a Linhoff ballhead).
BAA CRITIQUING SERVICE
BIRDS AS ART now offers an Image Critiquing Service. You can have your best images critiqued by yours truly:
10 slides for $35, 20 slides for $60. (Checks, made out to "Arthur Morris" and sent with the images are preferred;
Paypal is OK.) Slides must be numbered on the slide mounts (and return postage and mailing materials must be included).
Slides must be in archival slide pages, the ones that hold 20 transparencies. Original slides are greatly
preferred as it is near-impossible to judge the sharpness of dupes. No slides will be removed from the slide pages.
I will send an honest, no-holds-barred critique via e-mail with the slide reference numbers included. If I think it's great,
I will say so. Digital or film shooters may elect to send scans on a CD. Here too, the images should be numbered.
Be sure to include your e-mail address and return postage and mailing or Fed-X materials. By sending slides for
critiquing you agree that BIRDS AS ART will not be held responsible for loss or damage. Unless time is not an
issue, it is best to e-mail first to check my upcoming schedule before sending images. Send images or CDs to:
Arthur Morris/BIRDS AS ART PO Box 7245 (via US Mail) 4041 Granada Drive (via courier) Indian Lake Estates, FL 33855.
(tel: 863-692-0906)
FORT WALTON BEACH, FL PHOTO EVENT
I will be doing three programs, including the Friday night keynote, "A Bird Photographer's Story," for the Beaches
of Fort Walton Photo Safari (October 25-27, 2002) sponsored by the National Audubon Society. Please note
that though the attached indicates fees for the various programs and field workshops, EVERYTHING, thanks
to the generosity of Eagle Optics, IS FREE. All that you need to do is register.
Here is a link to the basics: http://www.nanpa.org/news/audubon_2002.html
If you have any additional questions, please contact Susan Loredo at sloredo@audubon.org or phone her at
212-979-3101. Thanks. (There is additional contact INFO at the NANPA link.)
If you attend and learned about this event through this BAA Bulletin, be sure to stop by and say, "Hi."
THANKSGIVING AND THE BOSQUE (and other) IPTs
For the past several years, I have hosted a Thanksgiving Day Buffet lunch at the historic Val Verde Steakhouse in
Socorro for photographers and friends. The food is incredibly good, with tons of turkey and yams and all the fixings
as well as tablefuls of great desserts. This year's lunch will be at 12:30 pm. All are invited. Bring 70mm dupes
or small prints to show off. I hope that you can join us.
The fall Bosque 3-Day IPTs are filling nicely, but there are openings on each of these IPTs (5, 5, and 2 respectively
for the 11/18-20, the 11/24-26, and the 11/30 to 12/2 Photo-Tours). Note: My skilled teaching assistant, Ellen Anon,
will be with us on the first two segments only. She is especially helpful to those fairly new to bird photography, and is
an expert in all areas of digital photography. So far, and somewhat inexplicably, not a soul has registered for the
Post-NANPA Bosque IPT (2/25-27/2003). If you would like to join me, please do send a deposit check now.
At some point in the future, I will cancel this IPT if nobody has signed up, but, as from the beginning, this and
all other IPTs will run with only a single participant.
Click here for details: IPT Schedule
The post-Christmas SW Florida 3-Day IPT (11/27-29/2002) is nearly full with only three openings.
The San Diego 5-Day IPT (1/8-12/2003), with its spectacular breeding plumage Brown Pelicans and
their fire engine red bill pouches, has five openings. Click here for details: IPT Schedule and then scroll down.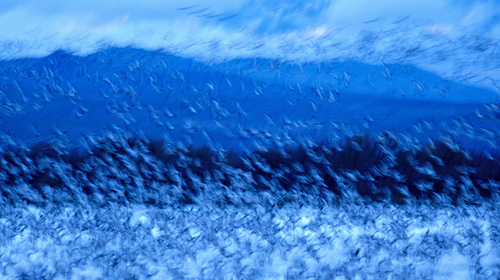 Image copyright 1998 Arthur Morris/BIRDS AS ART
Snow Geese, Blizzard in Blue Bosque Del Apache NWR, San Antonio, NM
Canon EF 400MM F/5.6 L Lens and A2 body.
FLASH AS MAIN LIGHT
I am often asked when and how I use flash as main light. (Note: this topic is covered adequately in Chapter Four,
"On Matters of Light" in "The Art of Bird Photography.") What follows is a summary of that information with some
additional new details.
When shutter speeds drop below 1/60 of a second when using big lenses, especially with teleconverters,
I employ the flash as main light technique. The reason for this is that (even with IS lenses) it is easier to make
sharp images with flash as main light because the effective shutter speed are measured in many 1/1000ths of a
second (the duration of the flash). My very great preference is to work in manual mode. In most cases, I will
underexpose the background by 1 to 1 2/3 stops and set the flash to "0" compensation, in other words, full flash.
In most cases, our modern smart flashes will expose the subject perfectly. When using flash as fill, we always
reduce the flash to some degree, usually between 1/3 and 1 /13 stops (with greater reduction for digital photography).
With big lenses, I always use a Better Beamer to increase the effective range of the flash and avoid wasting light
and thus battery power; see Better Beamer for Better Beamer info.
It's that simple. Do understand that when using flash as fill, where we want the ambient exposure to be correct
as if we were not using flash,
the
image will look pretty good if the flash does not go off. With flash as main light,
however, if the flash does not fire, the image will be grossly underexposed. When I was up in Boston at Parker
River NWR, we had to deal mostly with dark drizzly days--the ideal time to think "flash as main light."
Below you will find one image where the flash fired, and one where (obviously), this flash did not fire.
For most folks, seeing these examples reinforces their understanding of the flash as main light technique.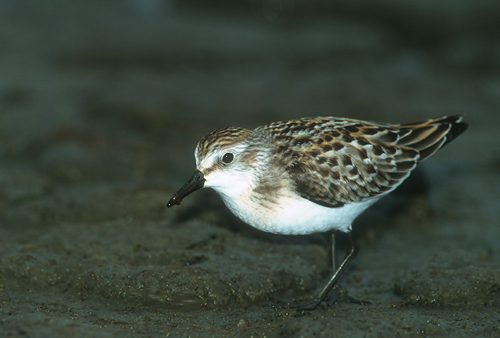 Image copyright 2002 Arthur Morris/BIRDS AS ART
Juvenile Semipalmated Sandpiper, Parker River, NWR, MA
Canon EF 500mm F/4L Lens, 2X TC, EOS 1v, 550 flash, flash as main light at zero.
Provia F-100 pushed one stop.
Notice that with the background proximal to the subject, the mud in not rendered black, because the flash
effectively lit the background. Had I gotten right down on the ground, the now-distant background would
have been rendered as black because the flash falls off with the square of the distance.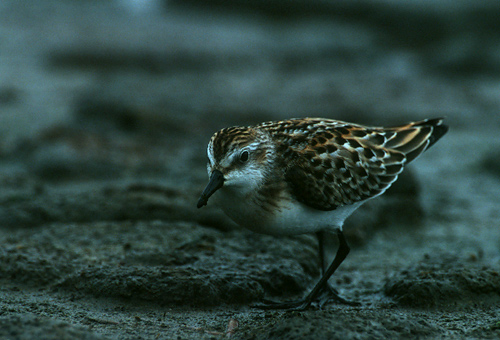 The details here are the same as for the above, except that the flash did not fire. Note the horrific greenish cast.
In the image above, the flash has restored the film's color balance.