X-RATED???
GOOD NEWS Yesterday, I was contacted by Amphoto and informed that "The Art of Bird Photography; The Complete Guide to Professional Field Techniques," (which, he added rather immodestly, quickly became a classic after its publication in 1998), will be re-released in soft cover.
A REQUEST FOR HELP When "The Art of..." (as we refer to it here at ILE) was published, a very few typos and other miniscule errors were pointed out by eagle-eyed readers. The file containing the e-mails noting those errors was lost in our computer disaster a few years back. Bulletin subscribers with time on their hands are invited to get out their fine-toothed combs and let us know if they find any typos or other errors. We would be glad to send a complimentary 2003 Beautiful Birds Calendar to those who find and report such errors to us. (We can, however, reward only the first person to report an individual error.) And be warned, they are few and far between.
Here are some examples of what we are looking for:
Page 73-a technical-minded reader noted that if the Great Blue Heron at dawn image were indeed made with an 800mm lens, as indicated in the caption, the sun would have had to have been much larger in the frame. (He measured it and did the math!) This image was made with the Canon FD 400mm f/4.5 lens...
Page 95-Chestnut-sided Warbler: the caption states that this image was made with flash on an EOS 1n body at a shutter speed of 1/320 sec. Problem is that the top synch speed on the 1n is 1/250 sec. The correct exposure was actually 1/250 sec. at f/6.7.
Page 100-Greater Yellowlegs-with the 600mm lens and the 2X TC the effective focal length was 1200mm (not 120mm as indicated in the caption). This was a typo by the publisher.
Page 126-Baltimore Oriole: same mistake as on Pg. 95...
Good luck! And thanks for trying.
ON-LINE CRITIQUE #2
Subscriber and IPT participant John Emerson sent 10 very fine image scans for critiquing. My comments are below, and you can see the images here: http://www.pbase.com/jemerson/bba_critique_services
Thank you John, for letting me share your critique, and for going the extra mile and getting these images posted on a web site.
1: Pied Billed Grebes. This is a nicely conceived and designed image, but there were better compositional options. Exposure and sharpness look great. Pointing the camera up a bit would have placed the subjects closer to the rule of thirds and resulted in a stronger composition. The problem there is that you would be introducing more of the actual reeds (rather than more reflections). How do you do the latter and make the best? Point the camera down and place the subjects in the upper left thirds! All in all, I like this one. You did a good job of getting them just about on the same plane…
2: Anna's Hummingbird: nice background, subject not-too-attractive for this species—looks as if the gorget is molting…. And, the perch is less than ideal. Here, getting lots closer would have been a huge plus on many counts. Brightening this one in levels might have helped give it some pop…
3- Trumpeter Swan: This is lovely. I love the light and the drama and the blue swirls. The exposure is very good. Ideally, the bird's head would be parallel to the film plane for the perfect preening image. Lastly, pointing the camera a bit to the right would have eliminated the "extra" space behind the bird… I would have brought the blue streak that runs through the bird's neck to just inside the frame edge. You could do the same thing with a crop from the left.
4: Clarke's Grebe: Great light, subject, and exposure. Basic composition is OK. You could have pointed the camera down a bit and tried to get the whole reflection in, but going vertical would have yielded the best composition. The problem then is getting the right AF sensor on the bird's eye… Perfect head-angle with the bird looking back into the light. This is one looks fairly sharp, but it is impossible to judge critical sharpness of scans….
5-Western Kingbird: Great subject, great light, great "other elements of composition—the flowers, perfect exposure, and good basic composition. A crop from the left to just before the start of the first flower would tighten the composition up a bit. As is, there is too much empty space to our left of the bird…. For printing, I'd crop as indicated, and then clone out the bent hanging wire as well.
6- adult Cooper's Hawk. Considering it's perch, you have made a wonderful image. All the technicals are perfect. Again, however, I believe that a minor change in image design could have improved this one drastically. With the bird facing right, there is too much space behind the bird (to our left). Pointing the camera an inch to the right would have gotten rid of that extra space, and also eliminated the vertical fence rail that runs right along the lower left frame edge (and possibly allowed for the completion of the triangle on the lower right… All of those beneficial changes from pointing the camera one inch differently…
7- Acorn Woodpecker. Wow, this is an obvious digital capture (as was the kite, which I forgot to mention), and that is a good thing. The soft, soft gray background, and the low contrast even with the blacks and whites are dead giveaways. As for the image, it is, as the late, great Harry Chapin was known to sing once in a while in 30,000 Pounds of Bananas, loverly. I like the non-traditional (for a woodpecker) pose. With the sycamore perch (and a lovely perch it is) coming diagonally out of the corner, the composition is perfect, as is the soft light. I would be proud to have it in my files
8-Pacific Slope Flycatcher: This is one of your better images. It is sharp, and the exposure is perfect. I love the background, and realize that you have intentionally placed the bird low down in the frame to minimize the mildly distracting stuff hanging from the branch. Other than having gotten closer, there is nothing you could have done to improve this one. Poses that show the whole tail, are, however, preferred.
9-Nutall's Woodpecker. I'll take this one; I have nothing on this bird. I have not seen a whole lot of images of this bird… The OOF branches in the background are mildly distracting. Sometimes, if a bird continually returns to the same spot (is this a nest hole???), you can tear away the BG branches if you are in a place where it would be OK to do so. Exposure is good, sharpness again hard to judge. I am thinking that you might be able to make this stuff look better with Unsharp Mask…. Biggest problem here is that the bird is angled slightly away from the film plane, and the head even more so.
10-White-tailed Kite. Spectacular bird and spectacular pose. Great use of the natural light, and a perfect exposure to boot. Well done. Only nit is the perch. Put this one on a single clean stick and it is a contest winner (which it may be anyway!) For printing, I would clone out the (seemingly) broken Y-shaped perch in front of the bird. If you don't like this one, I'll gladly take it. Where was it made?
All in all, you are doing very well. You have exposure down pat, make fairly sharp images, have a good eye for basic image design, and use natural light well. You get up early (hooray!) and are aware of both head angle and light angle.
The biggest chance to improve will include getting a bit closer to small subjects (either physically or optically, with TCs), and fine-tuning your compositions. Including space behind the subject generally serves no purpose at all. I am not saying to press the back of the bird against the frame edge, but just to keep the space behind the bird at a minimum. Best, and thanks again for sending these.
Artie
TURNING IMAGES INTO INCOME by JERRY & BARBARA JIVIDEN
I receive many queries from photographers eager to sell their work. My standard answer is to tell them to read Chapter 10 (Evaluating and Selling Your Work) in "The Art of Bird Photography," and to get and devour a copy of John Shaw's "The Business of Nature Photography" ..." Last week, while web surfing, I came across a well-written article that contained lots of great tips for those wishing to try and generate some income from their photograph. That article is reprinted here with the gracious permission of Barb and Jerry.
TURNING IMAGES INTO INCOME by JERRY AND BARBARA JIVIDEN
While photography may first seem like an inexpensive hobby to some, those of us who take it seriously know that it can soon rival almost any other expensive item in the home. So how can you turn those images into income rather than having your photography drain your dollars?
Here are a few ideas to help you recover some or all of your investment, cover your film and processing bills, and possibly provide a lucrative income.
Join a photo group. Affiliate yourself with a photographers group—like NANPA. Is there a camera club or professional photography association in your area? Do you attend the annual NANPA Summits? Collaborating with other photographers is another productive method of improving your skills while sharpening your business strategies.
Sell your work. Offer some of your favorite images as photographic artwork—as prints only or matted and framed. For each sale you make, it is probable that you can double your investment. Local art galleries, gift shops and art fairs provide excellent opportunities for the sale of good photographic artwork. Another viable outlet in today's marketplace is from a personal we
Educate yourself. Before incurring time and expense in selling your work, take a photography workshop or class, read how-to books and magazine articles written by the pros, or sign up for a photo correspondence course. Fill yourself with photography information. Strive to improve your work until it is competitive with the very best that you see published.
Enter photo contests. Challenge yourself to shoot better than you did the last time. The benefits of winning contests include recognition, prestige, a meaningful addition to your bio, and possibly prizes ranging from cash to equipment and trips.
Build your photo files. Remember that the publishing industry demands images of superior quality. As well, you'll need an extensive file in at least a few subject categories before aggressively marketing your work. Because the majority of publishers prefer working from transparencies, shoot chrome films (versus negatives) for stock. If you are building digital files, know which markets will print from digital files before you make a big investment. Note, however, that sending low-res JPEG files for the initial review is becoming the growing trend. So, consider buying a good slide scanner if you don't shoot with a digital camera.
Know the market. Buy and use the latest copy of Photographer's Market (Writer's Digest Books) and/or subscribe to updated "wants lists" through a professional stock list provider, like AG Editions. Not only do you need to know what publishers want, you need to know when they need it, and in what format they want to receive submissions.
Submit, submit, submit. After you have the quantity and quality of images, devote a specific number of hours per week to submitting images to potential markets. Too many photographers fail here because they love photography but hate this type of work.
Promote yourself. Use your success stories to build an impressive portfolio, including tear sheets and samples of your best work. Create a web site to display your specialties and elaborate on your areas of expertise and your accomplishments. If you accept assignments, be sure that it's clearly stated and include your contact information. For more credibility, add references and a list of publishers who have printed your photography as you advance.
Expand. If you already specialize in nature and wildlife photography, consider adding other types of photography services. A good source of income is to incorporate portrait or commercial photography as a "division" of an existing photo business if you have one. If you're good, and confident about it, you can supplement your income with photo jobs of weddings, school functions, reunions, businesses, outdoor events, and studio work—even though your "specialty" is nature.
Give presentations. If you are comfortable speaking to groups, lecture about photography. You can also include slide presentations. Do you frequently give free advice to others just starting out? Speaking is a good way to increase your income.
Write about it. How did you take that picture? What film did you use? What is the best time of year to photograph that subject? You know, don't you? Then propose an illustrated article about a particular type of photography to a publisher. This could be your first photo/text package sale. In addition to photography magazines, look for other special-interest publications. If you enjoy mountain biking or fly fishing, for example, propose an illustrated article on how other readers can get great photos of their favorite pastime.
Teach photography. You can do it. Look at how far you've come. Find an organization in your area that offers non-credit adult courses or programs for kids. When you feel qualified, apply. Because you aren't providing or reselling a "product," but rather marketing a "service," compensation is all profit.
We realize that not everything on our list is suitable for everyone. But the point is this: there is more to professional photography than just taking good pictures. If you want a successful vocation as a photographer, if you want to become a pro, find as many ways to incorporate photography into your life as possible. When you do, you might just discover the formula for turning images into income.
Jerry and Barbara Jividen are the husband/wife team who own and operate Images Unique Nature & Wildlife Photo Adventures, leading photo workshops throughout N. America. Barbara is Assistant Editor of NANPA's Currents and is a member of the Outdoor Writers Association of America. The Jividens produce Shoot the Light Journal for the Nature Photographers Network and write for a variety of outdoor publications. For more information, visit their website at www.imagesunique.com or call (740) 774-6243.
IPT UPDATES
Bosque IPTs: NOV 18-20: 3 openings. NOV 24-26: 6 openings. NOV 30-DEC 2: 1 opening. (Jim Mahoney, if you are reading this, please contact us; thanks). Do note that digital photography expert Ellen Anon will be co-leading on the first two Bosque IPTs. She is great with beginning and intermediate photographers.
Southwest Florida IPTs: post-X-mas DEC 27-29: 2 openings. March 7-9 (or 11), 2003: 9 openings.
San Diego IPT: 4 openings
See the details at: http://www.birdsasart.com/tours.html
Nome IPT (limit 5 photographers): A previously unannounced IPT to Nome Alaska had been full, but John Dupps is joining me in Tanzania instead and there is now room for two more serious, accomplished photographers. This trip is expensive and may feature horrific weather, but there are many bird species in Nome that simply cannot be easily photographed anywhere else in the world. If you are interested in joining me, Jim Urbach, Darrell Miller, and Rocky Sharwell on this trip-of-a-lifetime, please contact me by phone or e-mail.
SUBSCRIBER TIPS
Top pro and good friend Brian Small offers wrote and suggested great pricing on Lithium AA's with no shipping charges at:
http://www.batterybank.net/digital/master/aalith.html
Subscriber Cliff Slater who is joining Todd and I in Tanzania e-mailed the following:
Those annoying little easy-to-lose, hard-to find screw-in electrical caps for Nikon cameras and flashes are available from the Nikon Parts Department: (310) 516-7124. They do take credit cards.
X-rated???
Those of you who have read this far surely deserve a nice image as a reward.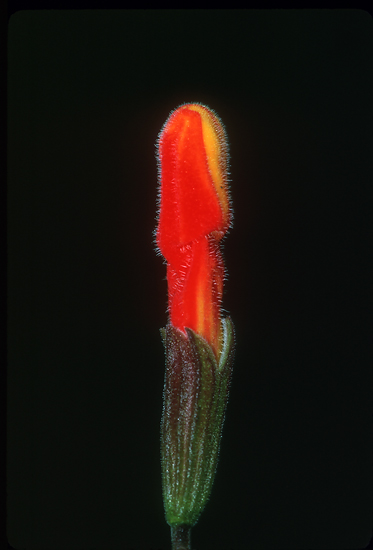 Image Copyright 2002 Arthur Morris/BIRDS AS ART
This tiny trumpet honeysuckle bud was photographed in a State Forest near Destin, Florida. I used the Canon EF 180mm macro lens, two 25mm and one 12 1/2 mm extension tubes mounted to the lens, the EF 1.4X TC behind that, and an EOS 1v loaded with Fuji Velvia pushed one stop. Mirror lock and 10-second timer were used to make the exposure unrecorded). I have several with a lighter (green) background (with less ambient underexposure), but the flash as main light black background seemed more striking to me.
Ooops, I almost forgot to mention that I used the Canon Macro Twin light mounted on the front of the lens. When using this incredible flash, I have found that with the films I use and the way that my cameras are set up, +1/3 stop on the flash is needed to properly illuminate middle-toned subjects. And while using the Canon 1D with the same set-up, the histograms indicated the same.