PHOTO CONTEST
TRAGIC NEWS... It saddens me greatly to report that Evamarie Mathaey, Publisher and Editor-in-Chief of Nature Photographer magazine, was killed in an automobile accident last night in Boca Raton, FL. Evamarie is survived by her husband, Ralph, and by three children, Pete, Frank, and Sue. Needless to say, Evamarie's dear friend and partner in Nature Photographer magazine, Helen Longest-Sac is distraught. My condolences and a huge hug are extended to all. Helen wants everyone to know that the magazine will live on as a tribute to Evamarie's memory.
Snow Geese at Heaven's Gate: Bosque Del Apache NWR, New Mexico
In loving memory of Evamarie Mathaey
Digital Capture. EOS 1D, 28-135 IS lens at 53mm, ISO 400, Evaluative metering at zero: 1/100 sec at f/4.5
Image copyright 2002 Arthur Morris/BIRDS AS ART
Those who know me well are aware that I constantly urge folks to have fun every day, to live life to its fullest each minute, and to be sure to cherish your loved ones on a daily basis. Unfortunately, this tragedy serves as further proof that we all need to embrace these principles.
BOSQUE REPORT...
As usual, Bosque this year was different yet wonderful. There were tons of cranes and geese, and the geese offered spectacular and dependable fly-ins and blast-offs at the main pond every morning. The Ed Krane Pool and Harry's Crane Pool both offered great chances for cranes-in-flight images as they have in recent years. It took me a while, but I have pretty much learned how the various wind directions affect the flight patterns of the cranes at these two sites in the morning, but have given up trying to predict patterns for the sunset fly-ins. The main problem is that the wind often dies in the last hour of daylight....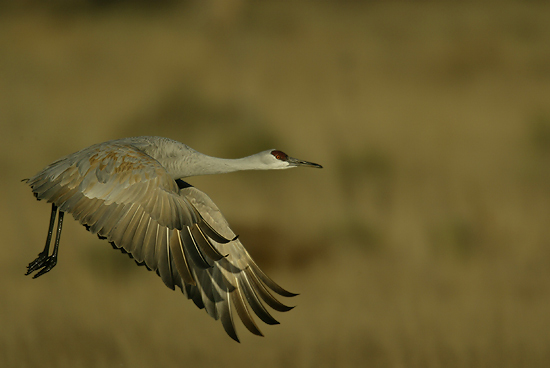 Sandhill Crane taking flight at Harry's Crane Pool, Bosque Del Apache NWR, New Mexico
Digital capture: EOS 1D, 600mm f/4 L IS lens, 1.4X II TC, ISO 200, Evaluative Metering -1/3 stop: 1/3200 sec at f/5.6.
Image copyright 2002 Arthur Morris/BIRDS AS ART
I finally had a chance on a perched female harrier, and some good chances on Kestrel and Say's Phoebe as well. While I taught for 9 days, I did have 8 full days off so teaching assistant Ellen Anon and I got to visit spectacular White Sands for the first time, and I got to work from the car at Bosque quite a bit. We will be offering a White Sands Extension on one of the Bosque IPTs next year--it is a way-cool place and I shall share some of the images that I made there in a future Bulletin.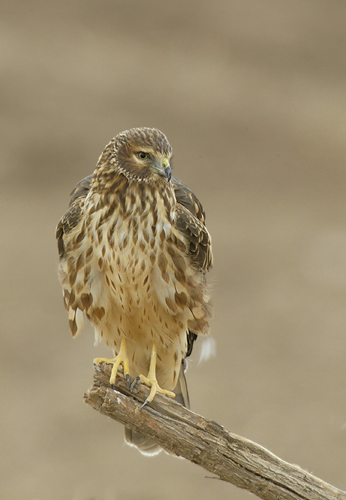 Northern Harrier female, Bosque Del Apache NWR, New Mexico
Digital capture: EOS 1D, 600mm f/4 L IS lens, 2X II TC, ISO 400, Evaluative Metering -1/3rd stop: 1/80th sec at f/10.
Image copyright 2002 Arthur Morris/BIRDS AS ART
The Thanksgiving Buffet at Val Verde was the best ever. Twenty-four thankful and happy photographers attended and most were IPT veterans and friends from all over the world, and Joe McDonald joined us only because he ran out of film) but we forgave him and enjoyed his African tales. I hope that you plan to join us next year in Socorro. BTW, congrats to Ellen for winning both first and third prizes in the Professional Division of this year's Bosque Photo Contest with first prize going to the spectacular digitally created image below. (It was--of course--noted as such.)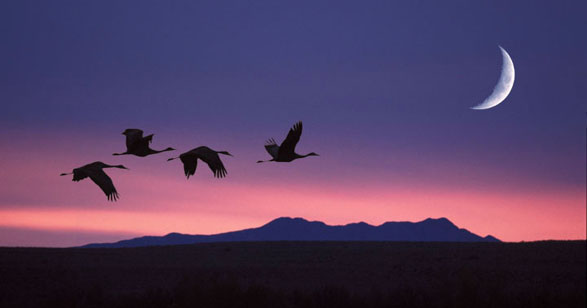 Sandhill Cranes, Bosque Del Apache NWR, New Mexico
Digital composite. Image copyright 2002 Ellen Anon
MORE AMAZINGLY...
My very own Canon EOS 1D was waiting for me upon my arrival in New Mexico. To say that I was totally blown away by my first big-time digital experience is a major understatement. I have never had more fun photographing birds than I did for those 17 days. The autofocus on the EOS 1D is incredible. It's 45 point AF system (though based on the EOS 1v). is faster and more accurate than that on any other Canon camera body that I have ever used. Some folks disagree, and feel that the 1v's autofocus is on a par with the 1D, but I humbly disagree. I routinely made sharp flight images with the 600 IS, the 2X II teleconverter, and my new EOS 1D, and with the 1.4X II TC, AF was dead-on accurate and fast, even with the previously-despised 45 point AF!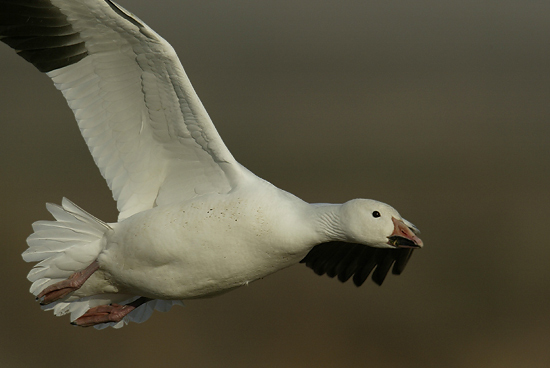 Snow Goose, Bosque Del Apache NWR, New Mexico
Digital capture: EOS 1D, 600mm f/4 L IS lens, 1.4I TC, ISO 400, Manual Mode: 1/2500 at f/8.
Image copyright 2002 Arthur Morris/BIRDS AS ART
For months, I have written that digital's post-image production work-flow (processing, labeling, storing, cataloguing, accessing, and distributing the images) scares me the most , and that has not changed one iota. I am still scared and clueless and will be calling on numerous friends for help. But, I am, at this point, committed to switching over completely to digital and selling all my film cameras. (I did expose ten rolls of film at Bosque.)
Why the sudden dramatic change of heart? Digital is fun. Digital allows you to experiment creatively (more on that in the next Bulletin which is coming soon). Digital offers immediate gratification and more importantly, immediate feedback. A glance at the histogram enables you to guarantee that your exposure is what you want. Digital is an incredible teaching tool. Digital is the wave of the future, and it is coming fast. Film and processing costs = zero. It is environmentally 1,000,000 times better than film. By utilizing raw mode, it is far easier to save underexposed images with digital captures than it is with film. Even if it takes a year to master the work-flow problems, I still have a few images on film to market <smile> It is fun! More fun than I've had photographing in years (and I've always had tons of fun in the field)!
IPT UPDATES With three late cancellations, there is lots of room on the post-X-mas 3-Day SW FLA IPT (DEC 27-29, 2002). The San Diego 5-day IPT (JAN 8-12, 2003) has a few openings as well. For details, visit: http://www.birdsasart.com/tours.html
2003 BEAUTIFUL BIRDS CALENDAR SALE
Still cannot get to the washing machine. Please order your calendar(s) today. They make great gifts! To see the calendar, click here:
http://www.birdsasart.com/#BIRDS
Regular price: $13.95. Sale prices: one for $10, two for $18, three for $24, four or more, $7.00 each. BIRDS AS ART pays all postage. All orders are greatly appreciated.
PHOTO CONTEST
From friend and IPT veteran Steve Shore: The 24th annual Photo Contest sponsored by the Heard Natural Science Museum and Wildlife Sanctuary will be accepting entries by mail from January 13th to the 25th (2003). There are 5 categories: (1) nature portraits wildlife, (2) nature portraits other, (3) scenics, (4) people and nature, and (5) nature - artistic interpretation. For details, visit