DIGITAL AND CREATIVITY...
THE CANON EOS 1Ds CAMERA BODY...
45 POINT AF AND THE 1D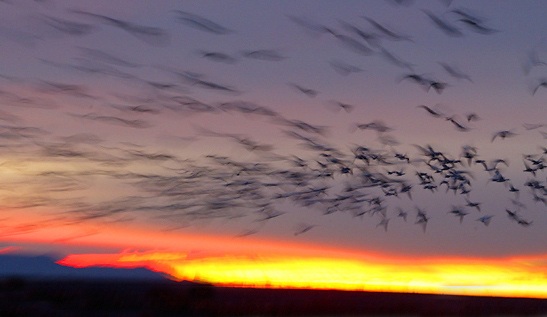 Snow Geese at sunrise/zoom explosion, Bosque Del Apache NWR, New Mexico
Digital Captures: EOS 1D, 100-400mm IS zoom lens at 190 mm, ISO 800
Evaluative metering +2/3 stop: Tv; 1/10 sec at f/8. Handheld...
This is a composite made for me by Ellen Anon of consecutive similar images.
Image copyright 2002 Arthur Morris/BIRDS AS ART
DIGITAL AND CREATIVITY...
Simply put, using digital at Bosque allowed me to try things that I simply never would have attempted with film. Zoom explosions? Hand-holding the 100-400mm at 1/6th sec. and slower? Sharp flight shots at 1/80 sec. with flash after the sun is below the horizon? You'd have to be beyond nuts to spend a buck or more for every three times that you push the shutter button. But with digital, you are free to jump out of the box as high as you'd like. Inspired in part by NPN's Chas Glatzer and first-time IPTer Victor Steel, I tried all of the above and more. The results are shared with you throughout this Bulletin. I'd love to hear what you think of my creative efforts.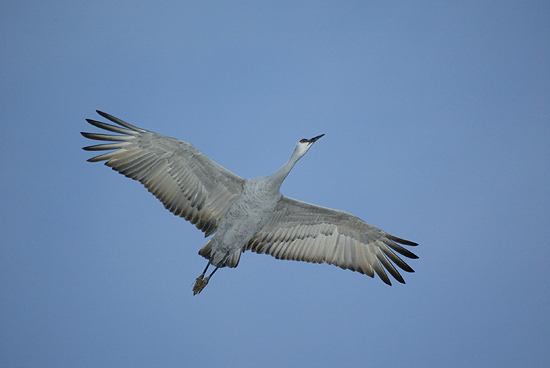 Sandhill Crane in flight, Ed Krane Pool, Bosque Del Apache NWR, New Mexico
Digital capture: EOS 1D, 100-400mm zoom lens @ 400mm.
Evaluative Metering +1 stop: 1/80 sec. at f/5.6. Flash as main light at -1 stop.
Image copyright 2002 Arthur Morris/BIRDS AS ART
THE CANON EOS 1Ds CAMERA BODY...
After seeing Bulletin 93, lots of folks wrote asking, "Why not the EOS 1Ds?" Greg Lasley wrote, "Some wildlife folks prefer the D1 because of the fps, but I wonder how the 4 megapixel limit of the D1 can compare in the long run to the larger files of the D1s. Just curious about your thoughts on it. I've got a D60...trying to learn a little about digital. I'm with you...I can see the writing on the wall."
I responded, Many folks have been singing the praises of the EOS 1Ds, and this amazing camera will certainly make incredible large prints. Some are stating that the quality achieved with the 11 megapixel raw files surpasses the quality of large format... From where I sit, right now, the 1D is fine for me. I plan on buying a second 1D, though lots of friends and the folks at Canon are trying to get me to go for the 1Ds (and who knows, I may see the light soon. After all, I was the one who said fairly recently that Darrell Gulin and I would be the last two shooting film...")
In any case, my present thoughts are that I rarely if ever make really large prints. Most of the markets that use my work never work larger than 8 1/2 by 11" or so, and for these uses the files from the 1D should be more than adequate. Going to an 11 megapixel file reduces the number of images that you get on a card (to about 33 for a 512 card!), increases demands on your storage capabilities, increases the time for PhotoShop operations, and offers only 3 fps (as opposed to the 1D's blazing 8 fps.) In addition the 1D offers a 1.3 multiplier effect; the 1Ds is 1:1.
On the other hand, the huge files of the 1Ds can be cropped dramatically and still yield sharp prints or reproductions. In addition, I rarely utilize the 8 fps capabilities of the 1D... Right now I am leaning towards a second 1D but would not make a bet either way...
My teaching assistant (and digital expert) Ellen Anon (proud owner of a brand new 1Ds!) adds, "There is a benefit to having two slightly different camera bodies since each has its own advantages and disadvantages... In addition, some stock agencies like Corbis demand 60 MB or larger files only. A 16 bit file from the 1DS is 63 MB. They would laugh in your face if you showed up with files from the 1D... Whether buyers really need the extra megapixels is irrelevant right now. If they THINK that they need it, that's what they'll look be looking for and buying. 1D shooters may wind up with some great images sitting on a CD and no place to go."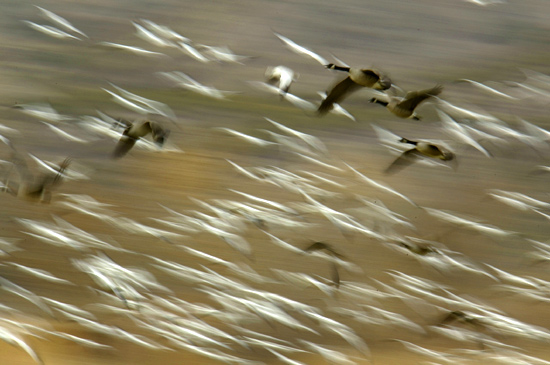 Canada and Snow Geese in flight, Bosque Del Apache NWR, New Mexico
Digital capture: EOS 1D, 600mm f/4L IS lens, 1.4X II TC, ISO 100.
Evaluative Metering Tv: 1/15 sec. at f/29: pan blur.
Panning with the Canadas left the faster moving Snows violently blurred.
Image copyright 2002 Arthur Morris/BIRDS AS ART
DIGITAL STOCK SALES? Many folks also wrote inquiring as to the marketability of digital files produced by the Canon EOS 1D. At present some markets are glad to accept digital files, while others are reluctant to do so. I am so new to this that I am not aware of the policies of the many magazines that I deal with regularly. I do know that Birder's World is accepting digital submissions but am not sure of their file-size or other requirements.
The fact is that virtually all published photographs are converted to digital, so part of the process will be educating the reluctant users. George Lepp, Moose Peterson, and many others been doing just fine peddling digital stock images. It will take me a while, but I shall learn to do it also. As for files from the 1D, my understanding at present is that they are more than large enough for magazine covers.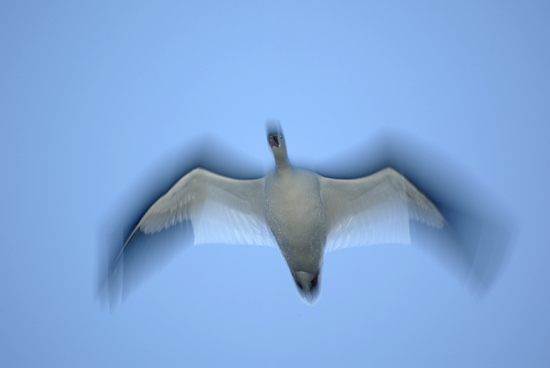 Snow Goose, Bosque Del Apache NWR, New Mexico
Digital capture: EOS 1D, 100-400mm zoom @ 400mm.
ISO 100 Evaluative Metering +1 stop. Av: 1/30 sec. at f/5.6. Flash blur. Flash as main light at -1/3 stop.
Image copyright 2002 Arthur Morris/BIRDS AS ART
45 POINT AF AND THE 1D
Regular readers of this Bulletin are aware that I have been less than enamored with the performance of 45 point AF with both the EOS 3 and EOS 1v bodies for birds in flight, particularly with birds flying right at you or with fast moving birds at close range. In addition, 45 point AF with those bodies would--with birds flying parallel to the film plane--often grab the near-wing resulting in the bird's eye being out-of-focus.
The temptation to use 45 point AF is always great, as it attains and holds focus much better than any single sensor (even the center one). Now here is amazing news. I used 45 point AF for almost all of my Bosque 1D flight images and was thrilled with the results. Most of the images made with 45 point were acceptably sharp or better... The explanation? None from here... I do wish that the details embedded with the raw images included notice of the active sensor--they tell you pretty much everything else imaginable, much of it of no use to me... (If I am wrong here, I would it if someone could clue me in. Thanks!)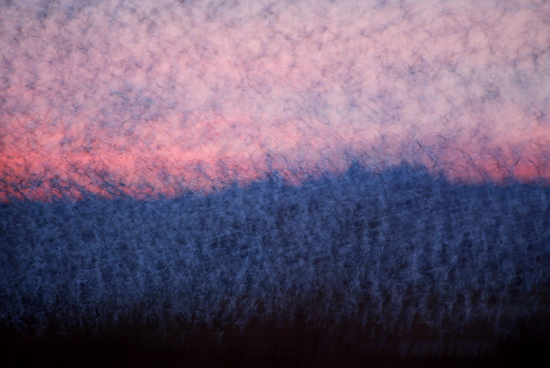 Snow Geese, Bosque Del Apache NWR, New Mexico
Digital capture: EOS 1D, 100-400mm zoom @ 400mm. ISO 800 Evaluative Metering +1 stop. Tv: .4 sec. at f/5.6.I
Image copyright 2002 Arthur Morris/BIRDS AS ART