BIRDS AS ART ON-LINE Bulletin #98 February 11, 2003
Tanzania Trip Report
2004 Gustafson/BIRDS AS ART Tanzania Photo Safari
Digital Adventures in Africa
ITP Updates
Lions with baby wildebeest, Ngorongoro Crater

Digital capture with Canon EOS 1D, 100-400MM l IS lens at 275mm

ISO 400. Evaluative Metering: 1/160 sec. at f/5.6 handheld

Image copyright 2003 Arthur Morris/BIRDS AS ART

The handheld versatility of the 1-4 zoom is a huge plus when photographing on safari.
TANZANIA TRIP REPORT
Our Tanzania trip was incredibly successful. We had one or two slow mornings, and an occasional slow afternoon, but all in all we had dozens of incredible, heart-stopping photographic opportunities. Many of you might remember that I was somewhat disappointed after my 1998 Kenya trip and vowed never to return to Africa. After this trip, I am eager to get back and Todd Gustafson has already contacted UTC/Leopard with our 2004 itinerary; see below for details. We had four leopards, 7 or so cheetahs, and many, many lions--including a baby female. We saw a leopard hunt and we saw a cheetah hunt. We had one lion kill. At Ndutu we were in the middle of a huge zebra and wildebeest migration, and, in addition, the wildebeest were calving. Photographing at Ngorongoro Crater is like photographing in a zoo, only the animals are all wild and they eat each other! We had great chances on a variety of great birds including Grey-crowned Crane, Cape Teal, Lesser Flamingo, Yellow-billed Stork, and Saddle-billed Stork (except for me--I was always in the "other" van...) We experienced 3 perfect, regal male lions at Ndutu, an opal sunset at Tarangire, and had our box lunches stolen by the Yellow-billed Kites at the Crater picnic area. (These birds were easily photographed in flight.) Having rehabbed my hip (as per instructions in the great book on body mechanics, Pain Free, by Peter Egoscue), the flights were more than tolerable, including the trip home, a 36 hour door-to-door experience. The roads in Tanzania were far better than the roads in Kenya, and the food was better too. We stopped for lunch one day at Gibbs Farms where I had four bowls of the most incredible desserts know to human-kind.
John Dupps of Dayton, Ohio, Cliff Slater of Hawaii, Big Jim McIntyre of Salt Lake City, UT, and John Bryant of South Africa joined Todd and for a truly memorable safari. One of my fondest memories of the trip was hearing John say over and over with his distinctive South African accent, "Mind the thorns, boys!" whenever we were just about to get scalped by a low-hanging acacia. We had lions in the trees at Manyara, including one that we did not see that rested just ten feet and directly above us... We had baby Vervet Monkeys and baby Olive Baboons. We photographed Grant's Gazelles, tommies, and impalas, all in golden light. We had some great giraffes, and dozens of wonderful chances with African elephants. We had silver-backed and golden jackals--one of the latter ran alongside the van carrying the head of a baby wildebeest! We had great flight shooting on an east wind morning as several species of vultures came into a kill. We had so many great chances that it would take a book to describe them all.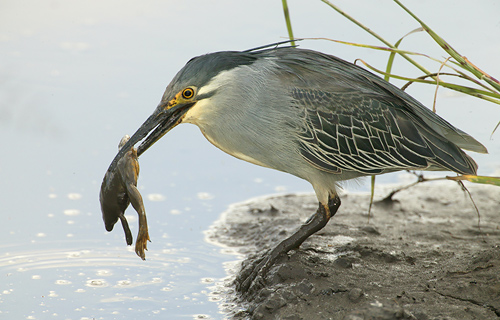 Green-backed Heron with Frog, Serengeti N. Pk.
Digital capture with Canon EOS 1Ds, 500mm IS lens and 2X TC
ISO 400. Evaluative Metering +1/3 stop = 1/100 sec. at f/11
Safari Todd-Pod with Wimberley Head
Image copyright 2003 Arthur Morris/BIRDS AS ART
I was glad that I brought the 5 IS rather than the 600mm. The 500's light weight made it easier to handle in the van and with a very sharp 1000mm focal length at my beck and call, and I had plenty of reach for birds and the smaller mammals.
2004 GUSTAFSON/BIRDS AS ART TANZANIA PHOTO SAFARI
Todd and I were so thrilled with our Tanzania experience (Todd was born there to missionary parents) that we will be returning to Tanzania next year just a bit later. We are leaving on 1-27-04 and arriving in Arusha on the evening of 1-28. We will then have 14 full and one half-day of photography with game drives every morning and afternoon; there will be no wasted travel days. Though there are no guarantees, the dates overlap the typical wildebeest birthing dates, and there will be dozens of other wildlife subjects including elephants, zebras, giraffes, antelopes, predators, and a good variety of birds. We will photograph at Arusha National Park on the morning of the first day, continue on to Tarangire National Park for two nights (tented camp), and then spend two nights (most likely at Serena Lodge) at Lake Manyara National Park before heading to Ndutu for 5 nights (in a wonderful bush camp) and following that up with 5 nights at Ngorongoro Crater at the sumptuous Sopa Crater Lodge.
Do note that though this is a Photo Safari, not an Instructional Photo Tour, I will be sharing images with the group at most meals and will be glad to share my thoughts and to answer all of your questions as well. Todd will have a few of his photo albums and will be glad to do the same. As we hope to have ten others join us, there will not be a leader in each van every day so experienced photographers will get the most out of this Photo Safari. The cost of this Photo Safari will almost surely be between $6500 and $7000 plus your airfare to and from Tanzania. The fees include all lodges, ground transportation, park fees, and meals. Please send a $500 refundable deposit to hold your spot. Once the cost is determined, you will be notified and your deposit will become non-refundable. As final payments will be required well in advance of the trip, you may wish to take out travel insurance in case of any health or family emergencies.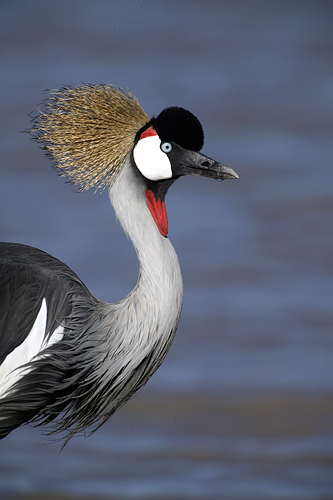 Grey Crowned Crane, Serengeti National Park en route to Ndutu
Digital capture with Canon EOS 1Ds, 500mm IS lens and 2X TC
ISO 250. Evaluative Metering -1/3 stop = 1/800 sec. at f/8
Safari Todd-Pod with Wimberley Head
Image copyright 2003 Arthur Morris/BIRDS AS ART
To make this image from the lowered window (for a lower angle of view), I placed the Todd-Pod atop my closed Road Runner AW (which rested on a vehicle seat).
DIGITAL ADVENTURES IN AFRICA
We arrived at Kilimanjaro Airport on the evening of January 23 and got to the hotel a little after ten pm. With 26% of my laptop battery left, I was unable to start my computer towards the end of the last leg of my flight, but I was not concerned. As we drove to the hotel, I said to Todd, all that I want to do is get my computer recharged and booted up and get to sleep. First, I blew up my power strip. Then, I wanted to whip up a protein shake, but I blew up the hand blender. Then, I wanted to top of my Quantum Turbo, but I blew up the charger as well. But the worst insult came when I plugged in my brand new $4400 laptop computer and nothing happened. It did not show that it was getting any juice, and it would not boot up. We tried a bunch of things, with me becoming more and more distraught by the minute. Todd suggested that I take out the battery. I did, but still no luck. I said to Todd in all seriousness, "if I cannot get this thing started, I am flying home tomorrow." In a final act of desperation, I dialed the world wide Toshiba help number that was listed on a keyboard sticker. Some answered--in Spanish... Turned out that he spoke English too. He took me through a series of steps, even making sure that the battery had been removed. After completing all the usual steps--without success--he said, "It must be the power cord." We have stores in Morocco and Ethiopia." I laughed and said, "I'll run by and pick one up." Then I said, do not hang up. It is NOT the power cord. This machine is new." Finally he asked if I had an auxiliary battery in one of the bays. I told him that I did. He said that I should remove it, but I could not get it out (as I was pretty close to frantic). Finally, I got the back-up battery out. The green "connected to power" light came on, I pushed the start button, and the computer booted right up... Whew! After that it was--fortunately--clear sailing. I had no problem keeping everything charged, nor did Todd have a problem with his re-chargeable double-As.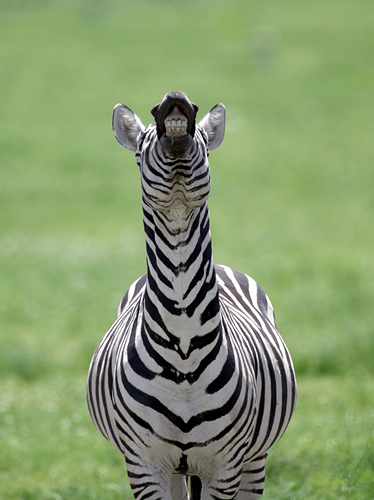 Burchell's Zebra, Ndutu
Digital capture with Canon EOS 1Ds, 500mm IS lens and 2X TC
ISO 10. Evaluative Metering: 1/200 sec. at f/8
Safari Todd-Pod with Wimberley Head
Image copyright 2003 Arthur Morris/BIRDS AS ART
Here, I got lucky. I was working on a simple vertical portrait when this guy started feeling his oats.
IPT UPDATES
Do note that BIRDS AS ART/Instructional Photo-Tours are not photo vacations. If you are looking for a relaxed, informal trip with luxurious breakfasts, then my trips are not for you. If you want to get up early, really early at times, work hard all day (but for the midday break and Instructor Nap Time), enjoy lunch and dinner with the leader and the group (all the while asking photo-related questions and looking at images), stay out till dark, and then enjoy an on-topic, educational slide program until 9:30 or so, then do consider joining us
There is still lots of room on the POST-NANPA BOSQUE DEL APACHE NWR IPT (FEB 25-27, 2003, 3-day: $829). Last minute registrants are welcome.
The Spring Southwest Florida (based in Ft. Myers) IPT is filling up nicely: MAR 7-11 (or -9), 2003, 5-DAY $1299, 3-DAY (optional): $829. (Limit 12, openings 3) Please see the web site for additional details and for cancellation policies before sending a deposit $200) check. Thanks.
The St. Augustine Alligator Farm IPT is wide open. MAY 16-18, 2003. 3-DAY $829 (Limit: 10) Nesting Great, Cattle, and Snowy Egrets and Tricolored and Little Blue Herons (rare) at close range at or below eye level. Learn to use your flash as fill and as main light and learn how to avoid clutter in your compositions.
Amazingly, the Fall 2003 Bosque Del Apache NWR, NM IPTs already have a few folks signed up. NOV 23-25 & NOV 29-DEC 1, 2003. 3-DAY IPTs: $829 (Limit: 12). Sign up for both and celebrate Thanksgiving in Socorro with us. Tens of thousands of geese and ten thousand Sandhill Cranes. Low mountain scenery. Spectacular light. And, if you are the least bit lucky, sunrises and sunsets that will bring tears to you eyes. Bosque is the premier teaching laboratory for those wishing to develop their creative vision. (At present, I have scheduled only two, rather than the traditional three.)
The first ever Upper Peninsula of Michigan Fall Color/Macro/Waterfalls IPT is announced here formally for the first time. Co-led by

David Vore of Flint, MI who knows all the killer spots. 5-day,

10/3/03 to 10/7/03: $1299. Limit 12, openings, 10. Peak color averages to October 4th... Do be aware that there are no guarantees as to the date of peak color... The introductory slide program will be at 7:30pm on the night of October 2. Last year, the color was two weeks late, but in spite of that, I had an incredible time photographing little bits of color, some incredible reflections, mushrooms, birch bark, chipmunks, and moving water. I did not make a single bird photograph yet came home stoked! Two slots are already filled.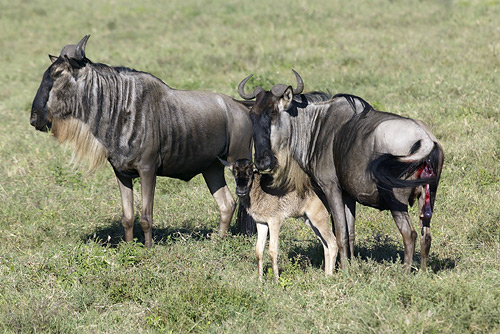 Wildebeest with newborn calf, Ndutu

Digital capture: EOS 1D, handheld 100-400mm IS L lens at 300 mm.

ISO 250, Evaluative Metering: 1/800 sec. at f/8

Image copyright 2003 Arthur Morris/BIRDS AS ART

On some days hundreds of wildebeests will give birth. A good many of the young do not survive.