BIRDS AS ART NOTES NOVEMBER 17, 2008
DISTINCTIVE JOURNEYS AUSTRALIA BIRD PHOTOGRAPHY TRIP/DEC 2-17, 2009
BPN e-ZINE ON-LINE NOW
COMING TOMORROW: LINDA ROBBINS' GREAT HUMMINGBIRD IMAGES FROM COSTA RICA
THANKSGIVING LUNCH AT BOSQUE
IPT UPDATES
Contact us by phone at 863-692-0906 (Eastern Time Zone) or by e-mail at birdsasart@att.net or birdsasart@verizon.net. The att e-mail address is best from overseas.
We gladly accept credit card orders by phone from 8am till Eastern Time ( till Fridays and some weekends). You can use the PayPal links on the web site to order anything. Just type in the item(s) and the amount. If using your own PayPal account, please send to either of the e-mail addresses above.
Note: maximize this e-mail for best formatting.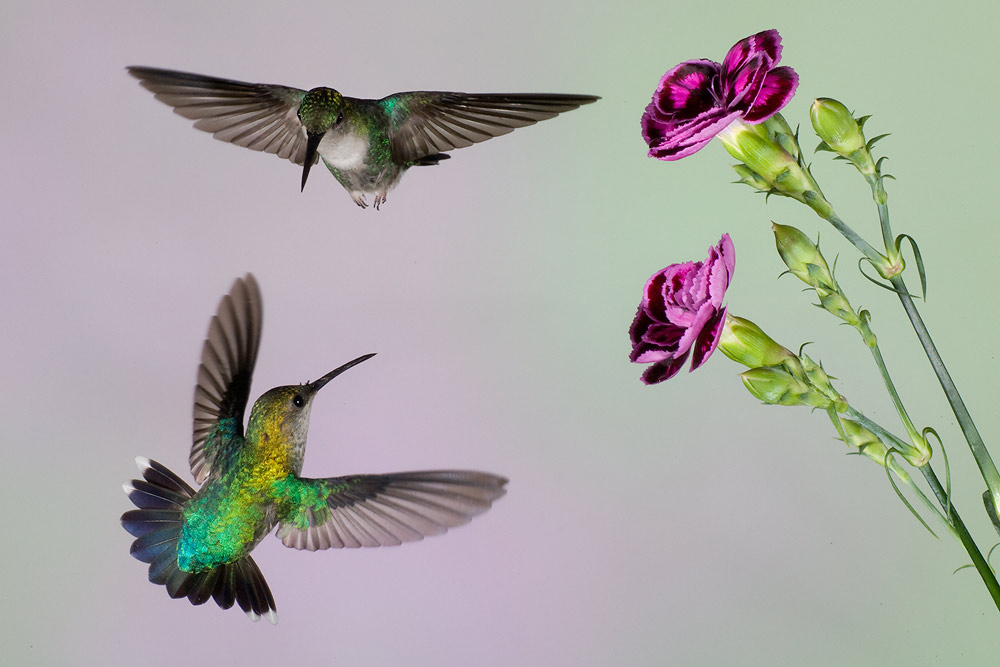 Crowned Woodnymph females fighting, Rancho Naturalista, Costa Rica.
Image copyright 2008: Linda Robbins/Hummingbird Addiction
Canon EOS-1D Mark II N and a Canon 400 f/4 IS DO lens on a Gitzo 3530 LS tripod topped with a Wimberley V2 head. 7-flash set-up/artificial background. ISO 400. Manual - 1/250 sec. at f/22. Flashes set at 1/32 power and triggered by on-camera flash.

These two ladies were having a disagreement as to which one will get the first chance at the flower. Linda uses an eyedropper to put sugar water onto the blossoms to lure the birds to the set-up. See more at Item 3 below. You can learn about Linda's "The Hummingbird Guide – How to Photograph Hummingbirds Using High-Speed Multiple Flash" here: http://www.birdsasart.com/hummingbirdguide.htm.
DISTINCTIVE JOURNEYS AUSTRALIA BIRD PHOTOGRAPHY TRIP/DEC 2-17, 2009
If you are seriously interested in joining me for two weeks in Australia photographing birds and other natural history subjects you can either e-mail for the complete itinerary (birdsasart@att.net) or trust me <smile> Or both.
Here are the basics: December 2-17, 2009 (Depart Los Angeles November 30, 2009.) This trip will be strictly limited to 8 participants and either one or two photographic leaders. The trip will not run unless we have six folks going. Sorry—that is the reality of international tours… The itinerary was carefully planned and adapted with my input and with lots of help from local organizers and bird photographers including some of the great Australian folks whom I have met on BPN.
DISTINCTIVE JOURNEYS (www.distinctive-journeys.com) specializes in customized trips for serious photographers. We recognize that smaller groups are more productive than larger groups. Distinctive Journeys is a proud member of Virtuoso (www.virtuoso.com). Our agency has access to many unique travel "hidden gems" around the world. Our groups allow ample opportunity to learn techniques from our valued instructors.
Stops will include Sydney, the Hawkesbury region, the Capertee Valley, the Blue Mountains, Katoomba, Hobart (Tasmania), Bruny Island, Inala (a Land for Wildlife property), Adventure Bay, South Bruny National Park, Kangaroo Island(4 nights) and Lamington National Park where we will be staying at the incredible O'Reilly's guest house for four nights for our grand finale. On the 17th we will be met by our private vehicle and transferred to Brisbane Airport for our onward flights. Expected species are too numerous to list here. Please request the itinerary for details. Thanks.
The itinerary is subject to change at any time upon the leader's discretion to adapt to local conditions or to best meet the needs of the group.
Included: Accommodations, meals, and local guides, all as described in the itinerary
Not included: International air fare, Trip Cancellation and Interruption Insurance (highly recommended), Costs of passport or visas, Alcoholic Beverages including wine and beer, Personal incidentals
Meals not included in the itinerary, Phone calls, and Gratuities.
International air costs are subject to change and cannot be guaranteed until ticketed. Approximate airfare cost is $2700-3400 per person from Los Angeles using Aussie Airpass for the air segments needed. (My understanding is that the Aussie Airpass will include the cost of our two in-country flights.
Prices:
$10,980.00 USD per person based on 6 participants (double occupancy).
$ 9,545.00 USD per person based on 8 participants (double occupancy).
There is limited availability of single rooms. The cost for the single supplement is $2,000.00.
Requirements: 500 or 600mm super telephoto lens, a good knowledge of the basic fundamentals of camera operation and nature photography, and a cheerful disposition.
To reserve a space: Make an initial deposit of $800.00 per person. This deposit is refundable until December 1, 2008. An additional deposit of $1500.00 is required by Jan 1, 2009. After that date deposits are non-refundable unless the space is resold or in the unlikely event that the trip does not run. Final payment in full is due on May 1, 2009.
** Prices are based on Australian Dollar and are subject to adjustment until paid in full.
Checks are accepted for deposits and for payments in full. Deposits only can be on line with a credit card at www.distinctive-journeys.com by adding a 3% credit card fee.
For additional information Call Janie Bullard at 888-419-6677 or e-mail her at Janie@Distinctive-Journeys.com.
A passport that is valid for six months past the last date of travel is required. Visas are required for travel to Australia and will be secured electronically by Distinctive Journeys.
BPN e-ZINE ON-LINE NOW
And Reservations a travel guide to Galapagos vacations
The current issue of the Bird Photographers.Net e-ZINE is on line now at: http://www.birdphotographers.net/ezine/index.aspx
There are three great articles (including one by me) and an interview of yours truly.
COMING TOMORROW: LINDA ROBBINS' GREAT COSTA RICA HUMMINGBIRD IMAGES
There will be a short Bulletin tomorrow before I head to Bosque. It will include a selection of Linda's amazing new hummer images. In the meantime, you can learn about Linda's "The Hummingbird Guide – How to Photograph Hummingbirds Using High-Speed Multiple Flash" here: http://www.birdsasart.com/hummingbirdguide.htm.
THANKSGIVING LUNCH AT BOSQUE
On Thanksgiving Day, Thursday, November 27, 2008, I will once again be hosting a lunch for visiting photographers and birders. We can accommodate as many as 50 folks but right now we have only 15 attending. For the fourth consecutive year, the lunch will be held at the Luna Mansion, an historic building in Las Lunas, New Mexico that is about an hour up the pike from Socorro on I-25. And oh, the food is superb. You can learn more about Luna Mansion here: http://thelunamansion.com/. The cost of the complete lunch will be $35, the same as last year. This will include several courses including your main course, a dessert, a non-alcoholic beverage, and the tip. If you have wine or a cocktail with your meal you will need to pick up the tab for that. All reservations must be paid for in advance by check, Paypal, or credit card. Please make your reservations ASAP. Checks (made out to "Arthur Morris") should be sent to us at PO Box 7245, Indian Lake Estates, FL 33855.
If you will be joining us, please plan on being at the Luna Mansion no later than 11am sharp. I do hope that you can join us.
IPT UPDATES
Due to four recent Bosque cancellations please note that we now have two openings on each 2008 IPT.
Bosque IPT #1: NOV 22-25, 2008. Slide program on the evening of NOV 21. 4-DAY: $1799 Limit: 10/Sold Out. Co-leader: Robert O'Toole.
Bosque IPT #2: NOV 29-DEC 2, 2008. Slide program on the evening of NOV 28. 4-DAY: $1799 Limit: 10/Openings: 2. Co-leader: Robert O'Toole. Call for late registration discount!
SW FLA POST X-MAS IPT: DEC 27-29 or 30, 2008. Slide program on the evening of DEC 26. 4-DAY: $1799 (3-DAY OPTION: $1349) Limit: 10/Openings: 6. Co-leaders: Alfred & Fabiola Forns. This IPT is shaping up to be a practically private affair. If you can fit it into your holiday schedule, do consider joining us. There is some truly great photography available in Florida while winter is getting a grip on most of the country... Call for late registration discount!
SW FLA PRESIDENT'S DAY IPT: FEB 13-17, 2009. Slide program on the evening of FEB 12. 5-DAY: $2249 Limit: 10/Openings: 1. Co-leaders: Scott Bourne and Daniel Cadieux.
POST-NANPA 2 ½ DAY BOSQUE IPT. FEB 22-24, 2009. 2 1/2-DAY: $799. Limit: 15/Openings: 10. Best combined with my Sunday morning NANPA Summit program: "Photographing Bosque Del Apache: In-the-Field Strategies and Post Processing Techniques" Sunday FEB 22, 2009. (Registration for the Sunday program only through NANPA.) Photograph Sunday afternoon till sunset and all day Monday and Tuesday.
Bear Boat #1: June 4-10, 2009. Openings: 3. (It is advised that you be in Anchorage on the afternoon of June 2nd to be assured of not missing the boat!). This trip will feature an afternoon (and possibly more) of otter photography (weather permitting), Bald Eagles and likely chicks in the nest, and lots and lots of coastal Brown Bears clamming and eating luscious green grass.
Bear Boat #2: Sept 4-10, 2009. Openings: 3. (It is advised that you be in Anchorage on the afternoon of the September 2nd to be assured of not missing the boat!). This one is the bears catching salmon trip. In addition, Glaucous-winged and Mew Gulls eating roe are a certainty, and dark phase Northern Fulmars and Black-legged Kittiwakes (including the gorgeous immatures), Harbor Seals, and Stellar's Sea Lions are likely. Did I mention bears catching salmon? And more bears catching salmon?
The rates for the 2009 trips have increased due to increased fuel costs. Bear Boat #1 (cheaper by $250 as we use the float plane only once): $6749. Bear Boat #2: $6999.
Best and love and great picture-making to all,
artie
Note: Arthur Morris has been a Canon contract photographer since 1994 and continues in that role today. Hunt's Photo of Boston, MA is a BAA sponsor as it Delkin Devices. Back issues of all BAA Bulletins can be found in the Bulletin Archives which may be accessed from the home page at www.birdsasart.com