BIRDS AS ART NOTES
MAY 27, 2008
Visit www.birdsasart.com
ON THE ROAD AGAIN
CANON EOS-1Ds MIII FOR SALE
BOSQUE VOLUNTEERS NEEDED
MORE ON THE POINT AT FORT DESOTO
BPN
PORTLAND SEMINAR
Contact us by phone at 863-692-0906 (Eastern Time Zone) or by e-mail at birdsasart@att.net or @verizon.net. The att e-mail address is best from overseas.
We gladly accept credit card orders by phone from 8am till Eastern Time ( till Fridays and some weekends). You can use the PayPal links on the web site to order anything. Just type in the item(s) and the amount. If using your own PayPal account, please send to either of the e-mail addresses above.
Note: maximize this e-mail for best formatting.
Important Request: if responding to this e-mail, please take the time to delete all images and all irrelevant text.
Little Blue Heron chicks begging, St. Augustine Alligator Farm, St. Augustine, FL
Image copyright 2008: Arthur Morris/BIRDS AS ART
Canon 70-200mm f/4L IS lens with the 1.4X II TC (handheld at 241 mm) with the EOS-40D. ISO 640. Evaluative metering +1/3 stop: 1/250 sec. at f/5.6 set manually. Fill flash at -1 1/3 stops.
Short zoom lenses are ideal at the Alligator Farm as they offer almost infinite framing options. Robert O'Toole brought up an interesting point on BPN about depth of field with the EOS-40D and other cameras with 1.6 or 1.5 multiplier effects: with the subject the same size in the frame, depth-of-field will be noticeably greater with 1.6 and 1.5 multiplier cameras than with 1.3 or full frame cameras. Why? Because the subjects will be proportionately farther from the imaging sensor thus resulting in greater depth-of-field.
ON THE ROAD AGAIN
I will be leaving this coming Wednesday for the Zegrahm's Wild Britain Cruise and then continuing on to Bonaventure Island with Chris Dodds on the great Gannet trip (which—as predicted—sold out within minutes after being announced in a BAA Notes last week). I will out of the office until Monday, June 23. Please hold off on sending your photography-related questions until my return. Thanks! Jim and Jennifer will be here to help with your mail orders, most equipment questions, and your IPT and Portland Seminar registrations. Be safe, breathe deep, have fun, and make some great images until I get back.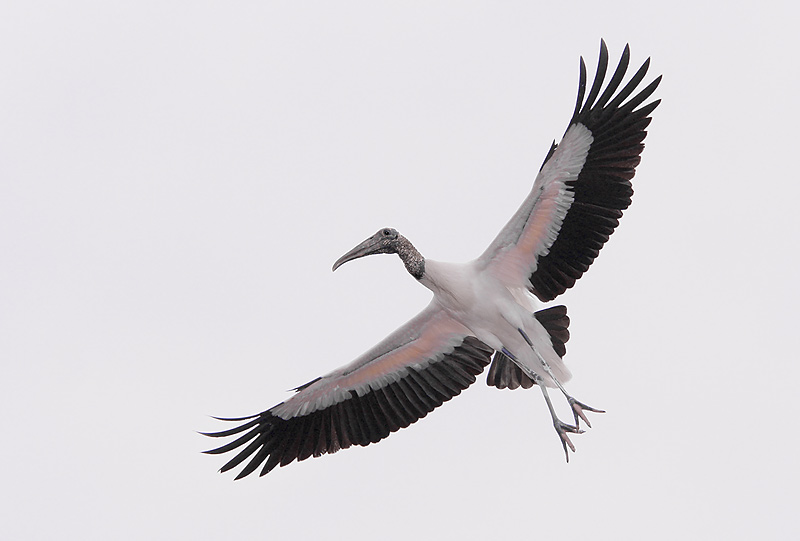 Wood Stork, flash flight, St. Augustine Alligator Farm, St. Augustine, FL
Image copyright 2008: Arthur Morris/BIRDS AS ART
Canon 70-200mm f/4L IS lens with the 1.4X II TC (handheld at 154mm) with the EOS-40D. ISO 500. Evaluative metering +1 2/3 stops off the sky: 1/1000 sec. at f/6.3 set manually. On camera flash at zero with Better Beamer.
When doing handheld flight photography I used to use a flash bracket but found it so cumbersome that I now simply mount the flash on the camera. If I do encounter some red eye, steel eye, purple eye, etc. the repairs are easy using the Quick Mask techniques in Robert O'Toole's APTATS 1 PDF (http://www.birdsasart.com/aptats.htm) and the Eye Doctor techniques outlined in Digital Basics (http://www.birdsasart.com/digitalbasics.htm).
CANON EOS-1Ds MIII FOR SALE
Save $1,000. I am selling a barely used Canon EOS-1Ds Mark III camera in excellent to like-new condition. I have used it maybe four times. Includes all original stuff in the box including one battery and one charger. Fed-X COD or bank check only: $6,999.95 firm. You pay shipping and insurance of your choice. One week no questions asked return policy (as long as you have not damaged the camera). Great AF, huge files. Latest firmware loaded. Will include free copy of our MIII/MIII 1Ds User's Guide. Sorry; no pictures of the camera are available; you will need to trust me on the condition. Please contact Jim at BAA: 1-863-692-0906. If it has not sold by the time I get back, I will put the camera on e-Bay and make another $400…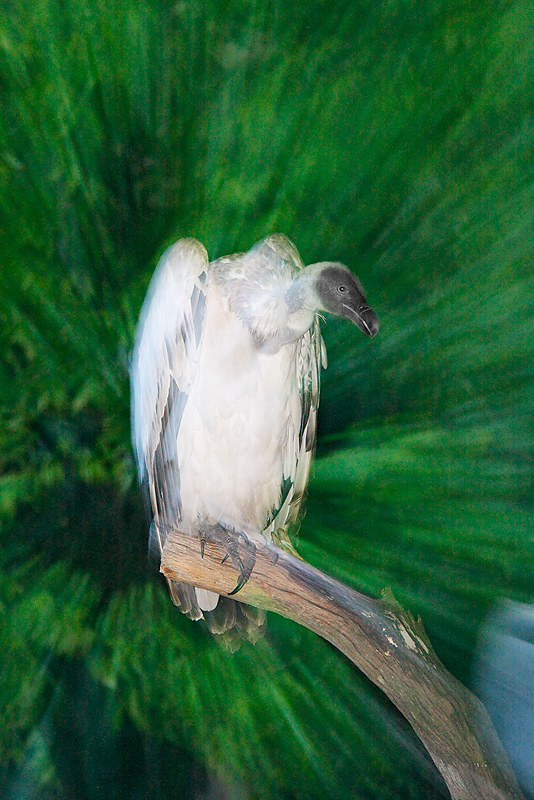 vulture (captive), night zoom blur, St. Augustine Alligator Farm, St. Augustine, FL
Image copyright 2008: Arthur Morris/BIRDS AS ART
Canon 70-200mm f/4L IS lens with the 1.4X II TC (handheld at 193mm) with the EOS-40D. ISO 640. Manual mode: .6 sec at f/5.6. Manual flash as main light probably at 1:4. To learn everything that you need to know about using flash for nature photography (plus tons more), check out "Flash Simplified" in ABP II (916 pages on CD only): http://www.birdsasart.com/ABPII.htm
This image was created in almost complete darkness as we waited for the video crew to finish packing up on the 40D gig at the St. Augustine Alligator Farm last week. The exposure settings represented a big underexposure. I zoomed out after depressing the shutter button. I had to do some neat work to remove the green cast from the head; I love the results. Why is the bird relatively sharp while the background is blurred? The bird, which was a lot closer than the background, was lit (and rendered fairly sharp) by the flash. Because the light falls off with the square of the distance the background was lit (though well underexposed) only by the ambient light, and thus only the background was affected by the zoom! You can learn to create pleasing (zoom) blurs in ABP II: (916 pages on CD only): http://www.birdsasart.com/ABPII.htm
BOSQUE VOLUNTEERS NEEDED
I will be leading a party of volunteer photographers on a trip to Bosque arriving September 11 and departing September 17, 2008. Our priority chores we will be clearing vegetation from the ditches in Farm Deck area to clear lines of sight to the birds, assist in enlarging selected viewing windows (for the same purpose), and removing salt cedar in Unit 18D. As a thank you to the volunteers, I will be offering In-the-Field tips during short morning and afternoon photography sessions and conducting some Photoshop sessions in the evenings (assuming that I have a bit of strength left after a day of physical labor).
Please send an e-mail to the office if you would like to join us. I will contact you when I return on about June 23rd. I already have seven definites and have room only for three more. We will, however, keep a waiting list. Here is a list of the folks who have already committed: Steve Garner, Emory C. Moody, Jim Heupel, Debbie and Jerry Stevens, Gary Rouleau, and George Ruptier. It is likely that the Socorro Super 8 will be donating our lodgings (two folks per room). (For those already committed, I will be in touch in early July.)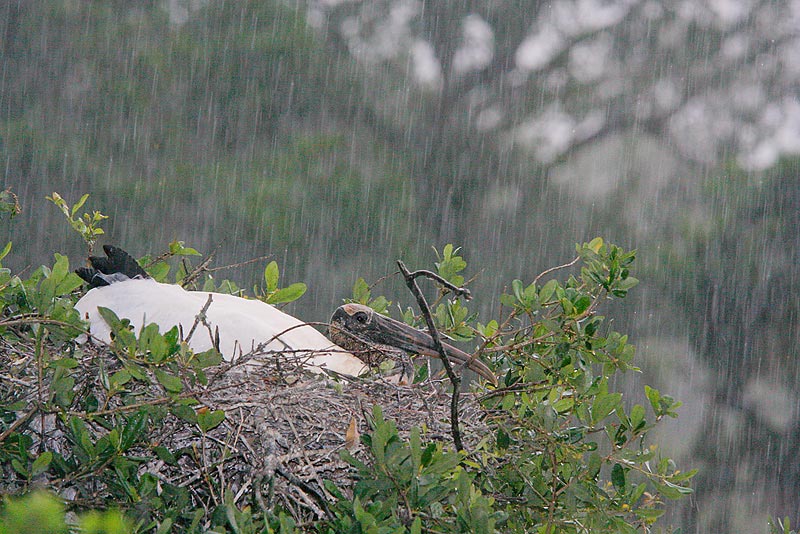 Wood Stork on nest in pouring rain, St. Augustine Alligator Farm, St. Augustine, FL
Image copyright 2008: Arthur Morris/BIRDS AS ART
Canon 70-200mm f/4L IS lens with the 1.4X II TC (handheld at 208mm) with the EOS-40D. ISO 1600. Evaluative metering at zero: 1/160 sec. at f/5.6. Fill flash at -1 stop with Better Beamer. Flash on camera.
On the last afternoon of the Canon 40D gig at St. Augustine it got black as we finished the (somewhat grueling) interview stuff. Our plan was to head out to the boardwalk for some more video stuff of me photographing. It would take the local video crew about an hour to pack up and move the 100 or so yards so I went out with my new favorite rig; within minutes there was a torrential downpour. Rather than give up on photography I headed up the ramp and took shelter under the small roof at the entrance to the Gomek shrine. From there, I created this image of the mama Wood Stork protecting her three chicks from the deluge.
I posted the image on BPN and an interesting thread developed as to whether or not I should try to get rid of the large branch across mama's bill: http://birdphotographers.net/forums/showthread.php?t=12499. I bowed to the pressure. Using mostly Quick Masks it took me more than half an hour to create the image below.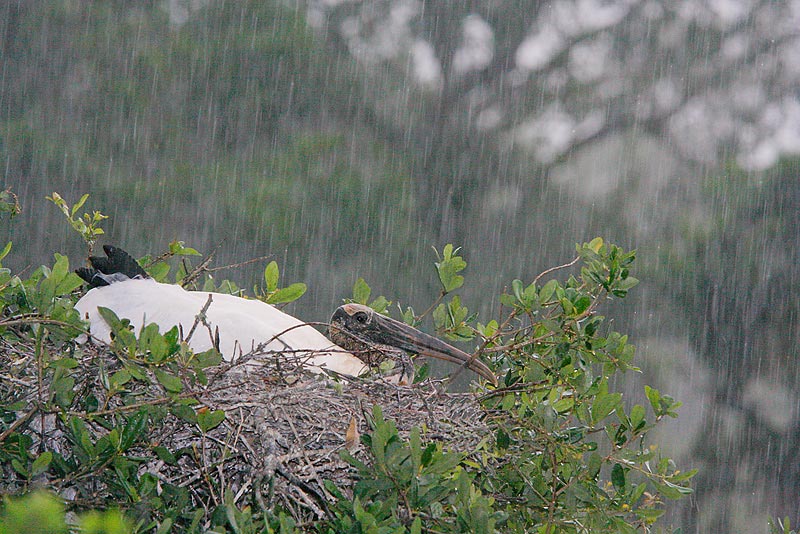 I am not sure which one I like better… I used the Patch Tool techniques detailed in Digital Basics (http://www.birdsasart.com/digitalbasics.htm) and the Quick Masking as per Robert O'Toole's APTATS 1 PDF (http://www.birdsasart.com/aptats.htm). And the best news is that Robert is hard at work on APTATS II; it should be ready by early July at the latest.
MORE ON THE POINT AT FORT DESOTO
In BAA Bulletin 261 I wrote in part, "The closing of The Point for the rest of the year, however, sets a bad precedent for bird photographers." You can read all of my comments in the Bulletin Archives here: http://www.birdsasart.com/bn261.htm. After several long telephone conversations with Monique Borboen-Abrams, the Beach Nesting Birds project coordinator for the St. Petersburg Audubon Society I would like to soften my remarks somewhat. As we all know, our beach nesting birds are under horrific pressures from beach loving humans and coastal development. In the few days that we have been corresponding, Monique e-mailed with news of several large colony failures in Pinellas County along. Having The Point at North Beach closed is indeed sad for bird photographers as it had been a great hotspot for many years. It is however, great for the birds. Monique explained that by restricting access year round the birds that roost there routinely will attract potential beach nesters in early spring (as they did this year).
I am, therefore asking all photographers to stay outside the ropes, to stay out of the Gulf south of the restrictive signage, to gently remind folks about to intrude that the area is closed to all entry, and to add this number to their cell phones: 1-727-582-2267. If you see anyone entering the closed area, be they beach-goers, fishermen, or photographers, please call the DeSoto ranger station and ask for assistance.
Monique will be working with the park management to see if allowing access to the Gulf south of the signage might be allowed during the non-breeding season. In addition, she has stated that she would be glad to let photographers know of successful Black Skimmer and Least Tern colonies in Pinellas that might be well photographed from outside the protective ropes. You can contact Monique via e-mail here: artdumonde@ij.net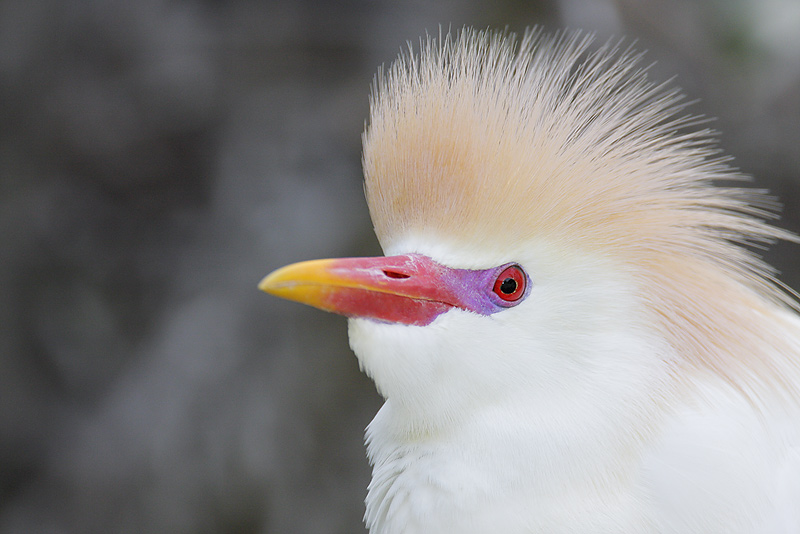 Cattle Egret, fading breeding plumage, St. Augustine Alligator Farm, St. Augustine, FL
Image copyright 2008: Arthur Morris/BIRDS AS ART
Canon 500mm f/4L IS lens with the 1.4X II TC and the EOS-40D. ISO 500. Evaluative metering +2/3 stop: 1/400 sec. at f/5.6. Fill flash at -1 2/3 stops with Better Beamer.
Breeding plumage Cattle Egrets are one of my very favorite photographic subjects. I would have probably used +1 or +1 1/3 stops of over-exposure if I made this image with one of my EOS-1D MIII bodies.
BPN
Check out the great May 2008 e-Zine here: http://birdphotographers.net/ezine/index.aspx. There are three wonderful, lavishly illustrated articles, one each by BPN's own Fabiola Forns (The Ar Hidden in Flowers), Florida's unofficial photographer laureate John Moran (The Evolution of a photograph), and my very dear friend Todd Gustafson (Photographing in the Rain Forest/Costa Rica). The images are stunning and the text revealing. You get a chance to see into the minds of three great photographers.
Or visit this interesting thread in Out of the Box, In-Camera Techniques and check out the evolution of Paul Pagano's sweet Great Egret image here: http://www.birdphotographers.net/forums/showthread.php?t=12393
Or be brave and post an image to receive several honest critiques done gently. Become part of a warm, growing, enthusiastic, and talented community.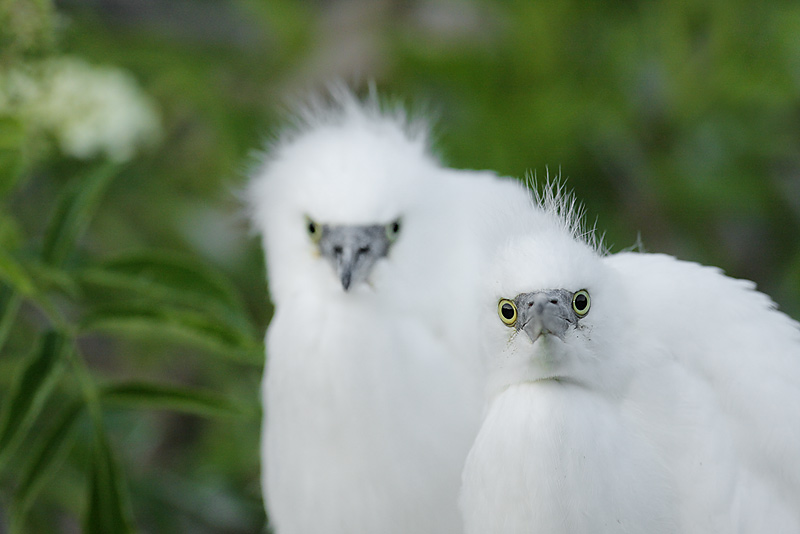 Snowy Egrets, unfledged siblings, St. Augustine Alligator Farm, St. Augustine, FL
Image copyright 2008: Arthur Morris/BIRDS AS ART
Canon 500mm f/4L IS lens with the EOS-40D. ISO 800. Evaluative metering +1 stop: 1/200 sec. at f/5.6. Fill flash at -2 stops.
In the image with the most intense stare, the back bird was looking to my right so I borrowed the head of the back bird from the frame before where it was looking straight ahead and created this photo illustration. With both birds looking in the same direction this image has a good chance of being selected as rights controlled stock. I would never enter it in a contest that wants only true to the viewfinder images.
PORTLAND, MAINE: "The Art of Nature Photography; It Ain't Just Birds" Weekend How-To Seminar
"The Art of Nature Photography; It Ain't Just Birds" Weekend How-To Seminar in Portland, Maine
October 11-12, 2008
Eastland Park Hotel, 157 High Street, Portland, ME
This seminar is for all nature photographers who want to learn how to make better photographs. On Saturday I will describe the methods and techniques that I have used and developed since 1983. My comments on lenses and digital camera bodies, AF, light, and on composition and image design will be highly informative and educational. And my tips on getting close to free and wild subjects and creating pleasing blurs will help you become a better photographer. Everyone with a telephoto lens who wishes to dramatically improve the quality of their images will benefit from attending.
Since going all-digital in November 2002, I have—with the help of many wonderful friends—become a Photoshop expert. My approach to optimizing images is to create master files of excellent quality in the shortest possible time. I will share our workflow and numerous Digital and Photoshop tips on Sunday. As more and more folks are using Digital Capture, I am finding on our IPTs that many good to excellent photographers have no clue as to how to use Photoshop to make their images look better. In fact, many of them make their best images look worse! I can and will teach you to do just that at this seminar.
Do consider taking advantage of the opportunity to spend two days learning from one of the premier nature photography educators on the planet by joining me for this great weekend. The October 11-12 dates were carefully chosen to coincide roughly with the average peak of fall color in southern Maine. The likelihood is that if you are coming from out of town and would like to photograph the fall color the best bet (taking global warming and the trends in recent years) would be to schedule your photography in the days following the seminar. Every year, however, is different, and this is nature photography so there are no guarantees, but chances are, whether you photograph just before or just after the seminar you should have many chances to create some great images. Best bet: come a few days early and stay on for a few days… (Hint: hope for a pre-dawn rainstorm followed by the sun breaking through in the east while grayish-black storm clouds fill the western sky…)
The seminar will be held at the Eastland Park Hotel. Folks staying at least two nights in the hotel will receive a free Lens Pen Combo Kit at the seminar. As fall color time is peak season in southern Maine, hotel rates are high anywhere in the region. We were able to negotiate a rate of $159 for folks registering early. Once the block of rooms is gone, higher rates will apply. The doors will open on both days at and the programs will begin at sharp. There will be tons of great door prizes (including Delkin e-film Pro compact flash cards and some great stuff from Lowepro and Wimberley). I hope that you will be able to join me for what will be an incredibly educational and fun-filled weekend. (If anyone would like to help us set up or to hang out, be there at .)
The cost of the weekend seminar will be $169. The cost of either single day will be $99. Members of qualifying camera clubs are invited to apply a $10 discount. (If you are a member of a camera club or other photography organization please e-mail us before registering to learn how your group can become a qualifying club). Register with a friend or a spouse and take $10 off each registration. Register in groups of four or more and take $20 off of each registration. Register in a group of ten or more and take $30 off each registration. It is highly recommend that folks purchase the buffet luncheon option ($15/day includes tip and tax). Those purchasing the lunch option will receive their lunch coupon when they check in each morning.) The cost of the weekend seminar plus the two lunches is $199.
There are three ways to register:
1- Send a check for the full amount made out to "Arthur Morris" to PO Box 7245, Indian Lake Estates, FL 33855.
2- Call us with a credit card at 863-692-0906.
3- Send us a Paypal (using either any link on our site or your Paypal account) to us at birdsasart@att.net.)
In all cases, we will need your e-mail address, your mailing address, and your daytime and evening phone numbers.
Here is our Cancellation Policy: If for any reason you need to withdraw, please notify us ASAP. Once we receive your e-mail, your phone call, or written notice of your cancellation the following fees apply: cancel before July 10, 2008 and your fee will be refunded less a $20.00 cancellation fee; cancel by August 10, 2008 and your fee will be refunded less a $50.00 cancellation fee; cancel after September 10, 2008 and there will be no refund.
…..
Best and love and great picture-making to all,
artie
Note: Arthur Morris has been a Canon contract photographer since 1996 and continues in that role today. Hunt's Photo of Boston, MA is a BAA sponsor as is Delkin Devices. Back issues of all BAA Bulletins can be found in the Bulletin Archives which may be accessed from the home page at www.birdsasart.com. To subscribe to the Bulletins, please click on the link on the home page. To unsubscribe click here: unsubscribe.