BIRDS AS ART ON-LINE Bulletin #101 March 14, 2003
IPT FAQ
St. Augustine IPT Date Change
SW FLA IPT Update
Canon EOS 1D or 1Ds?
Carolina Nature Photography Association 10th Anniversary Weekend
IPT & ITF-Workshop Update
Hunt's Specials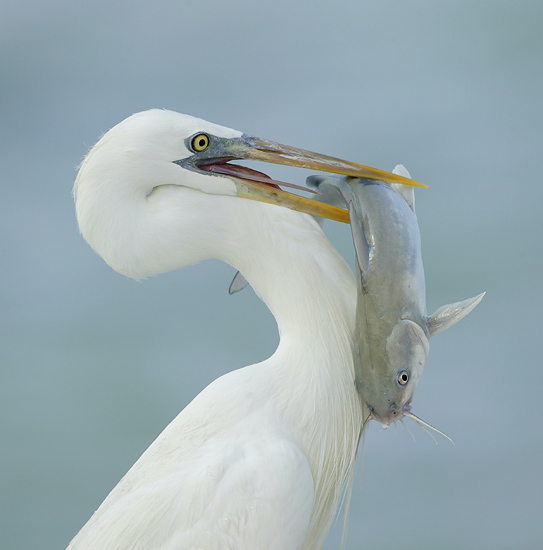 Great White Heron with gaff-topsail catfish, Blind Pass, Captiva Island, FL
Digital capture with Canon EOS 1Ds, 500mm f/4 IS L lens
ISO 100. Evaluative Metering +1/3 stop = 1/1000 sec. at f/5.6
Image copyright 2003 Arthur Morris/BIRDS AS ART
A fisherman tossed the catfish to my old friend...
IPT FAQ
Greg Mikol wrote as follows:
GM: The IPT's are designed to be a learning experience, so I can't possibly be expected to know everything before I arrive.
AM: Guess what, I am doing this nearly twenty years and I don't know a fraction of what there is to know. If I spend a day afield and don't learn something new I am bummed.
GM: What *do* I need to know in order to take full advantage of the trip.
AM: For the most part, I expect folks to know the basics of operating their cameras and lens--just the stuff in the owner's guides and manuals. In addition, it helps if you have some idea of how to come up with a decent exposure with whatever method you use. For most, this entails knowing how to set exposure compensation on your camera body. As we photograph during the workshop, I almost always discuss what the correct exposure compensation should be in a specific situation, and why. If you are not yet comfortable with the basic operations of your camera body, you will almost surely want to choose an IPT that includes teaching assistant Ellen Anon so that she can offer you more time and individualized help.
GM: What sort of experience should I have? That is to say, is there a minimum set of qualifications one should have in order to maximize one's experience?
AM: That is a difficult question to answer, but the best answer is no. Folks who travel with us range from those who have never photographed a single bird to experienced professionals, and I am proud to say that pretty much all of them go home happy and smarter...
ST AUGUSTINE IPT DATE CHANGE
Out of respect for Mothers everywhere, I have moved the St. Augustine IPT back 8 days. The new dates are May 24-26 with the slide program at 7pm on the evening of May 23, 2003.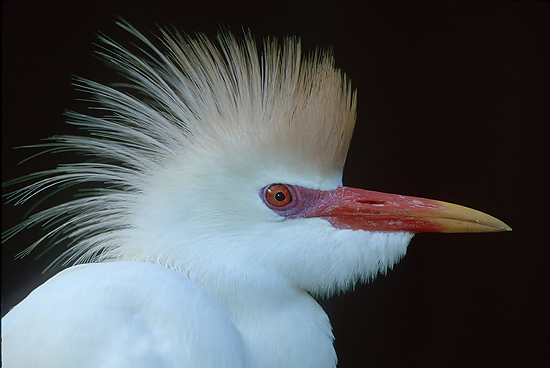 Cattle Egret in breeding plumage, St. Augustine Alligator Farm, FL
Canon 500mm f/4L IS lens, 1.4X TC, 25mm Extension Tube, Canon EOS 1v camera body.
Fuji Velvia pushed one stop (rated at EI 100). Evaluative metering -2/3: 1/1000 second at f/5.6.
Image copyright 2003 Arthur Morris/BIRDS AS ART
Breeding plumage Cattle Egrets are simply luscious.
---
ST. AUGUSTINE ALLIGATOR FARM (FL)
MAY 24-26, 2003. 3-DAY IPT: $829 (Limit: 10, openings: 9)
NESTING GREAT, CATTLE, & SNOWY EGRETS (AND LITTLE BLUE HERONS) AT CLOSE RANGE AND AT OR BELOW EYE-LEVEL! LEARN TO USE YOUR FLASH AS FILL AND AS MAIN LIGHT AND LEARN HOW TO AVOID CLUTTER IN YOUR COMPOSITIONS. MANY BIRDS WILL BE IN SPECTACULAR BREEDING PLUMAGE.
SW FLORIDA IPT REPORT
The recent sold-out SW Florida 3-day/5-day IPT was a huge success. Eleven folks were there for the 3-day portion, with five of them sticking it out for the full five days. (Grover and Suzie Wrenn of St. Petersburg, FL won the hard luck award as Grover's Dad was ill. He flew to see him and then made it to Ft. Myers by Friday night, only to be overcome by flu-like symptoms...) Ding Darling was good on Saturday and great on Tuesday morning. The Venice Rookery was excellent (while three weeks ago it was poor). Many of the Great Blues have re-nested after losing their first brood to viciously cold weather. We had a dancing white phase Reddish Egret just after dawn on Sunday at Estero Lagoon and lots of great terns, gulls, and wading birds as well. We had eight tame Snowy Plovers on a Gulf beach, and the Fishing Pier was great for Snowy Egrets after a slow start. The Burrowing Owls at Cape Coral were incredibly cooperative. We did well twice at Blind Pass; it was wonderful to see the Great White Heron alive and well--I had not seen it on the December IPT. We had some great chances with the big herons eating big fish!
Great Blue Heron with Spanish Mackerel, Blind Pass, Captiva Island, FL
Digital capture with Canon EOS 1Ds, Canon 500mm f/4 L IS lens
Image copyright 2003 Ellen Anon
Ellen made this spectacular image while I was messing around with the 100-400 IS zoom...
.....
On Friday afternoon we joined captain Marian Schneider for a sunset cruise and had a ball.
Grande Tours with Captain Marian Schneider
Photograph 500+ White Pelicans; and wading birds flying to roost at sunset from large stable pontoon boats. Situated close to Boca Grande, Florida, neighboring the beautiful Charlotte Harbor Aquatic Preserve and the Gulf of Mexico, Grande Tours offers a variety of eco-tours, cruises, sightseeing and kayaking programs available between 8 am and 5pm.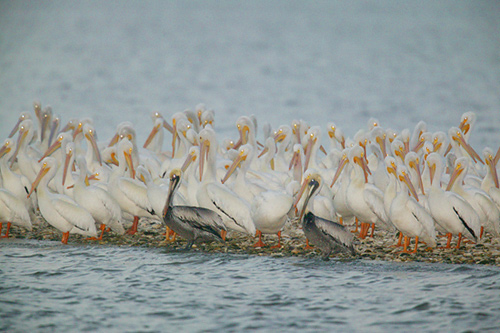 Pelicans after sunset, Gasparilla Sound, FL
Digital capture with Canon EOS 1Ds, 500mm f/4 L IS lens with 1.4X II TC
ISO 1250 Evaluative Metering +1 2/3 stops = 1/160 sec. at f/5.6
Fill flash at -2/3 stops with Better Beamer
Image copyright 2003 Arthur Morris/BIRDS AS ART
Photographing in the dark from a moving boat is not something that I would try with a film camera. IS and the ability to set the ISO to 1250 helped tremendously in this almost impossible situation.
CANON EOS 1D OR EOS 1Ds?
From subscriber Rob van de Wijngaard:

RvdW: A few bulletins back you told us of your upcoming trip to Africa and that you are going to take your 1D as well as new 1Ds. (We saw a lot of 1Ds' pictures and very few images made by the 1D after your visit.) I would be pleased if you can give your opinion (in short) in one of your next bulletins. When and why do you use each of these bodies for photographing birds and/or wildlife.
AM: I use the 1Ds most of the time for general bird photography with either of my long lenses--the EF 500mm f/4 IS L or the EF 600mm f/4 L IS. I use the 1D on the 100-400 IS or the old 400 f/5.6 or the 300 f/4 IS lenses for photographing flight and action. The 1Ds yields large files that will be accepted by major agencies such as Corbis Stock Market. The 1D offers blazing speed (8 fps) and a superior AF system; the 1D is better at tracking and initial AF acquisition because (with the smaller sensor area) the AF sensor grid covers a greater percentage of the imaging sensor. In addition, I like the 1D is for making sharp flight images when using flash because it synchs at 1/500 sec., the 1Ds only at 1/250 sec. Because of the weight of the 1D I am looking to get my hands on the brand new 10D to see if--as I suspect--it will be superb for flight and action.
In Africa, and at other times, I will switch from the 1D to the 1Ds with the hand-holdable lenses if I think that the opportunity is an excellent one and I have time. Again, I do so because the 11 megapixel files of the 1Ds will be far easier to market. Hobbyists bird photographers need to consider the end use of their images if choosing between the 1D and the 1Ds. The converted raw files from the 1D will make good to excellent prints up to 13X19 inches and its lower cost, blazing speed, and 1.3X multiplier effect make it an attractive option for those who do not require huge files. Do note that even severely cropped 1Ds images will contain more pixels then most images from the 1D...
White Pelican in flight, Ding Darling NWR, FL
Digital capture with Canon EOS 1Ds, 500mm f/4 L IS lens with 1.4X II TC
ISO 250 Evaluative Metering at zero = 1/250 sec. at f/5.6
Fill flash at -2/3 stops with Better Beamer
Image copyright 2003 Arthur Morris/BIRDS AS ART
Soon after making this image I switched to the 1D for flight photography with flash. With this bird moving relatively slowly, I was not hurt by the 1Ds's 1/250 sec. synch speed.
CAROLINA NATURE PHOTOGRAPHY ASSOCIATION (CNPA) 10TH ANNIVERSARY WEEKEND
Connie Toops and I will be the featured guests at the CNPA 10th Anniversary Photography Weekend April 11-13, 2003 in Ashville, NC. For additional details, click here:
http://www.cnpa.org/AM_2003_Flyer.pdf
IPT & I-T-F-Workshop UPDATES
Fort DeSoto Park In-The-Field Workshops: Monday March 24 and Tuesday March 25, 2003
These In-The-Field Workshops at Fort DeSoto Park are (wide) open to all. You may sign up for one or both days, each is limited to 10 participants. A 400 mm lens with a 1.4X teleconverter is the minimum recommended focal length lens for these Workshops. 500 and 600mm telephoto lenses are ideal. (Pre-dawn to sunset with a two-hour break after lunch.)
The cost of the In-The-Field Workshops are $200.00/day. Probable subjects include Laughing Gulls in full breeding plumage performing various courtship displays, hundreds of shorebirds including Marbled Godwit, and various herons and egrets including both the dark and white phases of Reddish Egret (see the latter at: http://www.birdsasart.com/bn73.htm) in spectacular breeding plumage with their bright pink bills and ultramarine blue lores.
To register for one or both of the ITF-Workshops, send a check made out to "Arthur Morris" for $200/day to Arthur Morris/BIRDS AS ART, PO Box 7245 Indian Lake Estates, FL 33855. Please be sure to include your preferred date(s), your home address and phone number, your work number, and most importantly, your correct e-mail address( if you have one).
For information on the Sarasota Two-Day How-To Seminar, "The Art Of Nature Photography; It Ain't Just Birds!" (SAT/SUN March 22-23, 2003) click here: http://www.birdsasart.com/Sarasota.htm
IPTs.
Do note that BIRDS AS ART/Instructional Photo-Tours are not photo vacations. If you are looking for a relaxed, informal trip with luxurious breakfasts, then my trips are not for you. If you want to get up early, really early at times, work hard all day (but for the midday break and Instructor Nap Time), enjoy lunch and dinner with the leader and the group (all the while asking photo-related questions and looking at images), stay out till dark, and then enjoy an on-topic, educational slide program until 9:30 or so, then do consider joining us.
Amazingly, the Fall 2003 Bosque Del Apache NWR, NM IPTs already have five slots filled. NOV 23-25 & NOV 29-DEC 1, 2003. 3-DAY IPTs: $829 (Limit: 14). Take a $100 discount, sign up for both, and celebrate Thanksgiving in Socorro with us. Tens of thousands of geese and ten thousand Sandhill Cranes. Low mountain scenery. Spectacular light. And, if you are the least bit lucky, sunrises and sunsets that will bring tears to you eyes. Bosque is the premier teaching laboratory for those wishing to develop their creative vision. (At present, I have scheduled only two, rather than the traditional three Bosque IPTs.)
The first ever Upper Peninsula of Michigan Fall Color/Macro/Waterfalls IPT will be co-led by

David Vore of Flint, MI who knows all the killer spots. 5-day,

10/3/03 to 10/7/03: $1299. Limit 12, openings, 10. Peak color averages to October 4th... Do be aware that there are no guarantees as to the date of peak color... The introductory slide program will be at 7:30pm on the night of October 2. Last year, the color was two weeks late, but in spite of that, we had an incredible time photographing little bits of color, some incredible reflections, mushrooms, birch bark, chipmunks, and moving water. I did not make a single bird photograph yet came home stoked! Two slots are already filled.
HUNT'S SPECIALS
Sensia 100 36 9/03 USA $2.39/ roll Provia F 100-36 USA in 20 packs $4.49/roll
Velvia 36 USA $4.49 a roll in 20 packs USA Fuji mailers $3.75. $3.59 each for 100 pieces

The new Canon EOS 10D is $1499.99. It is available on a first come, first served basis. Gary will keep you updated on the expected delivery dates and will ship them as fast as possible. He has 30 orders already...

Epson 2200 INKS $10.49 Delkin 640 24x e-film Pro Compact Flash Cards: $239.95

Call now for new lower prices on all the digital wallets from Delkin 20GB, 30GB, and 40GB. The Delkin 60GB is only $749.99 for BAA Bulletin subscribers.
Contact Gary Farber at 1-800-221-1830 ext 2332 for personalized service. Ask about special shipping rates for Birds as Art Bulletin Subscribers.
AM: Bulletin subscribers are urged to comparison shop before making major purchases.