BIRDS AS ART ON-LINE Bulletin #102 April 1, 2003
BIRDS AS ART GOES BACK TO FILM!
CANON 90MM TILT-SHIFT LENS FOR SALE
SARASOTA, FL: NATURE AND DIGITAL PHOTOGRAPHY HOTBED
BAA SEMINAR KUDOS
THANKS TO HAL DUPONT
BIRDS AS ART GOES BACK TO FILM!
On April 1, 2003 I decided--for a variety of reasons--to give up on my digital experiment and go back to using film at least until August 7, 2023, as was my original plan. I shall be selling my EOS 1D and EOS 1Ds cameras as well as all of my Delkin e-film Pro 640 mb Compact flash cards and my killer Toshiba Satellite laptop. No reasonable offers will be rejected.
HAPPY APRIL FOOL'S DAY
When I noticed today's date, I could not resist a quick April Fool's day prank. The item above item is totally fictitious. I love digital more than ever, and am having more fun than ever. Ten days ago, I added the Epson Power Lite 720c digital projector to my arsenal and am thrilled with it's performance. There are no digital cameras for sale here at BIRDS AS ART; please accept my apologies if you were taken in... Next year, beware!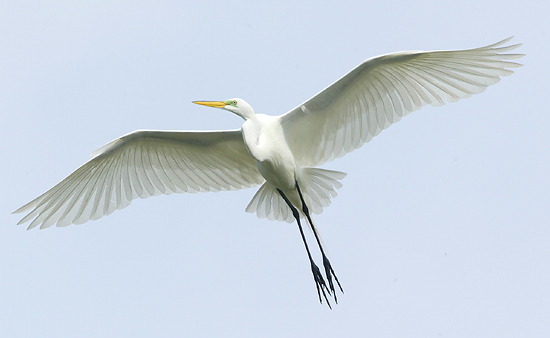 Great Egret in flight, Sarasota, FL
Canon EOS 1D, 500mm f/4L IS lens, 1.4X II TC, Wimberley Head.
550 Speedlight fill-flash at -2/3 with Better Beamer. ISO 250.
+2 1/3 stops off the white sky reading: 1/500 sec. at f/9 (set manually).
Image copyright 2003 Arthur Morris/BIRDS AS ART
I still love digital photography, especially digital flash-flight!
CANON 90mm TILT-SHIFT LENS FOR SALE
Lesley Collins at the Packinghouse Gallery in Largo (
http://www.packinghousegallery.com
) has a Canon TS-E 90mm f/2.8 tilt-shift lens complete with hard case LH - D14 and lens hood ES-65II for sale. Like new: $995.
This is a great lens for doing large fields of flowers or huge flocks of birds on the ground. It also makes a great macro lens and its versatility is expanded many-fold with the addition of either the 1.4X or 2X II TCs.
SARASOTA, FL: NATURE AND DIGITAL PHOTOGRAPHY HOTBED
From Norm Easy, who planted the Venice Rookery, and John Bass:
SWANPA is an informal group of wildlife and nature photographers in the Bradenton, Sarasota, and Venice area. We meet monthly to show slides of our recent work. We also sometimes also host self-guided photo excursions to Florida locations. If you would like to join us, simply send your name and e-mail address to Norm Easey at njeasey@aol.com. I will add you to the email list for meeting reminders or SWANPA activity updates.

Name: Sarasota Wildlife & Nature Photographers Association (SWANPA)
Meeting date/time: 7:30 p.m. 3rd Tuesday of the month (September - May)
Meeting Location: Twin Lakes Park, Clark Rd., Sarasota
Directions: I-75 to Clark Rd., east to park entrance (1/4 mile), building is on right
Cost: None, just come and meet some nice people with a common interest
Meetings: Bring, show, and discuss up to 30 wildlife & nature slides

From Mike McNaughton and John Bass:
Dimage has a membership of about 120 folks; all levels of photographers and other artists are represented. The club's roots are in the Suncoast Camera Club of Bradenton, Florida. About seven years ago eight members of the Suncoast Camera Club began meeting in their homes after deciding to move beyond film and darkroom. They pursued traditional photography, scanned slides and negatives, and used Adobe's Photoshop to restore and enhance images. That was the beginning of Dimage. Now, using digital cameras, the trend is toward digital photography teamed with Photoshop.
Dimage welcomes new members, and visitors are encouraged to attend meetings. However, only members may be active in the groupís activities which include giving presentations, sharing project assignments, and participating in raffles. Membership dues are $20 per year. Meetings are held on the fourth Tuesday of the month from 6:30 to 9:00 pm at the Sudakoff Center on New College Campus in Sarasota, Florida. The group leader is Mike McNaughton: mikemcn@worldnet.att.net To learn more about Dimage visit: http://www.dimage.org/pages/frameset.html
Dimage is sponsoring a Kodak Photoshop Workshop on Saturday, April 12, 2003 at the Manatee Civic Center in
Palmetto, Florida. For additional details visit: http://www.dimage.org/pages/frameset.html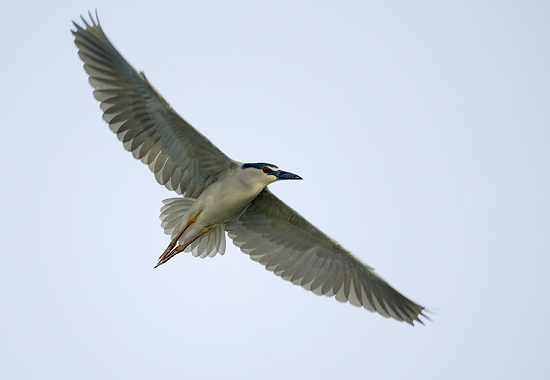 Black-crowned Night-Heron, Sarasota, FL
Canon EOS 1D, 500mm f/4L IS lens, Wimberley Head.
550 Speedlight fill-flash at -2/3 with Better Beamer. ISO 250.
+2 stops off the white sky reading: 1/500 sec. at f/4 (set manually).
Image copyright 2003 Arthur Morris/BIRDS AS ART
I almost always chose the 1D (over the 1Ds) for flash flight photography because of its faster synch speed (of 1/500 sec.)
BAA SEMINAR & ITF-Workshop KUDOS
Hey Artie,
I really had a great time on in Sarasota. The seminar was fun and informative and the photography at DeSoto was fantastic. I learned so much this time around. From your vast knowledge of species, exposure, composition, and careful approach--all of which you share freely with your groups, to your digital techniques and knowledge, the amount of info presented in a short time is staggering. And with me using digital, the instant feedback and your instantaneous critiques and advice were invaluable.
Thanks for all the computer info as well. In addition to coming away with a great amount of information, I had an awesome time in the field. I'm sure from a business standpoint that having only a few folks in the group was not very profitable, but the extra time that you spent with each of us was simply wonderful.
You say that your tours are not photo vacations, but rarely am I as relaxed as I am when I'm traveling with you. You create a fun-filled and relaxed learning environment in spite of the hard work of stalking, the long hours, the carting around of the big lenses, the crawling in cold water and mud, and the highs and lows of capturing or missing out on the various opportunities. I look forward to the next opportunity that I'll have to photograph with you.
Thanks again for a fantastic time.
Mike Petulla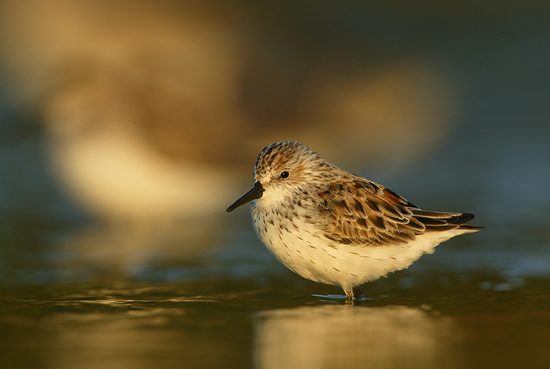 Western Sandpiper molting > breeding plumage, Fort DeSoto, FL
Canon EOS 1D, 500mm f/4L IS lens, 2X II TC, Ground Pod.
ISO 250.
Evaluative metering at zero: 1/160 sec. at f/11.
Image copyright 2003 Arthur Morris/BIRDS AS ART
Mike Petulla and I had great fun crawling around in the muck with the shorebirds and Breeding plumage laughing Gulls. A Hama Double Bubble ensures square to the world images...
Dear Art,
I want to thank you personally for an extremely entertaining, enlightening, & enjoyable weekend of photography and instruction. Without attempting to swell you head, let me compliment you for your excellent presentation, and your amicable style. You are one of he reasons that Noah Webster inserted the word "professional" in his dictionary! I say this very seriously. I look forward to the next time I can attend one of your seminars. From one ex New Yorker to another, thanks!
Robert Herold
.....
Dear Artie,
I want to thank you for the fabulous weekend seminar at the Mote Marine Lab. It was incredibly informative, enlightening, and inspiring. I came away more convinced that bird photography is definitely the major area I'd like to spend my time. I was also blown away by your images. Not only the by the clarity and definition, but by the diversity of birds and the different locales that you went to shoot them.
I also must say that I was quite impressed with your presentation of the Canon gear. I am now a Nikon shooter with an average investment in equipment at this time, but I have to tell you that the variety of IS lenses available from Canon is very impressive and almost compelling enough to make the switch., especially if I go digital. I'll be evaluating that decision over the next 6 months as the economics of change are not favorable right now.
I am fully convinced that with either system I definitely need a zoom lens in the 100-400m range with IS/VR and a 500mm/f4 to do the type of bird photography I enjoy. I want to thank you for saving me a few thousand future dollars by stating that the one long lens to own is the 500, not the 600.
I also enjoyed the field lesson that dealt with teleconverters and extension tubes. I have a much better understanding of their value and I ordered two 25mm extension tubes today. The flash segment of the seminar was also very enlightening. With your explanation of evaluative metering and the two flash techniques, I know that I will be able to make better images, especially in those instances that require flash-as-main-light or fill-flash.
In closing, thanks a bunch for sharing your acquired wisdom. I hope our paths cross again, and hope that I will be able to attend one or more of your IPT's in the future.
Bob Gold
A while back, friend and IPT veteran Hal DuPont invited me to Vero Beach to do a program last Saturday for his photo group. More than 70 folks attended and a great time was had by all, especially the instructor!. Hal was an unbelievably generous host. He threw a cocktail party in my honor on Friday night, and saw to it that everything on Saturday ran smooth as a well-oiled clock. Then, he ends the festivities by handing me a brand new Canon EOS 10D "to try out for a few weeks." I shall report my findings here in about one month. Thanks Hal!
IPT & I-T-F-Workshop UPDATES
IPTs.
Do note that BIRDS AS ART/Instructional Photo-Tours are not photo vacations. If you are looking for a relaxed, informal trip with luxurious breakfasts, then my IPTs are not for you. If you want to get up early, really early at times, work hard all day (but for the midday break and Instructor Nap Time), enjoy lunch and dinner with the leader and the group (all the while asking photo-related questions and looking at images), stay out till dark, and then enjoy an on-topic, educational slide program until 9:30 or so, then do consider joining us.
---
ST. AUGUSTINE ALLIGATOR FARM (FL)
MAY 24-26, 2003. 3-DAY IPT: $829 (Limit: 10, openings: 4)
NESTING GREAT, CATTLE, & SNOWY EGRETS (AND LITTLE BLUE HERONS) AT CLOSE RANGE AND AT OR BELOW EYE-LEVEL! LEARN TO USE YOUR FLASH AS FILL AND AS MAIN LIGHT AND LEARN HOW TO AVOID CLUTTER IN YOUR COMPOSITIONS. MANY BIRDS WILL BE IN SPECTACULAR BREEDING PLUMAGE. DO NOTE THAT SIX OF THE NANPA SCHOLARSHIP STUDENTS WILL BE JOINING THIS IPT AS MY GUESTS.
Amazingly, the NOV 29-DEC 1, 2003 Bosque Del Apache NWR, NM IPTs already have seven of the fourteen slots filled. The NOV 23-25 IPT is still wide open. Take a $100 discount, sign up for both, and celebrate Thanksgiving in Socorro with us. Tens of thousands of geese and ten thousand Sandhill Cranes. Low mountain scenery. Spectacular light. And, if you are the least bit lucky, sunrises and sunsets that will bring tears to you eyes. Bosque is the premier teaching laboratory for those wishing to develop their creative vision. (At present, I have scheduled only two, rather than the traditional three Bosque IPTs.)
The first ever Upper Peninsula of Michigan Fall Color/Macro/Waterfalls IPT will be co-led by

David Vore of Flint, MI who knows all the killer spots. 5-day,

10/3/03 to 10/7/03: $1299. Limit 12, openings, 10. Peak color averages to October 4th... Do be aware that there are no guarantees as to the date of peak color... The introductory slide program will be at 7:30pm on the night of October 2. Last year, the color was two weeks late, but in spite of that, we had an incredible time photographing little bits of color, some incredible reflections, mushrooms, birch bark, chipmunks, and moving water. I did not make a single bird photograph yet came home stoked! Two slots are already filled. Photos to follow soon!
For information on the upcoming BAA The Art of Nature Photography; It Ain't Just Birds Photography Weekends in Chicago (early July) and Queens, NYC (late August), visit the home page at www.birdsasart.com