Todd Gustafson and I will be teaming up to lead our third Kenyan (and fifth African) Photo Safari in August of 2005. The more trips that I make to Africa the more I love it...
Here is the itinerary which is designed to maximize the time spent doing photography at the very best locations:
Aug 14: Fly to Amsterdam
Aug 15: Fly Amsterdam to Nairobi- Nairobi overnight at Jacaranda Hotel.
Aug 16: Drive to Lake Baringo after breakfast. PM photo-walk on the grounds.
Aug 17: AM: 3 hr boat ride on Lake Baringo. PM: Lake Bogoria game drive.
Aug 18: AM: 3 hr boat ride on Lake Baringo. PM: Lake Bogoria game drive.
Aug 19: AM: 2 hour boat ride on Lake Baringo. Drive to Lake Nakuru Lodge for lunch and PM game drive.
Aug 20-23: AM & PM game drives. Overnights at Lake Nakuru Lodge.
Aug 24: AM Bird photography walk on grounds. Drive to Nairobi for lunch and fly to Mara Serena for PM game drive. Overnight at Mara Serena Lodge.
Aug 25-30: AM & PM game drives at Mara Serena.
Aug 31: AM game drive at Mara Serena. Fly to Nairobi meet drivers and luggage at the Jacaranda where we have day rooms for packing. Evening flight to Amsterdam.
Sept 1: Fly home from Amsterdam.
Lake Baringo is a huge fresh water lake that supports over 400 species of birds as well as a healthy population of Nile Crocodile. It is one of Todd's favorite places in Africa. Boat rides here allow the photographers to glide fairly close to most subjects. We will be staying at the fabulous Baringo Island Camp, located on Gibralta Island. Just walking around the island can be a photographic bonanza as the extensive grounds are home to scores of bush-bird species including flycatchers, Superb Starlings, sunbirds, weavers, and Ibises. The lake shore bird sanctuary is home to Grey and Purple Heron, African Spoonbills, and several species of kingfisher. My favorites here are Goliath Heron and the jewel-like Malachite Kingfisher. The dock is a great place to photograph White-necked Cormorant, Grey-headed Gull, Senegal Thick-knee and Pied Kingfisher. Lake Bogoria can be a fantastic afternoon adventure. If the flamingos are in there can be as many as 4 million feeding, bathing and fishing in this shallow soda lake. There are also zebra, ostrich, gazelle, and kudu. The Baringo Cliffs is a hiking photo op where some of the specialty birds of this area can be found: Hempric's Hornbill, Bristle-crowned Starling and Fantailed Raven are among them.

Lake Nakuru is a small National Park where it is possible to see Lion, Leopard and White Rhino on the same game drive. We are allowed out of the vehicles at certain spots by the lake and there should be lots of great flight photography for African White Pelican and Yellow-billed Stork among others. There are lots of Brown-chested Snake Eagles here. Rothchild's Giraffe can be found at Nakuru and conditions permitting there may be millions of Lesser Flamingoes. There is a tremendous diversity of bird and wildlife supported by this shallow alkaline lake. Afternoon visits to Baboon Cliffs can be spectacular as we look down on the lake from high above. The lodge itself is set on a hill overlooking the park and is a nice place to relax after a game drive.
Next is the Maasai Mara Serena Lodge situated on the escarpment overlooking the Mara River. The main show here is the Great Migration of Wildebeest and Zebra. We have timed this trip to optimize our chances for a river crossing, but there are of course no guarantees... In 2004, we lucked out on the last morning. If the herbivores are there, we will have all the predators, especially lions and cheetahs, following the herds. The bird life is spectacular, the wildlife photo opportunities unparalleled, and the chance of photographing a river crossing is a fervent hope. There is nothing like seeing several thousand animals leap as one into a raging river filled with 18' Nile Crocodile. At that point it is up to you and your camera!
August 2004 Fly/Drive Kenya Photo-Safari
August 15-31, 2005--16 days on the ground: $8,200/person.
$500 deposit
(Single supplement: $1,700.) Airfare to and from Nairobi, Kenya not included.
14 full and two half days of photography
When comparing the cost of this safari with others please not that we do NOT include travel days to and from Africa...
Limit: five vans of three photographers including the leaders. Four slots already spoken for...

Luxury accommodations on a twin-share basis with private facilities.
Full American breakfast daily, 16 lunches and 15 dinners
Transport via 4WD vehicle with fully removable roof-hatch with English speaking driver-guide (maximum 3 passengers per vehicle).
All park entry fees and hotel taxes
Air Transport from Nairobi to Maasai Mara and from Maasai Mara back to Nairobi. (This eliminates a killer drive over horrific roads.)
Complimentary water (1/2 liter per person per day) on Days 2-16.
Price does Not Include:
Passport and visa fees and airport taxes.
Airfares to and from Kenya (usually via Amsterdam).
Beverages, laundry, telephone calls or any other items of a personal nature.
Gratuities to hotel porters, wait staff, room attendants and driver-guides.
(The suggested tip for driver guides is $15 US per person/day.)
To see more spectacular Kenya images click on any of the following links:
http://www.martinplant.com/photo/photos.php or: http://www.birdsasart.com/bn146.htm or: http://www.birdsasart.com/bn147.htm or: http://www.birdsasart.com/n147.htm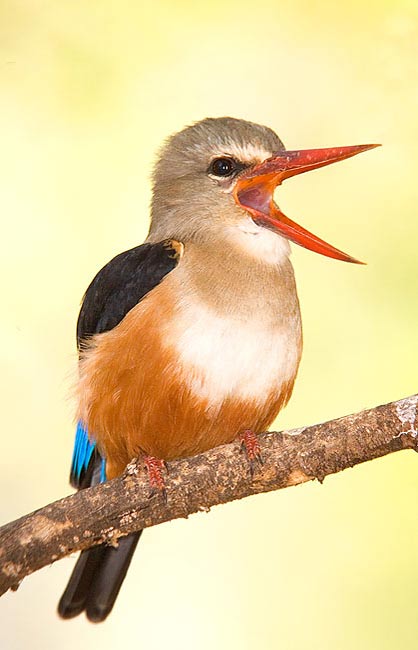 Image copyright 2004 John Bryant/Photo Images of Africa
THE GREAT GDT TRAIN ADVENTURE...
Mind-sets Can Be Dangerous....
After speaking at the GDT Festival (they liked me so much that they asked me to repeat my Saturday keynote on Sunday and I did, of course), I took the train from Dortmund to D|sseldorf. They told me that the train was an express that went directly to the airport. I was sitting in a small compartment with a young German business man. As it turned out, he spoke English....
The train pulled in to a station after about an hour. I thought (this is the mind-set) that it would be like the "Train to the Plane" in NYC where you have like ten minutes to get your luggage off of the train at the airport stop. Not... I was gathering up my stuff when the young man said, "Is this your stop?" I said "Yes," and he said "You had better hurry." I grabbed my two bags and he grabbed my laptop case (which was not zipped shut) and followed me...
I did not even know where the exit door was and went past it. A conductor appeared out of nowhere and opened the door just as the train began to move. I hesitated for a moment and thought that either the train would stop since the door was open or that somehow the conductor would be able to stop the train. I stood poised at the door for a second and they both said, "It's too late." Without thinking of my left knee, which had been bothering me for more than a month, I threw my heavy Delsey suitcase onto the platform and, with my rolling bag in my right hand, jumped off of the train which was now picking up speed. As I jumped, I called to them: "I have to make my plane!" I stumbled when I hit the platform and spun around a bit but was able to brace myself with the rolling bag. (Jeez, my heart is pounding again as I type this...) The 20 or so folks waiting for the elevator were both astonished and amused.
The young German was holding my computer case out of the still open door. I left both bags and started running. In a few seconds I was able to catch up with the train and grab my computer case. I realized later that my plane tickets, my wallet with $2,000 in dollars and euros, and my passport were in the case... It took me about an hour to calm down despite the fact that I was doing relaxing breaths the whole time. My knee hurt pretty badly for about 24 hours but felt much better the next morning. I was thrilled to be able to grab an unoccupied emergency row seat on the 8 1/2 hour Paris-Atlanta leg... Yikes! If I had a second chance I still do not know if I would have jumped again or not. As it turned out, the next station was only a short distance away...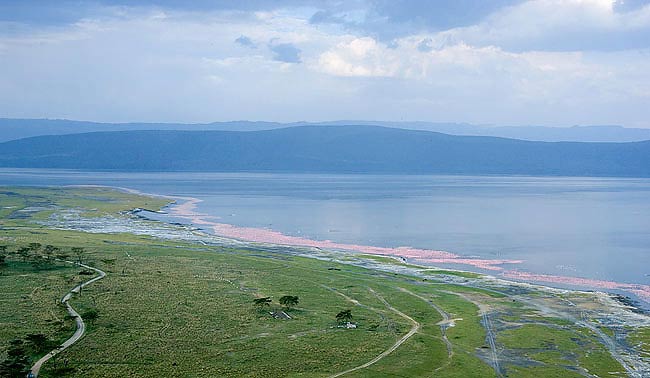 Image copyright 2004 John Bryant/Photo Images of Africa
TRAVELING WITH YOUR GEAR: BY PLANE
We receive several requests each week asking how I travel by plane with all of my gear. Below, excerpted from the "Practicalities" chapter of The Art of Bird Photography II (a work in progress that will most likely be published first on CD within two years...), is exactly how I do it.
I was in the air on the morning of 9/11, on my way to San Diego, but did not let that immense tragedy slow me down for an instant. I was one of the first to fly after my flight was grounded in Dallas, and was surely one of the first photographers to be dump-searched. Now that all checked baggage is inspected, the nightmarish inconvenience of being dump-searched is no longer a threat. My post 9-11 air travel strategies are pretty much the same as they were before our lives were changed forever on that horrific day in 2001.
The addition of the Lowepro Road Runner AW to my travel arsenal has made air travel much more manageable for me. This bag is rather expensive because it was designed as a backpack that can also be wheeled. The first thing that I did when I got mine was to remove all of the backpack-related straps and harnesses and discard them. What I was left with was the worlds largest legal rolling carry-on and a sturdy and well-padded one at that. I rarely if ever bring the 600mm f/4 L IS lens on the plane anymore; if I need it at a location I simply ship it in advancewell packedvia Fed-X ground. I routinely travel with the 500mm f/4 L IS lens.
When I got my Roadrunner, I also removed all of the padded dividers. To pack for most trips, I remove the 500s detachable hood and place the lens in the empty Road Runner with the front of the lens pointing towards the bottom of the bag. I do not use the leather hood (which is left at home). The detachable hood is placed in one of my two checked bags. I then put two or three digital camera bodies in their two acrylic watch caps (like the woolen ones worn by sailors) and stand them beside the 500. Next, I usually place two of the following four lenses in watch caps and place them in the Roadrunner parallel to the 500mm: the 300mm f/4L IS, the 100-400mm IS zoom, the 400mm f/5.6 L, or the 180 macro. If the latter, the macro twin light is packed in its protective case. I do the same with the 28-135mm IS lens, two teleconverters (stacked) and three extension tubes (also stacked). Next, I pack the 500 EX flash, all of the flash cords, and several extra camera batteries. Depending on exactly which lenses and camera bodies I opt to pack, some of the items or accessories mentioned above are relegated to the checked bags, but are always placed in their own protective watch caps. It is simply amazing how much stuff you can get into a Roadrunner using this approach.
I really do not understand why more folks do not adapt the watch-cap packing routine. The watch caps provide great cushioning, absorb moisture, keep dust out, and make packing a snap. I get my Carhartt acrylic watch caps from All Seasons Uniforms. Here is a link to their web page: http://www.allseasonsuniforms.com/car123b.htm. I was so excited when I first found this site with the caps at a great low price ($5.99) that I ordered 15 of them! I purchased two or three each of several colors to make finding the various items easier. On the rare occasion when you are forced to gate-check your rolling bag on a small aircraft, the combination of the watch caps and the sturdy, well-padded Roadrunner pretty much ensures that your gear will make it onto the plane and back out onto the tarmac in perfect condition. (An option here is to remove one or two of your valuable camera bodies and take them on board with you.)
My Gitzo CF 1325 tripod is placed in an old Domke large lens bag and then packed in one of my two-old faithful Delsey hard-sided cases, which are my checked bags. In addition, an extra set of teleconverters, extra camera batteries, various chargers, external battery packs, my photo junk-bag, the Wimberley head, a Linhoff ballhead (if I am bringing the macro stuff), and whatever lenses or camera bodies that I could not fit in to the Roadrunner, are also packed into the Delsey bags, each carefully wrapped in watch caps and than in clothing items.
When I get to the rental car place, I open my checked bags right there on the ground next to my vehicle. I remove the tripod from the Domke bag and mount the Wimberley head. I remove the 500 from the Roadrunner and place the hood onto the lens. I place the lens in the Domke bag and the Domke bag in the trunk. I do not remove the lens hood again until I am packing to head home. The rest of my photo gear is removed from my checked baggage and either placed in the Roadrunner or laid into the trunk of the full-sized rental car. This makes it easier to get your checked bags into the motel room and prevents folks at the motel from noting that your trunk is filled with expensive photography equipment.
Except for the batteries that need recharging, I almost always leave all of my photo gear in the trunk of the car each night. Everything is, of course, insured. For those who insist on taking their lenses and inside at night, they need to be aware of condensation problems, especially when going from cold to warm Heres the worst case scenario: you arrive in Florida on an unseasonably warm afternoon in mid-February. You toss your stuff onto the extra bed and crank up the air conditioning. You head out to Ding Darling the next morning and there is not a breath of air. You head down to the mud bar and find the long-dreamt-of spoonbills there en masse, preening and flapping in still blue water. You mount your lens, but by the time that you have mounted your camera and peer through the viewfinder only a foggy scene awaits you. Going from cold to warm, you have been bitten by the condensation bug. You look at the front element of your lens and see that it is all fogged up.
At this point, the fastest way out of this jam is to get back into the car with the lens and turn the heater on full blast to warm the lens so that it is no longer cooler than the air. If you are away from a vehicle, it is best to simply point the front element of your lens at the sun and then wipe the front it clean of moisture. I use absorbent cotton if I have it with me. My tee shirt will do in a pinch. Sometimes one such round does the trick (Once you brought your stuff into the room, you should have wrapped the lens and camera body and accessories in a bedspread or two and stuck the whole load into the motel bathroom as they are usually not air conditioned.)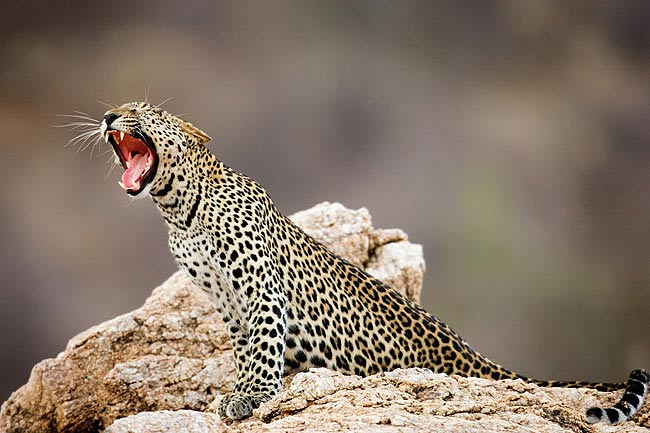 Image copyright 2004 John Bryant/Photo Images of Africa
IPT UPDATES