BIRDS AS BULLETIN #284
JAN 30, 2009
Visit Arthur Morris / BIRDS AS ART
Please give the images a minute or two to load and do make sure that your security settings are not preventing you from seeing them. (Some folks just need to click on "Show (or Allow) Images" on the frame of the e-mail. If you have any trouble at all viewing this Bulletin, you can access it in the Bulletin Archives here: http://www.birdsasart.com/bn284.htm
Inspirational, Educational, & Fun. Honest critiques done gently: www.BirdPhotographers.Net (It Ain't Just Birds!)
FORT DESOTO SITE GUIDE UPDATE READY TO GO
LINDA ROBBINS HUMMINGBIRD TRIPS
POSSE NEWS/ROBERT AMORUSO
IPT UPDATES
Contact us by phone at 863-692-0906 (Eastern Time Zone) or by e-mail at birdsasart@att.net or birdsasart@verizon.net. The att e-mail address is best from overseas.
We gladly accept credit card orders by phone from till Eastern Time ( till Fridays and some weekends). You can use the PayPal links on the web site to order anything. Just type in the item(s) and the amount. If using your own PayPal account, please send to either of the e-mail addresses above.
Note: maximize this e-mail for best formatting.
Important Request: if responding to this e-mail, please take the time to delete all images and all irrelevant text.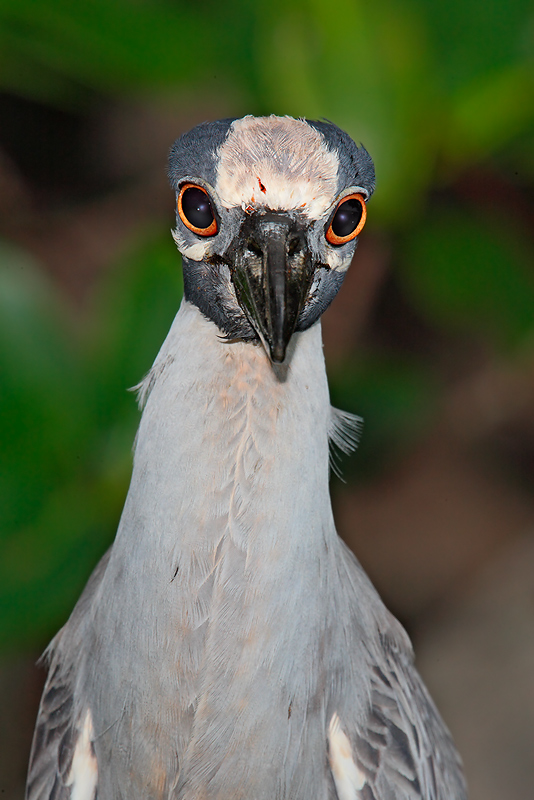 Yellow-crowned Night-Heron in mangroves, St. Petersburg, FL
Image Copyright 2009: Arthur Morris/BIRDS AS ART
Canon 800mm f/5.6L IS lens with the 1.4X II TC and the EOS 1D MIII. ISO 400; 1/60 sec. at f/18. Flash as main light with Better Beamer.
If you come across a great subject in a dark place you need to know how to use the flash to illuminate the subject. The image above was created with the flash as main light technique which does just that. You can learn about this technique in ABP II (http://www.birdsasart.com/ABPII.htm) in the section entitled "Flash Simplified." If the flash fails to fire when using this technique, the image will look like this: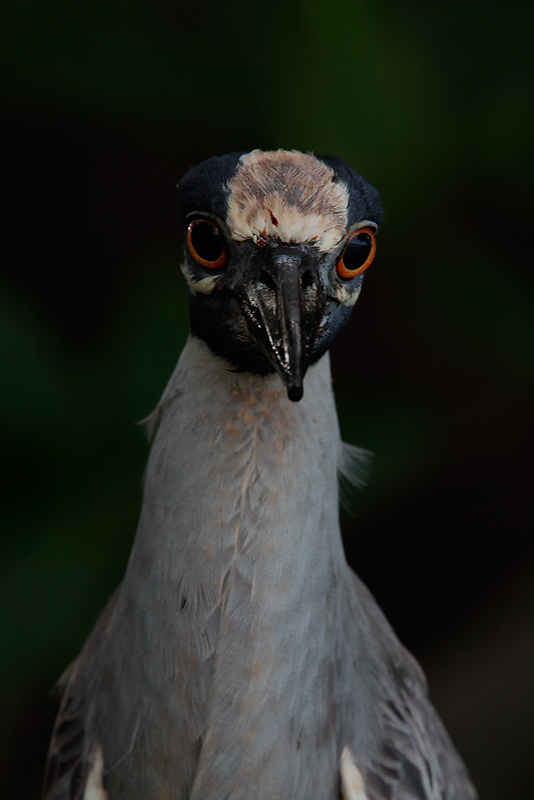 FORT DESOTO SITE GUIDE UPDATE READY TO GO
The fall and winter season at Fort DeSoto has been a relatively poor one. Since the closing of "The Point" two years ago things have been tougher and tougher especially at the lagoons at North Beach, but for the past few months there simply have been fewer and fewer birds visiting the lagoons. I am not at all sure why this has been but conditions are almost surely due to the amount of food available for the various families of birds that usually frequent the lagoons
As those of you who have the guide know, one of the great things about it is that we suggest alternative locations that are near enough to allow for quick access while the light is still sweet. There is one spot that is mentioned in the guide that has been very hot recently so we will be sending an update early next week with compete details including the expected species, the best tides, photographic strategies, additional suggestions, and of course, lots of great new images created by Linda Robbins and by me. It was in fact, Linda who called and advised me of the virtually non-stop action at this convenient spot. (All of the St. Petersburg images in this Bulletin were created at Linda's hotspot.)
Updates to the guide are free. For the first time we will be sending only the update to the list (rather than adding the update and sending the complete document). New purchasers will receive a single PDF with the update at the end. If you do not receive your copy of the update by Wednesday, February 4, please let us know via e-mail. And please let us know how you paid so that we can add you to the list. Thanks.
You can learn more about the DeSoto Site Guide or purchase a copy here: http://www.birdsasart.com/siteguides.htm#the%20Fort%20DeSoto/Sarasota%20Site-Guide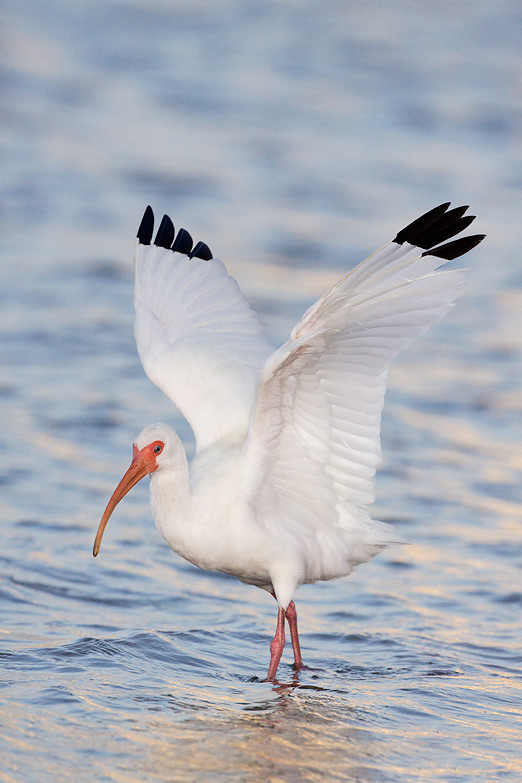 White Ibis with wings raised after bathing, St. Petersburg, FL
Image Copyright 2009: Linda Robins/Hummingbird Addiction
Canon 500mm f/4L IS lens with the EOS-50D on the Wimberley V2 head atop the Gitzo 3530 LS CF tripod. ISO 400. Evaluative metering +1/3 stop: 1/1600 at f/5.6.
Aside from being a skilled photographer, Linda is fast. We were just getting set up when this bird raised its wings and held the position for a few seconds. I got one out-of-focus image and one sharp but mis-framed image. Don't you just love it when the other guy is simply more talented than you?
LINDA ROBBINS HUMMINGBIRD TRIPS
For the past two plus years Linda Robbins has worked very hard to become one of if not the best high speed flash hummingbird photographers around, and in the process, taught me to make some great hummer images. She wrote and published (with a bit of help from me) "The Hummingbird Guide – How to Photograph Hummingbirds Using High-Speed Multiple Flash by Linda Robbins." Learn more and see some great images here: http://www.birdsasart.com/hummingbirdguide.htm. She is now running her own tours, the first two are to Guango Lodge in Ecuador. On some hummingbird trips you are required to bring your own set-up. Ugh! On some hummingbird trips you take turns on a single set-up while sharing with 6-8 other photographers (while the so-called leader is photographing on his very own set-up. How nice.) That means that you get chance every three or four hours if you are lucky.
On Linda's trips she provides all of the equipment. She routinely travels with 30 flashes, 21 light stands, 400 rechargeable batteries, and with numerous backgrounds, clamps, clips, droppers, and lots more. All that you need to do is show up with your camera (and a back-up), a decent lens from 300-500mm, one flash, some flash cards, and your laptop and you are good to go. With only two photographers per set-up, you will be photographing 100% of the time if your arm or your trigger finger does not give out. (I once created 3,500 images in a single morning at Guango.)
Linda has two trips to Guango in November, 2009 and two more scheduled for January, 2010. Please see the following pages: http://www.birdsasart.com/TOUR FLYER FOR GUANGO TRIPS NOV 2009.pdf and http://www.birdsasart.com/TOUR FLYER FOR GUANGO TRIPS JAN 2010.pdf for complete info, details, dates, and costs and of course, a slew of great hummingbird photos.
You can see some of Linda's Guango images here: http://www.birdsasart.com/bn273.htm. You can see some of my Tandayapa hummers here: http://www.birdsasart.com/bn246.htm. If you would like to join Linda for the hummingbird photo experience of lifetime without having to spend thousands of dollars to purchase the needed gear, e-mail her at lindaasart@aol.com or call he on her cell at 941-350-5796. Many spots are already accounted for so do not tarry.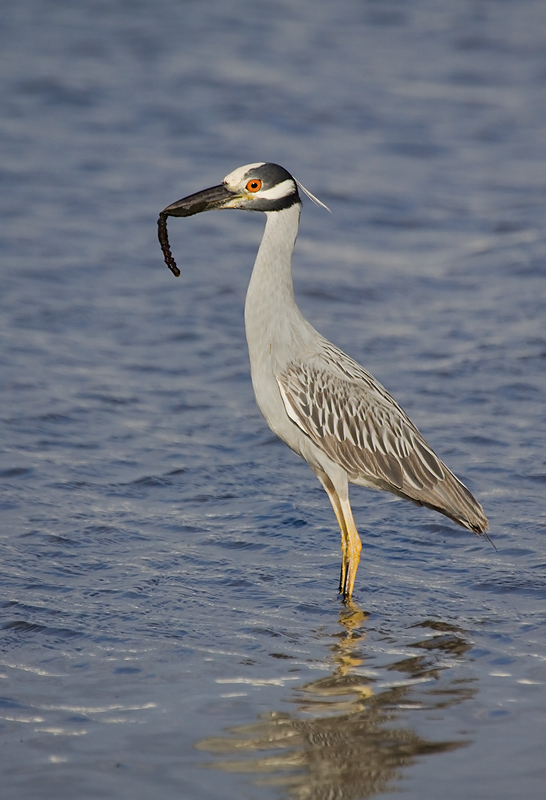 Yellow-crowned Night-Heron, adult with lugworm, St. Petersburg, FL
Image Copyright 2009: Arthur Morris/BIRDS AS ART
Canon 100-400mm IS L lens with the EOS-50D handheld at 400mm. ISO 400. Evaluative metering +1/3 stop: 1/1600 at f/7.1 in Manual mode.
Many of the bird's at Linda's spot are quite tame, and most of them are hungry.
POSSE NEWS/ROBERT AMORUSO
Wildscape Images/Robert Amoruso
BIRDS AS ART Approved Photographic Workshops
May 7-19, 2009 BIRDS AS ART Approved
St. Augustine Alligator Farm Photographic Workshop by Robert O'Toole & Robert Amoruso
Join Robert Amoruso and Robert O'Toole for an enlightening Photographic Instructional Workshop at one of the most unique avian photography locations in Florida, the St. Augustine Alligator Farm's avian breeding rookery. We will help sharpen your bird in flight prowess, recognize desirable conditions to create images beyond the norm, deal with confusing backgrounds and combine flash with ambient light to tame contrast. The Farm is one of the best places to teach participants about fill-flash and flash as main light due to the proximity of the birds and their behavioral predictability. Enhanced flight photography opportunities exist as the birds follow a predictable path coming, going, and gathering nesting material from trees within the swamp. A primary reason workshops at the Farm are successful is the predictability of the bird's behavior. Even if you are not into flight photography, plenty of opportunities exist that will keep you busy. Because of our closeness to the birds, super telephoto lenses are not a requirement. Those with lenses in the 300mm to 400mm range will do fine. Both instructors are experienced with Canon and Nikon Digital and Film Systems with Amoruso specializing in Canon and O'Toole in Nikon. Regardless of the system you use, we have you covered.
$999 per person for 3 ˝-day workshop. Special single and multi-day pricing includes:
1 day @ $299 per person, two days @ $599 per person and three days @ $899 per person. Add the ˝ day for $100 per person to any one of the full day costs.
Download the Workshop Brochure at
http://www.wildscapeimages.biz/storage/PIW/2009-SAAF-PIW.pdf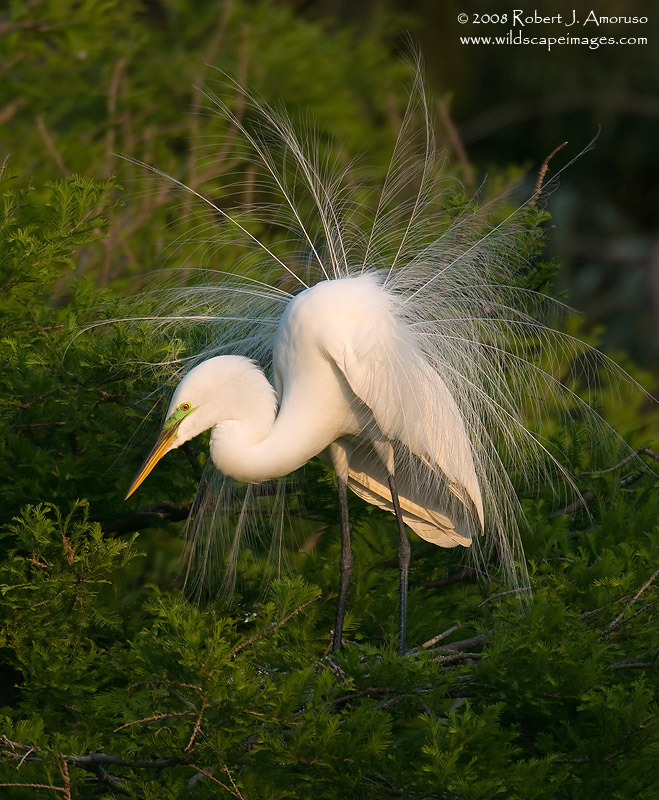 Nikon D300, Nikon 200-400mm @ 650mm
1/500 sec, f/6.7, Manual, Evaluative Metering, ISO: 400
2009 Gatorland Photographic Instructional Workshop Series
By Robert Amoruso
March 20, 21 and 22, April 24, 25 and 26, and May 29, 30 and 31
Gatorland's alligator breeding marsh avian rookery provides the perfect location for this photographic workshop where you will learn about fill-flash, birds-in-flight photography, creating portraits of beautiful breeding plumage birds, working with confusing backgrounds, isolating your subject and much more. The workshops are limited to six persons maximum and will be $599 per person for three full days, which include six full sessions of in-the-field image creation in the AM and PM and three classroom sessions in the afternoons in Gatorland's on-site meeting room. Single and two day pricing available at: one-day for $225 per person and two-days for $450 per person.
Download the Workshop FAQ at
http://www.wildscapeimages.biz/storage/PIW/2009-Gatorland-PIW-FAQ.pdf
2009 Silver Salmon Creek Lodge/Lake Clark National Park, AK Coastal Brown Bear Photographic Instructional Workshop
By Robert Amoruso
August 14 to 20, 2009. 7-DAYS, 6-NIGHTS: $4795 (new lower pricing). Limited to six persons to ensure personalized attention.
Join Robert Amoruso for a unique adventure; photographing Coastal Brown Bears who gather to catch salmon on Cook Inlet at the mouth of Silver Salmon Creek, colorful island-dwelling Horned Puffins, majestic landscapes and more. We arrive the morning of August 14th and depart in the afternoon on August 20th - photographing in the afternoon the day we arrive, each morning and afternoon thereafter, and then on the morning of our departure. Though the bears are the highlight, we will be making a least one trip to Duck Island for Horned Puffins and Common Murres.
Our accommodations are at Silver Salmon Creek Lodge on Cook Inlet in the National Park. If you think you will be roughing it, the fine sleeping quarters and excellent meals will dispel that notion upon your arrival. Our host, David Coray goes the extra mile to assure all are happy with their lodge experience.
Download the Workshop FAQ at
http://www.wildscapeimages.biz/storage/PIW/2009-SSCL-PIW-FAQ.pdf
Robert Amoruso contact info
www.wildscapeimages.com (image gallery)
407-808-7417 (mobile phone)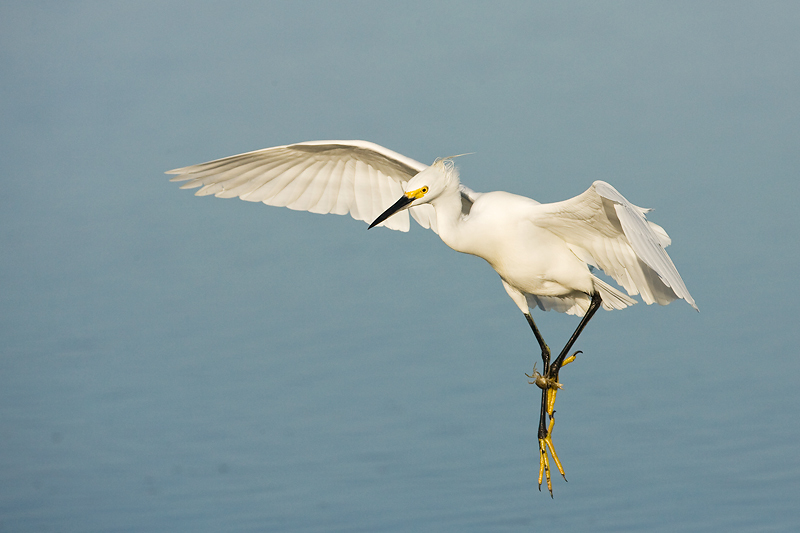 Snowy Egret in flight, St. Petersburg, FL
Image Copyright 2009: Linda Robins/Hummingbird Addiction
Canon 500mm f/4L IS lens with the EOS-1Dn on the Wimberley V2 head atop the Gitzo 3530 LS CF tripod. ISO 400. Evaluative metering at zero: 1/2500 sec. at f/8.
A close look reveals that this snowy has a fiddler crab clamped onto it foot. Note that the 1Dn needed about 2/3 of stop less light for a white bird in the sun than the EOS MIII bodies.
IPT UPDATES
I will be teaching fewer and fewer IPTs each year. If you want to learn from the very best, do consider signing up ASAP.
SW FLA PRESIDENT'S DAY IPT: FEB 13-17, 2009. Slide program on the evening of FEB 12. 5-DAY: $2249 Limit: 10/(Sold Out.) Co-leaders: Robert O'Toole and Scott Bourne.
POST-NANPA 2 ˝ DAY BOSQUE IPT. FEB 22-24, 2009. 2 1/2-DAY: $799. Limit: 15/Openings: 2. Call 863-692-0906 for late—registration discount info. Co-leader: Jim Heupel. Best combined with my Sunday morning NANPA Summit program: "Photographing Bosque Del Apache: In-the-Field Strategies and Post Processing Techniques" Sunday FEB 22, 2009. (Registration for the Sunday program through NANPA only.) Photograph Sunday afternoon till sunset and all day Monday and Tuesday.
Bear Boat #1: June 4-10, 2009. Openings: 4. (It is advised that you be in Anchorage on the afternoon of June 2nd to be assured of not missing the boat!). This trip will feature an afternoon (and possibly more) of otter photography (weather permitting), Bald Eagles with chicks in the nest probable, puffins possible, and lots and lots of coastal Brown Be ars clamming and eating luscious green grass.
Bear Boat #2: Sept 4-10, 2009. Openings: 3. (It is advised that you be in Anchorage on the afternoon of the September 2nd to be assured of not missing the boat!). This one is the bears catching salmon trip. In addition, Glaucous-winged and Mew Gulls eating roe are a certainty. Dark phase Northern Fulmars and Black-legged Kittiwakes (including the gorgeous immatures), Harbor Seals, and Stellar's Sea Lions are likely. Did I mention bears catching salmon? And more bears catching salmon?
Bear Boat #1 is cheaper by $250 as we use the float plane only once: $6749. Bear Boat #2: $6999.
Bosque 2009 IPT: "The Complete Bosque Experience." NOV 21-27, 2009. Slide program on the evening of Friday, NOV 20. 7-FULL DAYS: $3199. Limit: 10/Openings: 6. Co-leaders Scott Bourne and others TBA. Non-refundable deposit: $500 per person (Deposits may be paid by check, Paypal, or credit card.) Please note our new cancellation policy: A non-refundable deposit is required to hold a spot for each BAA IPT, Photo-Cruise, or Photo-Safari. Payment in full (payable only by check) is due four months before the start of the IPT and is non-refundable unless the IPT sells out (10 in this case). You will be required to sign a statement to this effect. Travel insurance is of course highly recommended. Travel Insurance Services offers a variety of plans and options. Included with the Elite Option or available as an upgrade to the Basic & Plus Options, you can also purchase Cancel for Any Reason Coverage, which expands the list of reasons for your canceling to an infinite list, from a sudden work or family obligation to a simple change of mind. My family and I use and depend on the great policies offered by TIS whenever we travel. You can learn more here: Travel Insurance Services (We regret that we must implement this new policy but we have had recently been plagued by last minute cancellations that make it impossible for others to participate and deprive us of income. The new policy does not apply to any of the previously announced trips listed above.)
Australia Birds, DEC 2009. Please e-mail us at birdsasart@att.net or birdsasart@verizon.net for details, costs, cancellation policy, and itinerary.
Best and love and great picture- making to all,
artie
Note: Arthur Morris has been a Canon contract photographer, part of the Explorers of Light program, since 1996 and continues in that role today. Hunt's Photo of Boston, MA is a BAA sponsor as is Delkin Devices. Back issues of all BAA Bulletins can be found in the Bulletin Archives which may be accessed from the home page at www.birdsasart.com. To unsubscribe please click here: unsubscribe