Wood Stork fly-by, Venice Rookery

Digital capture with Canon EOS 1D, 100-400MM l IS lens at 210mm

ISO 100. Evaluative Metering +2/3 stop = 1/500 sec. at f/5.0 Fill-flash at -1 stop with Better Beamer and Arca-Swiss Wimberley Flash Bracket

Image copyright 2003 Arthur Morris/BIRDS AS ART

I love the 1D's 1/500 sec. synch speed for digital flight flash. Luckily this bird flew right over my head when I had the 1-4 in my hands. The flash really adds detail to the shaded undersides on "T-shots" like these.

TANZANIA BOUND

In 25 hours, I will be headed for the Orlando Airport to begin my two-day journey to Tanzania. BTW, I am bringing a loaner EOS 1Ds on this trip and my very own brand new one will be waiting for me when I get home on February 10th! Though I will not be able to answer most e-mails until early March, Lois Smith will be in the office weekdays from 9 am till 4 pm to help you with your mail order needs and to assist you in any way possible. I shall share my air travel and Tanzanian experience with you upon my return. Till then, best, and be safe, and great picture making!

Great Blue Heron, Venice Rookery

Digital capture with Canon EOS 1D, 100-400MM l IS lens at 320mm

ISO 800. Evaluative Metering +1 stop = 1/320 sec. at f/5.0 Fill-flash at -1 stop with Better Beamer and Arca-Swiss Wimberley Flash Bracket

Image copyright 2003 Arthur Morris/BIRDS AS ART

For the first time ever, at least two pairs of great blues are attempting to nest in the big pines just behind the spot where the photographers stand. This created a wonderful opportunity to make images of the birds in flight from below. Being able to change the ISO setting from frame to frame with digital is an immense advantage; note the ISO of 800 here that allowed me to use a fast enough shutter speed to freeze this bird in flight.

SW FLA IPT

The March 7-9, 2003 Southwest Florida IPT is wide open. Teaching assistant Ellen Anon, great with beginners and a digital and PhotoShop expert as well, will be joining us on this IPT. This, my bread and butter/can't miss tour features visits to Ding Darling NWR, the Venice Rookery, Little Estero Lagoon, Cape Coral, and other photo hotspots (including a newly discovered one...) Can't miss subjects include White Ibis (in full breeding plumage with bright red bills and swollen red neck pouches), Burrowing Owl, Brown Pelican, eight types of herons and egrets (most in full breeding plumage), and numerous tern, gull, sandpiper and plover species. Most of these birds are ridiculously tame. Roseate Spoonbill, Red-Shouldered Hawk, and Wood Stork are likely.

SOUTHWEST FLORIDA (based in Ft. Myers)


MAR 7-11 (or -9), 2003 5-DAY $1299 3-DAY (optional): : $829 (Limit 12, openings 8)

Please see the web site for additional details and for cancellation policies before sending a deposit $200) check. Thanks.
Great Egret striking, Little Estero Lagoon

Digital capture with EOS 1D and 600mm f/4L IS lens

ISO 250 Evaluative Metering +1 stop: 1/320 sec. at f4

Image copyright 2003 Arthur Morris/BIRDS AS ART
The Exposure principles detailed in "The Art of Bird Photography" (http://www.birdsasart.com/books.html#PHOTO_BOOK) and expanded upon in the Pocket Guide to Evaluative Metering (http://www.birdsasart.com/#The%20Pocket%20Field%20Guide%20to%20Evaluative%20Metering) work as well with digital photography as with film. (At times, depending on your camera body, you might need to add or subtract a bit more light than with film.)
NEWLY-SCHEDULED IPTs ANNOUNCED HERE FOR THE FIRST TIME
Do note that BIRDS AS ART/Instructional Photo-Tours are not photo vacations. If you are looking for a relaxed, informal trip with luxurious breakfasts, then my trips are not for you. If you want to get up early, really early at times, work hard all day (but for the midday break and Instructor Nap Time), enjoy lunch and dinner with the leader and the group (all the while asking photo-related questions and looking at images), stay out till dark, and then enjoy an on-topic, educational slide program until 9:30 or so, then do join us!
St. Augustine Alligator Farm MAY 16-18, 2003. 3-DAY IPT: $829 (Limit: 10)
NESTING GREAT, CATTLE, & SNOWY EGRETS (AND LITTLE BLUE HERONS) AT CLOSE RANGE AND AT OR BELOW EYE-LEVEL! LEARN TO USE YOUR FLASH AS FILL AND AS MAIN LIGHT AND LEARN HOW TO AVOID CLUTTER IN YOUR COMPOSITIONS.
Bosque Del Apache NWR, NM NOV 23-25 & NOV 29-DEC 1, 2003. 3-DAY IPTs: $829 (Limit: 12)
TENS OF THOUSANDS OF GEESE AND TEN THOUSAND SANDHILL CRANES, LOW MOUNTAIN SCENERY, SPECTACULAR LIGHT, AND, IF YOU ARE IN THE LEAST BIT LUCKY, SUNRISES AND SUNSETS THAT WILL BRING TEARS TO YOUR EYES. THE PREMIER TEACHING LABORATORY FOR THOSE WISHING TO DEVELOP THEIR CREATIVE VISION. (AT PRESENT, I HAVE SCHEDULED ONLY TWO BOSQUE IPTs THIS YEAR, SO IT WILL BE BEST TO REGISTER EARLY.)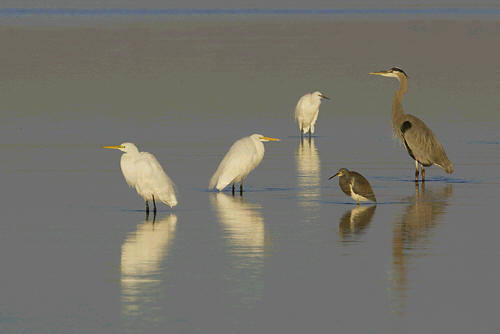 Group of Five, Little Estero Lagoon
Digital capture: EOS 1D, 600mm f/4L IS lens
ISO 250 Evaluative Metering -1/3 stop: 1/400 at f/16
Image copyright 2003 Arthur Morris/BIRDS AS ART
In my almost twenty years of photographing birds, I have never encountered a more perfect grouping of birds than this. The birds, engaged in a mini-feeding spree, held this joint pose only long enough for me to stop down to f/16 and make one frame...Exposure with film would have been at "0" because of the soft light and grayish (rather than dark blue) water. Pictured are one great blue, two Great Egrets, a Tricolored Heron, and a white phase Reddish Egret.
MORE IPT KUDOS
Adaoted from an e-mail from post- X-mas SW FL-IPT participant Harold Kerns:
"Sorry for being late with this thank you note, but since returning from Florida my schedule has been diverted, turned upside down, etc. Hopefully I am back on track now. I learned a great deal about bird photography and about the various methods and techniques that need to be mastered. I know that my future photos will reflect improvement in various aspects of picture making. You took additional time and made a special effort to aid me in learning the art of bird photography. Your IPT provided me with a fantastic learning experience in wildlife photography. Each and every moment of the three day session you gave special care to ensure that all of our questions were answered and that help was provided as needed. Thank You!"
THE LIGHT FANTASTIC
My blood pressure rises, my pulse quickens, and my muscles tense. Someone toting an expensive super-telephoto lens has just shown up at the Venice Rookery at 11 a.m. on a bright sunny day… Why do I get so upset? In most cases, it is just about impossible to make great bird photographs in bright sunshine during midday hours. In these conditions, the warm red and yellow components of sunlight are filtered out while the cool blue components predominate. Shadows are sharp and harsh, and contrast is increased to unpleasant levels. Seeing and understanding the qualities of natural light will help all outdoor photographers learn to use that light to make better images.
As a nature photographer who makes a living photographing birds, being a morning person is a huge advantage. I have no problem waking early (heck—often too early) and being afield well before sunrise. In early morning and late afternoon, the sun's rays need to travel through longer stretches of atmosphere before reaching the earth. The cooler blue components of light are filtered out, while the warmer reds and yellows predominate. When we photograph, we are photographing the light reflected from our scenes and subjects. If the light is warm and rich, our subjects will exhibit warm and rich colors.
On foggy mornings, the light can exhibit spectacular qualities when the sun first breaks through; don't give up too early when you are socked in… Working with this soft light is like working under a huge natural diffuser; colors are intensified and contrast is greatly reduced. A lingering haze present after the fog has burned off often makes it possible to continue making pleasing photographs well into the midday hours.
Not only is the quality of the natural light important, but the direction of that light is important as well--equally important in my mind. It is my strong preference to have my shadow pointing at, or nearly at, my subject when photographing birds (and most other natural history subjects as well). While many image-makers will consider this advice heretical, side lighting simply does not work for me with birds. I would rather miss a great action photograph completely than attempt to make it from a spot where my shadow would be pointing 30 or 45 or more degrees away from my subject. Whenever possible, I will move left or right (to attain a better sun angle) as quickly as I can before attempting to make the photograph.
Why do I strive to point my shadow at avian subjects? For me, direct frontal lighting best illuminates a bird's feathers. When you make images "off-angle" to the light, a shadow cast by some part of the bird will be cast onto the bird itself. When working with color transparency film or with digital, we need to expose for the highlights, that is, to choose an exposure that maintains detail in the lightest, brightest areas of the frame. By necessity, then--when using sidelight--the details in the shadowed areas will be lost (unless you are working in a low-contrast situation). In addition, I almost always find the shadows themselves somewhat distracting. Side lighting may be great for furry mammals or tasseled grasses, but I prefer my birds fully lit by direct frontal lighting.
At times, the meaning of "Point your shadow at the subject" confuses some folks. Here is how you do it: With the sun somewhere behind you, look at the ground in front of you and see where your shadow is pointed. Now look up at your subject. If your shadow-line is pointing to the left of your subject, you will need to pick up your tripod and move to the right. If your shadow-line is pointed to the right of the subject, move to your left. When your shadow-line is pointed right at the subject, you will be employing direct frontal lighting. Over time, this procedure will become second nature.
In very early morning or late afternoon, you do not, of course, want your shadow to fall on the subject or even to appear in the image at all. On occasion, you will, therefore, need to work a bit off angle to the light. Options include taking a lower stance or moving back and adding a tele-converter. There are other situations when I choose to work off-angle to the light, but almost never by more than 15 degrees. I do this most often to ensure that the bird is parallel to the film plane. If my shadow is pointed directly at the subject, but the bird is angled to the film plane, I will move left or right so that the subject better parallels the film plane.
While I pretty much detest side lighting for my bird photography, I find back lighting much more pleasing. To achieve the strongest backlit effect, position yourself so that you, your subject, and the sun are on the same line. In general, you will wish to work against dark or middle-toned backgrounds. Positioning a backlit subject against a clear sky will usually not work out too well. Working with white birds like gulls and terns when using backlighting will allow you to produce a striking rim lit effect; the white feathers along the edge of the subject's body will glow bright silver (or gold if the sun is near the horizon). Rim lighting is most effective when combined with dark or black backgrounds. (In these situations, you will usually need to subtract a bit of light from the exposure suggested by your camera's evaluative meter to prevent overexposing the rim-lit features.)
When strong backlighting is combined with subjects positioned against light or middle-toned backgrounds, it is often possible to produce images with the subject or subjects rendered as jet-black silhouettes. Positioning yourself so that you are on the same line as the subject and your light source will produce the most dramatic silhouettes. Brightly colored sections of sky at sunrise or sunset (or their watery reflections) make for stunning backdrops. Rise early and quit late; the most intense colors in the sky often occur as early as an hour before sunrise or as late as an hour after sunset.
Early on in my photography career, I would opt to stay home if a clear day were not in the forecast, reasoning that the quality of light would be too poor for photography. I could not have been more wrong. Over the years, I was often forced into the field on cloudy days while leading my BIRDS AS ART/Instructional Photo-Tours. I soon discovered that cloudy, overcast, or—best of all—cloudy-bright days were ideal for nature photography (especially for macro or close-up work). The soft light creates reduced contrast, there are no shadows to worry about, and colors are richly saturated.
Underexposure is often a problem on dreary days, so be sure to add a bit of light across the board to your exposures. In addition, the light tends to be bluish in overcast conditions or when working with shadowed subjects. Use fill flash to restore the film's color balance, add sparkle to the bird's feathers, and put a highlight in its eye. (It is best to use a flash arm to prevent red-eye or steel-eye in birds.) Another option for restoring color balance is to warm things up with an 81B filter. (Unfortunately, finding a drop-in filter for your super-telephoto lens is often a difficult chore).
On many cloudy days, it is often possible to detect a hint of the sun's presence. At these times, I will still strive to point my shadow at the subject as if the sun were shining. On cloudy-bright days, doing so is a necessity. Another wonderful thing about working in cloudy conditions is that you can make great images all day long. There is no pressing need to take a break in the middle of the day as there is on bright sunny days when harsh light rules the roost from about 10 a.m. till 3 p.m. or so.
To use the light fantastic, get to bed early, set your alarm clock for well before dawn, nap during midday hours when the light is harsh, and stay afield until the last reddish glow on the western horizon has faded. Become skilled at making pleasing images on dreary days. And most importantly, learn to see, to understand, and to use natural light to help you create dramatic images of birds and other natural history subjects.
For those who wish to photograph all day long on clear sunny days, I offer the following advice:
Find birds that are in the shade and use fill flash.
If the opportunity presents itself, concentrate on flight photography.
Choose extremely long focal lengths. When working with attractive avian subjects and harsh light, working tight will often produce pleasing images.
Consider doing macro photography and using a diffuser or a diffusion tent. In a pinch, casting your own shadow on a subject can yield pleasing results.
The Venice Rookery is located in South Venice on Florida's west coast about an hour north of Ft. Myers. For more than a decade it has been a Mecca for nature photographers from around the world who come to photograph the nesting Great Blue Herons and Great Egrets. The eye-level nests, most of which are about 100 feet away, are built on a small island in a relatively small pond. The rookery is best photographed in early morning light on clear days, and then again at sunset. The best times to visit are from winter to early spring. To reach the rookery exit Interstate 75 at Jacaranda Boulevard. Travel south on Jacaranda for about five miles until you reach Highway 41. Turn right and then left almost immediately at the Highway Patrol station. The rookery island will appear almost magically on your right in about 400 yards. Be sure to park on the left side of the road. And don't be late…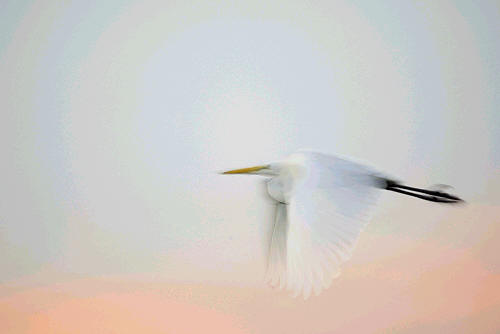 Great Egret predawn flight, Venice Rookery
Digital capture: EOS 1D, handheld 100-400mm IS L lens at 400 mm.
ISO 250, Evaluative Metering +1 1/3 stop (set manually): 1/15 sec. at f/5.6. Fill flash at -1 stop with Better Beamer and Arca-Swiss Wimberley Flash Bracket.
Image copyright 2003 Arthur Morris/BIRDS AS ART
There is simply no substitute for getting up early and being in position in the predawn light. Going digital has given me the opportunity to experiment and push the creative envelope to new heights. It is not that you cannot make these images with film, but that with digital it is easier to experiment as you can do so virtually without expense and make corrections on the next frame after viewing the histogram.