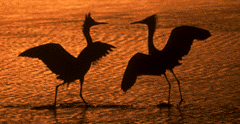 BIRDS AS ART NOTES
OCTOBER 29, 2009
Arthur Morris/BIRDS AS ART, PO Box 7245 4041Granada Drive, Indian Lake Estates, FL 33855. Telephone: 863-692-0906. Computer fax: 877- 265-6955
Visit www.BIRDSASART.com
Please give the images a minute or two to load and do make sure that your security settings are not preventing you from seeing them. Some folks simply need to click on "Show (or Allow) Images" on the frame of the e-mail. If you have any trouble at all viewing this Bulletin, you can access it in the Bulletin Archives here: www.birdsasart.com/notes102909.htm
BirdPhotographers.Net: Inspirational, Educational, & Fun. Honest critiques done gently:
www.BirdPhotographers.Net (It Ain't Just Birds!)
THE BIRDS AS ART BLOG: GREAT INFO, GREAT IMAGES, AND OUR LEGENDARY BAA EDUCATIONAL CAPTIONS & COMMENTS:
www.birdsasart-blog.com
Features:
HUNT'S 33RD ANNUAL SHOW SPECIALS
PRE-ORDER YOUR CANON EOS-1D MARK IV FROM HUNT'S NOW (Sorry: no show discounts on this one <smile>)
WHICH 70-200 IS AND WHY?
<![if !vml]>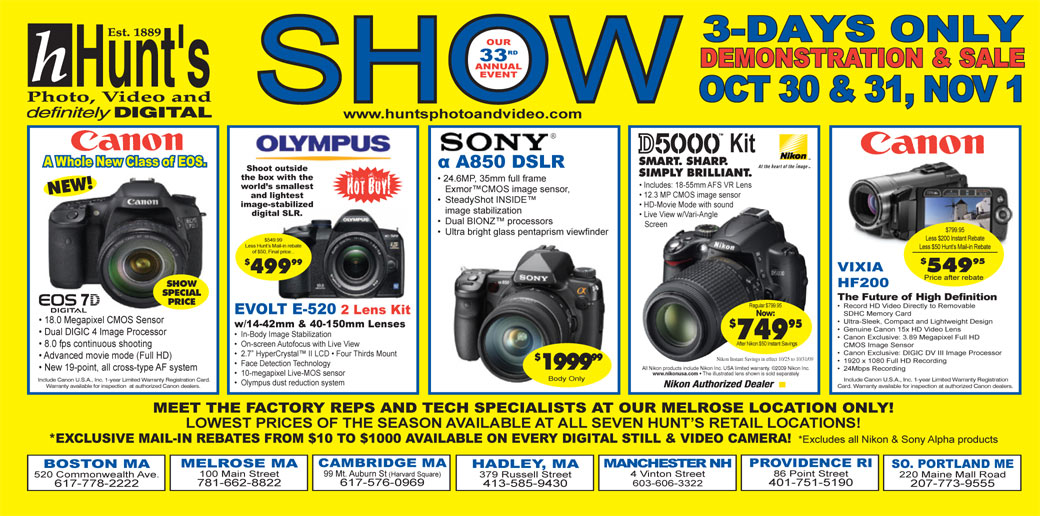 <![endif]>
<![if !vml]>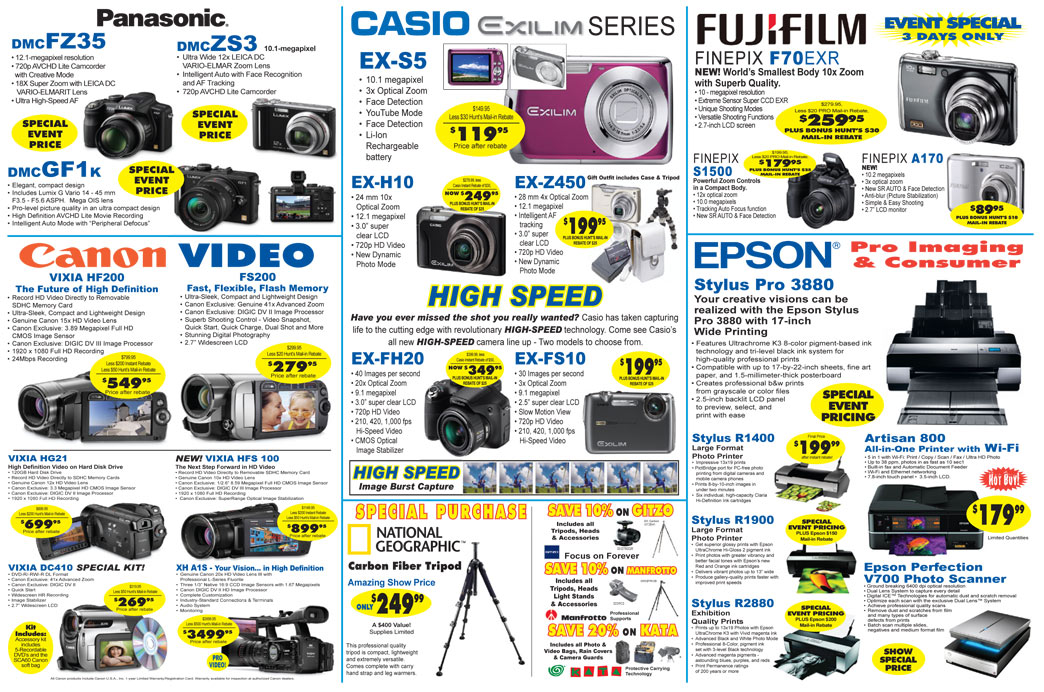 <![endif]>
HUNT'S 33RD ANNUAL SHOW SPECIALS
See the complete show mail-order advertisement Here: http://wbhunt.com/mailorder
Having trouble viewing this email? http://wbhunt.com/mailorder/index.htm
Gary Farber is proud to announce the 33rd Annual Hunt's Show and Sale. During the weekend of October 30, 31, and November 1, Hunt's is offering everyone the opportunity to take advantage of their terrific Show Specials. In addition to Special Reduced Pricing and exclusive Hunt's Mail-in Rebates, free ground shipping is included on all orders that are placed during the Show.
For price quotes and ordering, please e-mail Gary at digitalguygary@wbhunt.com or call Gary or one of his colleagues (see below). We will be available throughout the weekend to process your orders. If we are not able to answer your call due to unusually high call volume, please leave your name, number and a brief message; we will call you back at our first opportunity.
Gary Farber 's direct line is 781-462-2332 Keith Patankar's direct line is 781-462-2341 John Duggan's direct line is 781-462-2314
Your confirmed order must be placed by Sunday, November 1st at 5:30 pm, no exceptions, no extensions. Special prices, exclusive Hunt's mail-in rebates and free ground shipping are valid for these three days only!
Ask about deals on the Canon 5D Mark II, 7D and G11 cameras, Canon & Nikon lenses, Epson 2880 and new 3880 and 7900 printers and Think Tank bags! Everything is on sale; if you don't see what you're looking for give us a call!
PRE-ORDER YOUR CANON EOS-1D MARK IV FROM HUNT'S NOW (Sorry: no show discounts on this one <smile>)
Gary Farber at Hunt's is now taking pre-orders for the recently announced Canon EOS-1D Mark IV professional digital camera body. It is scheduled to ship any time from late December to early January. The estimated price will be $4999.99. BIRDS AS ART subscribers can contact Gary directly at 1-781-462-2332 or at 1-800-924-8682 ext 2332. Or by e-mail at digitalguygary@wbhunt.com. It looks as if there will be huge demand for this camera. Gary will do his very best to fulfill each of your orders as quickly as possible. BIRDS AS ART Bulletin subscribers who pre-order now will receive free shipping. (Note: for details on the Mark IV click here: http://www.birdsasart.com/notes102209.htm. You can find the manufacturer's info on the Mark IV here: http://www.usa.canon.com/consumer/co...&modelid=19584. You can read the entire BPN threads here http://birdphotographers.net/forums/showthread.php?t=48008 and here http://birdphotographers.net/forums/showthread.php?t=47947. If you read carefully and follow the links you can find lots more great info. Canon has posted some images and a short movie here: http://web.canon.jp/imaging/eosd/samples/eos1dm4/.) The short story is that I ordered two immediately after seeing my first Mark IV images on my laptop.
WHICH 70-200 IS AND WHY?
Maya Egensteiner (my granddaughter) at dance recital, Winter Haven, FL
Image Copyright 2009: Arthur Morris/BIRDS AS ART
Canon 70-200mm f/2.8 L IS lens handheld at 180mm with the EOS-1D MIII. ISO 2000. Evaluative metering +2/3 stop: 1/250 sec. at f/2.8 set manually.
The f/2.8 aperture can be a big help in extreme low light situations.
Red Knots feeding on edge of surf at dawn, Fort DeSoto Park, Tierra Verde, FL
Image Copyright 2008: Arthur Morris/BIRDS AS ART

Canon 70-200mm f/4 L IS lens handheld at 70mm with the EOS 40D. ISO 400. Evaluative metering+1 1/3 stops: 1/40 sec. at f/11.
As an over-the-shoulder mid-range telephoto zoom, the lightweight 70-200 f/4 is hard to beat.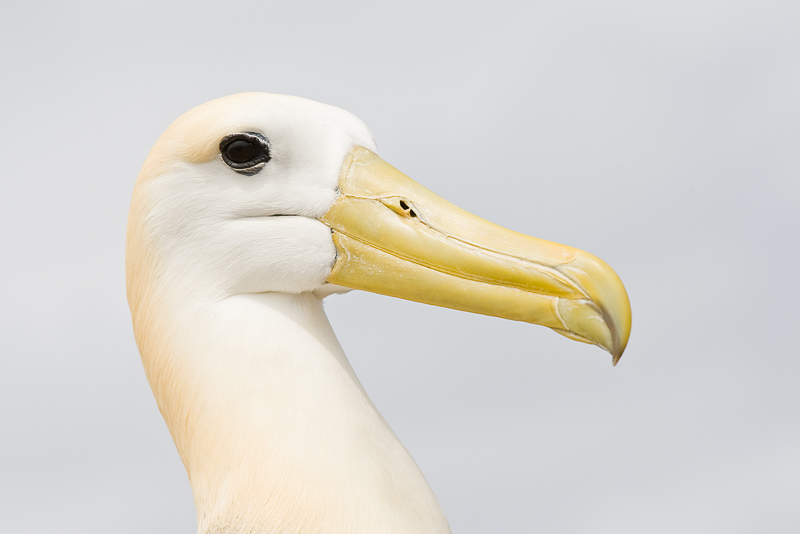 Waved Albatross, head portrait, Punta Suarez, Hood Island, Galapagos, Ecuador
Image Copyright 2009: Arthur Morris/BIRDS AS ART
Canon 70-200mm f/4 L IS lens (handheld at 183mm) with the EOS-1D Mark III. ISO 500. Evaluative metering +1 1/3 stops: 1/800 sec. at f/10.
In the right situation, it is even possible to create tight head portraits with the 70-200 lenses….
…..
Below is an e-mail exchange that I had with Becky Field this morning. (Becky will be joining us on the San Diego IPT.)
AM: Hi Becky, re:
BF: Dear Artie - Forgetting for the moment that you are a Canon contract photographer (which would be difficult to forget)
AM: For me, that is not at all true….
BF: …. and given that I have a Canon 17-40mm lens, a 24-105mm IS lens, and a 100-400 IS lens (as well as the 180 macro, a 500 IS, and an 800 IS), is there any compelling reason why I should have the 70-200mm/f/2.8L IS lens? I've been rereading your Art of Bird Photography book and your ABP II book on CD, and I see that you've used that lens quite a lot.
AM: That was then. Though I still own that lens I almost never use it except when photographing granddaughter Maya's dance recitals (no flash allowed) where the speed is most helpful. I switched a few years back to the lighter, smaller 70-200 f/4.
BF: I suppose it has a slight advantage in low-light situations, but beyond that. . . ? Looks pretty handy at Bosque del Apache but not sure when I'll get there.
AM: Yes. Either version is quite wonderful at Bosque. Here's the whole story. The 70-200 f/4 L IS is much lighter and much smaller than the 100-400. When I am walking down a beach, I mount it on a 50D and then hang the rig on my shoulder via the camera body strap. With the 1.6 multiplier effect it approaches the 100-400 in focal length. But remember, I almost always have the 400 DO in the back pouch of my X-tra-Hand vest (www.vestedinterext.com and http://www.birdsasart.com/bn61.htm) in case I run into a good flight photography situation that requires a longer focal length. And being in the field with a 1.6 multiplier effect camera and a 1.3 multiplier effect pro body (the Mark III and soon to be the Mark IV) allows me to use either of the two bodies on one of the three lenses for greater focal length coverage….
At Bosque, I often use the tripod-mounted 70-200 f/4 on a Mongoose in the pre-dawn with the MIII. (I cannot believe that they sell that lens without a tripod collar and make folks buy it separately.) This gives me wider coverage and great high ISO noise performance. I used the f/2.8 version with the full frame EOS-1Ds MII for even wider coverage.
The main consideration in many situations is the weight of the 100-400 hanging on my shoulder…. Let me know if you have any other questions.
Later and love, artie
Best and great picture-making,
artie
Note: Arthur Morris has been a Canon contract photographer, part of the Explorers of Light program, since 1996 and continues in that role today. Hunt's Photo of Boston, MA is a BAA sponsor as is Delkin Devices. Back issues of all BAA Bulletins can be found in the Bulletin Archives which may be accessed from the home page at www.birdsasart.com.