BOSQUE 2005 SCHEDULE ANNOUNCED
Bosque Del Apache NWR, New Mexico 2005 IPTs/co-leaders to be announced.
Bosque is the premier teaching location in North America. Lenses of all focal lengths can be used to create stunning images. There are three slide programs on the evening before the tour starts: A Photographic Introduction to Bosque, "Putting Art in Your Nature Photography," and "Understanding Histograms." There will be a skilled co-leader on each IPT. There will be many opportunities to photograph geese and cranes in flight and huge blast-offs, and lots of time to learn to create interesting bird scapes. Our 2004 IPTs sold out in record early time, so if you would like to join us in Socorro in 2005, do not hesitate to send a $200 deposit at your earliest convenience. (Checks should be made out to "Arthur Morris" and mailed to PO Box 7245, Indian Lake Estates, FL, 33855.)
As the birds are arriving earlier and earlier each year (possibly due to global warming), and because we would like to increase the chances of incorporating New Mexico's spectacular fall colors (in the form of the bright yellow cottonwoods) into your photographs, we have--for 2005--scheduled two IPTs before Thanksgiving and one after.
NOV 15-17 (Slide program at 7:00 pm sharp on NOV 14) Limit: 14. 3-FULL DAYS: $929
SEPTEMBER 2005 BEAR BOAT TRIP
There is a single slot left on the September 10-15, 2005 Bear Boat trip to Katmai National Park. You will need to be in Anchorage on the 10th. The cost of the trip is $5,000. The bears will be fishing for salmon in the streams and there is a fair chance of photographing yearling cubs on this trip. (Note: several of us will be arranging a fishing charter or two after the trip.) Please e-mail for additional details. If you are seriously interested in filling the last slot, please e-mail us at birdsasart@verizon.net immediately and let us know that you will be sending a deposit check made out to "Arthur Morris" to us at PO Box 7245, Indian Lake Estates, FL, 33855. In all honesty, I expect that this slot will be filled within hours of this Bulletin being posted.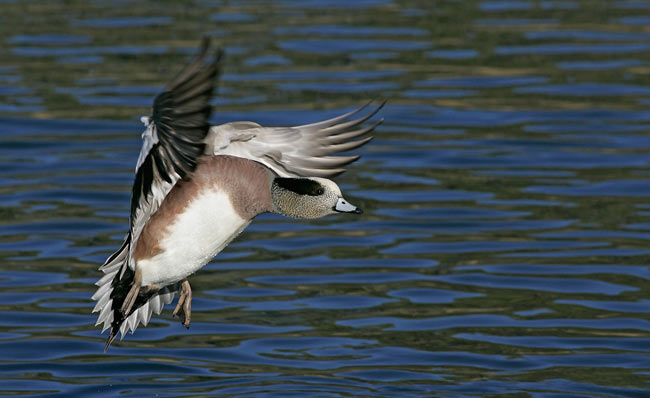 American Wigeon, drake landing, Socorro, New Mexico
Image copyright 2004 Arthur Morris/BIRDS AS ART
Canon 400mm f/5.6 L zoom lens (handheld) with EOS 1D Mark II. AI Servo AF. ISO 400. Evaluative metering -2/3 stop off of a drake in the water to prevent over-exposing the white belly on flapping birds: 1/1600 sec. at f/10.
Having great back-up subjects is a necessity for photo tour leaders if they wish to be successful. When the winds are wrong, my wigeon pond provides lots of action and ample teaching opportunities. The old 400 f/5.6 lens is still a great flight lens.
The two sensors below the central sensor were activated; the sensors were on the background, not on the bird, at the moment of exposure... In addition to being the world's greatest image management and editing software , Breezebrowser (http://www.birdsasart.com/breezebrowser.htm) can be set up to reveal the activated focus points in Main View.
ELLEN'S TIPS
I am pleased to announce that my friend, teaching assistant, digital expert, and accomplished photographer Ellen Anon will be contributing short pieces to the Bulletins on a regular basis. Most but not all (as seen here) will deal with either digital photography or Photoshop.
Many of you already know the benefits of using a camera vest from Vested Interest (www.vestedinterest.com). (Editor's note: see more on X-tra Hand Vests at: http://www.birdsasart.com/bn61.htm) There are multiple well-placed pockets of varying sizes that will hold flashes, small and not-so-small lenses, extenders, flash cards, etc. Most important to me have been the extra thick shoulder pads that enable me to carry Wimberley-mounted 500 mm lens on my shoulder without getting bruised. I loved my first vest, but John (Storrie - the owner of Vested Interest) has worked with me to develop a new one that's even better.
My new vest is designed to be lighter and more versatile. I found that I didn't need the padding in the pockets and wanted the vest to be less bulky, so John made the vest without the pocket padding. As I mentioned above, I love the padding in the shoulders when I am carrying about my heavy rig. But there are times when I am photographing only with shorter lenses and don't need the shoulder pads, so he made them removable. The pads are attached with large Velcro strips. On most models there is a large pocket on the back of the vest. I had him make my new vest without any pockets on the back - its just plain mesh. This will make it cooler in hot climates and I will be more comfortable when carrying a small back pack. John sewed a large strip of material in a contrasting color on the back of the vest to use as a handle to pick up the vest. This ensures I don't accidentally dump the contents of the vest if I forget to close a pocket and pick it up in some cock-eyed way.
John is willing to customize your vest so that it works for you. You can choose the features that you need. John told me of a customer who wanted a back pocket large enough for his laptop, so John created one to meet his needs! You'll have your choice of colors, pockets and closures. I use a combination of Velcro and zippers, preferring zippers on the smaller pockets. Contact John at jstorrie@vestedinterest.com or call him at 940-484-2222. A new vest would make an ideal holiday gift!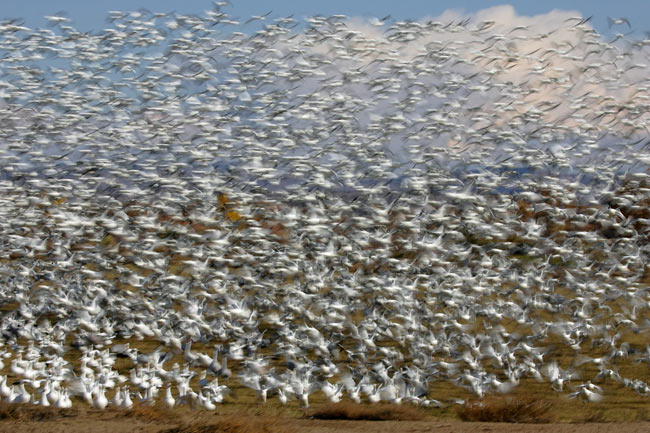 Snow Geese blast-off at the farm fields, Bosque Del Apache, NWR, San Antonio, New Mexico
Image copyright 2004 Arthur Morris/BIRDS AS ART
Canon 100-400mm IS L zoom lens (handheld at 150 mm) with EOS 1D Mark II. AI Servo AF with AFPS (45 point) AF. ISO 50. Evaluative metering at zero: 1/25 sec. at f/29.
The 100-400 is still my favorite blast-off lens. I needed to lower the ISO considerably to get the slow shutter speed that I desired. As here, do strive to maintain a clean lower edge on your blast-off and bird-scape images.
USED EQUIPMENT WEB SITE
Laurie Excell, who often co-leads trips with Moose Peterson--and is a fine photographer in her own right (
www.excellnaturephotography.com
) has created a new web site to help folks sell their used equipment without hassle. If you would like to learn more about this service, visit
www.equipmentlady.com
for details.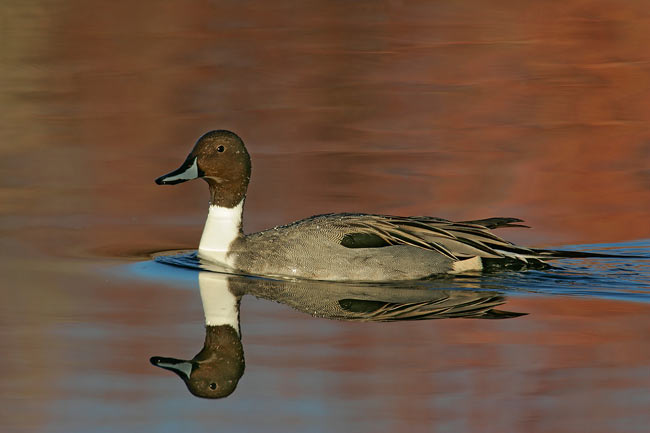 Northern Pintail drake, Marsh Deck Duck Pond, Bosque Del Apache, NWR, San Antonio, New Mexico
Image copyright 2004 Arthur Morris/BIRDS AS ART
Canon 600mm f/4 L IS lens with 1.4X II TC and EOS 1D Mark II. AI Servo AF with the two sensors below the central sensor activated. ISO 250. Evaluative metering -1/3 stop: 1/320 sec. at f/11. With BIRDS AS ART prototype BIG LENS BEANBAG.
Using the two sensors below the central sensor when photographing ducks allows you to keep the bird down in the frame thus yielding a more pleasing composition. Even with the soft light, I needed to underexpose by 1/3 stop because of the relatively dark water to avoid overexposing the bird's white neck. Though we (obviously) do not get to photograph from our vehicles as a group, we do review the techniques and locations, and encourage participants to explore on their own during slow and down times.
IPT UPDATES
The SW Florida IPTs Post X-mas: DEC 28-30, 2004 3-DAY: $869 (Sold Out) PRESIDENT'S HOLIDAY: FEB 18-22, 2005, 5-DAY: $1399 w/Ellen Anon co-leading (Sold out with one participant joining us from Finland!)
The San Diego IPT : January 6-9, 2005, 4-DAY: $1299 (Sold Out)
Homer, AK, Bald Eagle IPT w/co-leader Greg Downing FEB 4-8 (Sold out)& 9-13 (Sold out), 2005. 5-DAY: $1599.
Lake Martin, La, Nesting Spoonbill IPT 3 -DAY: $899 M
AR 19-21, 2005 (
Sold Out
) May
13-15, 2005 (2 Openings)
Fort DeSoto/Sarasota IPT: April 1-3 3-DAY: $869 (Sold Out)
St. Augustine Alligator Farm IPT April 28 (aft) thru May 1, 2005. 3 1/2-DAYS: $1049 (Limit 12, 8 openings)
Register early! You snooze, you lose!
August 2005 Fly/Drive Kenya Photo-Safari
August 15-31, 2005--16 days on the ground: $8,200/person.
$500 deposit
(Single supplement: $1,700.) Airfare to and from Nairobi, Kenya not included.
14 full and two half days of photography
When comparing the cost of this safari with others please not that we do NOT include travel days to and from Africa...
Limit: five vans of three photographers including the leaders.
Luxury accommodations on a twin-share basis with private facilities.
Full American breakfast daily, 16 lunches and 15 dinners
Transport via 4WD vehicle with fully removable roof-hatch with English speaking driver-guide (maximum 3 passengers per vehicle).
All park entry fees and hotel taxes
Air Transport from Nairobi to Maasai Mara and from Maasai Mara back to Nairobi. (This eliminates a killer drive over horrific roads.)
Complimentary water (1/2 liter per person per day) on Days 2-16.
Price does Not Include:
Passport and visa fees and airport taxes.
Airfares to and from Kenya (usually via Amsterdam).
Beverages, laundry, telephone calls or any other items of a personal nature.
Gratuities to hotel porters, wait staff, room attendants and driver-guides.
(The suggested tip for driver guides is $15 US per person/day.)
To see some spectacular Kenya images click on any of the following links:
http://www.martinplant.com/photo/photos.php or: http://www.birdsasart.com/bn146.htm or: http://www.birdsasart.com/bn147.htm or: http://www.birdsasart.com/n147.htm
Galapagos Cruise, July 2005 (Sold Out)
Nome, Alaska IPT June 10-20, 2006:
(
Please note the year: 2006 is not a typo
!) Sold Out, but please contact me if you are interested in joining us as part of a second group being led by Greg Downing. We will be sharing our talents on this trip and sharing nest sites and other info via GPS. In addition, we will be holding joint critiquing and Photoshop sessions. Long lenses are a necessity.
Antarctica/South Georgia/Falkland Islands Zegrahms Cruise with Arthur Morris and Greg Downing: January 2007. Please e-mail birdsasart@verizon.net for details.
For general IPT info, deposit and registration details, and cancellation policies, please visit: http://www.birdsasart.com/tours.html
If you would like your name placed on the waiting list for one or more trips, please e-mail, indicate the trip or trips that you are interested in, and be sure to include day, evening, and cell phone numbers. We often have late cancellations...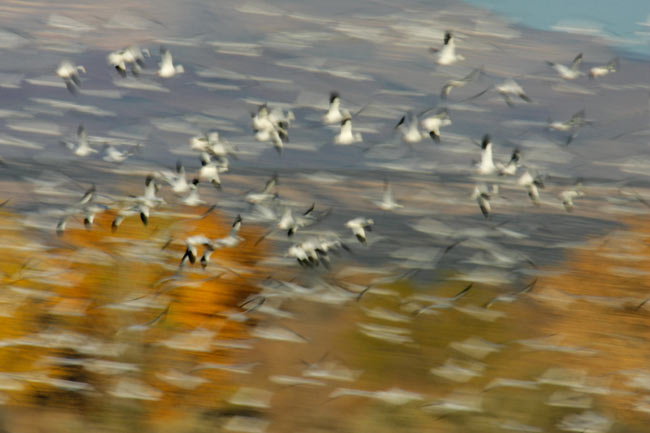 Snow Geese blur against cottonwoods, H-Road, Bosque Del Apache, NWR, San Antonio, New Mexico
Image copyright 2004 Arthur Morris/BIRDS AS ART
Canon 600mm f/4 L IS lens with 2X II TC and EOS 1D Mark II. Manual focus. ISO 250. Evaluative metering -1/3 stop: 1/20 se. at f/64. Wimberley head with Gitzo CF 1325 tripod.
Here, I opted to focus manually as with central sensor AF only with the 2X, there was zero chance of the AF system locking on the geese. Skilled photo tour leaders are always open to new and different opportunities and do not hesitate to get the group set up in the right spot even when the logistics might be a bit tricky. (I had never seen the birds in this pool before. The afternoon lights was spectacular, so we went for it, and succeeded.
Best and love and great picture-making to all,
Artie